Formula1 is a circus. Wherever ringmaster Bernie Ecclestone decides to pitch his tent, the Formula1 teams, drivers, media and other members of the circus land up to put up a show. Sochi is where Bernie Ecclestone decided to pitch his tent for the inaugural Russian Grand Prix. And not so surprisingly, some 55,000 fans landed up in excitement to witness a sport that is known to put up a 'show' which includes one of the world's fastest and most recognised (and highly paid) drivers go wheel-to-wheel in a bid to win and use some clever tyre strategy along the way.
But what happens when the circus fails to put up a good show? As a spectator and fan, what do you do? Who can you put the blame on? Funnily enough, when it comes to this circus, there's no one you can blame in particular. You either risk snoozing mid-race, or just go home knowing that there's going to be no refund. For a fan, and I am one, this is plainly unfair!
Yes, this isn't a movie or a scripted sporting show (a la WWE) where you can control the proceedings or the outcome (err, at least that's we think), but this is also a sport where each team and their suppliers (Pirelli in this case) employ and use effectively very high tech simulation systems and spend millions of dollars in doing so. I am surprised how Formula1 with all its technological advancements can land up at a new circuit, in front of new fans without knowing how their 'show' could turn out to be. I feel sorry for Russian fans who paid money (and a lot of that!) only to be subjected to such a boring race. (Read: Let Us Save Formula1)
Would the simulations have not shown that tyre degradation would've been low and that Pirelli should've brought softer tyres in order to avoid a snore fest? If the answer to that is negative (and I will check with my sources in the sport), couldn't the FIA or FOM or whichever body give a car to Pirelli to pre-check their tyre allocations for this racing weekend? Sebastian Vettel drove on the circuit a few weeks ago for a promotion in an Infiniti sedan. What a waste! I'd have rather shipped one of the older racing cars from the Infiniti Red Bull Racing team and performed a thorough tyre assessment. For those crying out foul (mainly Vettel bashers!), Pirelli has test drivers they could've used!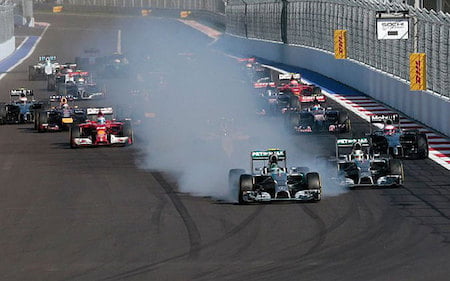 Are Pirelli directly, to blame? I wouldn't know. But increasingly and even more so in the 2014 Formula1 Season, it is either Pirelli, the Safety Car or Nico Rosberg that has added entertainment to an otherwise drab show. Yes, I am also not forgetting the brilliance of Ricciardo, Bottas and the rise of Williams and Sahara Force India's streak of competitiveness at the start of the season. But none of these factors are consistent to the 'show' (this season), testimony to my claim here is Rosberg's opening lap lock-up was possibly the only excitement of the race and then the cry over Pirelli's botched tyre allocation. And for those who wish, I would rate Grosjean's tapping of Sutil as a 1 out of 4 in terms of entertainment and the Stewards have already rated the Frechman's move from a sporting perspective.
Formula1 is expanding rapidly to newer territories and while it is doing so, it is doing little for the new audiences. These new fans represent markets that aren't traditional strongholds for Formula1 and today's race was the worst possible advertisement for the sport in Russia. These fans aren't purists of the sport (like I am) who would sit through the snore fest and understand why the race isn't exciting enough for me to watch. I would guess that India and Korea faced a similar story in their own ways. (Read: Formula1 Needs To Market Better To Newer Audiences)
As the race promoter, I have little option. I am expected to cough up millions of dollars to buy the rights to host an official Formula1 Grand Prix in my country, state or county. Once I have rights, I am expected to setup a world class racing circuit with state of art Paddock facilities for the teams to come and set up tent and go racing. But after I have done that, there's no guarantee on the quality of the race. Should the race be a snore fest, like it was today, I wouldn't know who to go and complain to and who is actually accountable. Is it the FIA, the FOM, the teams, the suppliers, the drivers, who? Is winning the 'best promoter' trophy at the end of the season enough to help sustain the sport and its audiences for my GP?
Given that I am footing the bill for the sport and its extravagance in my country, state or county, I think I deserve to know who I can go and speak to ensure that the 'show' is as expected by my consumers (circuit attendees). And what's worse is that my 'hosting fee' and contract might be skewed in favour of FOM so much so that most of my circuit earnings would be parted with irrespective of how 'bad' the show would turn out to be. And yes, all of this ultimately affects circuit attendance which impacts direct revenue streams like gate receipts, circuit advertising, etc.
Formula1 is in a state of monopoly. And FOM is milking this monopoly well. We've seen circuits dropped left, right and centre in the last few years (India, Valencia, Korea, etc.) only to make way for newer markets. If these new markets aren't catered to like any marketer would do so, I wonder what the sport would do once its these markets either ignore them (due to no guarantee over the show) or reach a stage of stagnancy (not many countries or governments can afford a multi-million dollar hosting fees and infrastructure costs!). And I would be surprised if the brains that run the sport are unable to foresee this situation already. (Read: Will Formula1 Survive Without Bernie?)
Strangely, the Indian Grand Prix was dropped to make way for the 2014 Russian Grand Prix. While there were business factors involved entirely in this decision, I do believe that the inaugural edition of the Indian GP offered a better spectacle than Russia! (Read: Ecclestone Check Mates The Indian GP)
And last but not the least, it is very early day to say so, but I wonder if Formula1 will offer a chance to Formula E to take up the tag of the world's most exciting motor-racing series; fastest, maybe not!