The 2014 Russian Grand Prix or the Russ-yawn Grand Prix as I called it still lingers on my mind. Missed opportunities for the sport, missed opportunities for Nico Rosberg too? And I think I delivered my point well enough since I had more than a few fans disagree with my views in not so kind words. I guess missed opportunity for those readers to understand my views on the business of Formula1.
In this week's episode of the Inside Line F1 Podcast, Rishi and I tell you why Bernie Ecclestone and Formula1 owe their fans an apology; not that they will! As passionate fans, we believe that no aspect of the sport should be taken lightly and we hope our sincerity and hard work shows in this Formula1 Podcast which we have been bringing to you every week for the last four years or so.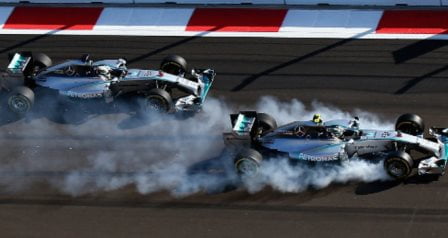 While Formula1 was in lower gear in Russia, we believe that Hamilton stepped up a gear or two post the 2014 Singapore Grand Prix. His drive was full of confidence and had Rosberg even overtaken him cleanly at the start, I doubt if he would have been able to keep Hamilton away from his second fourth consecutive win of the 2014 Formula1 Season.
Apart from the Mercedes boys, this season will be a talking (and turning) point for Bottas and Ricciardo, both of whom were in mid-field teams and barely scrapped through the points last season. Any learnings for fans from their sudden change of fortunes?
On the point of learning, apart from controversial flag decisions in the 2014 Japanese Grand Prix, the FIA has done well to make the sport safer and I am sure that lesson from Bianchi's accident would've been learned. But are closed cockpits the solution to the problem?
And lastly, what on earth is cooking between Vettel-Ferrari, Alonso-Mclaren and Mercedes? The curry has gotten spicier since our episode last week and we attempt to solve the puzzle this week too. Tune in!
The Inside Line F1 Podcast is now available on various platforms and I would welcome you to choose your platform to listen to the humour that we add to the otherwise serious and complex sport of Formula1. And while our podcast frequency is weekly, come 'like' the Inside Line F1 Podcast on Facebook and on Google+ for far frequent humorous updates from the world of Formula1.
If you are an Apple user, you can subscribe to the Inside Line F1 Podcast on the iTunes Podcast Store or via our RSS feed (for Android/Windows/Blackberry users).
The Inside Line Formula1 Podcast is produced and hosted by Rishi Kapoor and Kunal Shah. Follow us on Twitter and on our Soundcloud, Spreaker, MixCloud and YouTube channels.