Mercedes is untouchable. Lewis Hamilton too. Now if you were to keep in mind these two factors, the 2014 Formula1 Season has turned into 'who will beat Mercedes' and 'which Mercedes will win' sort of a championship for now. And there is nothing wrong with that. We've had similar plots in the past. The pace differential between teams is enough to impact on-track entertainment and one doesn't know how long before teams decide to compete against each other! Although a few fans did pin hopes for a change in the pecking order as the circus returned to Europe. (Read: Mercedes Is The New Red Bull)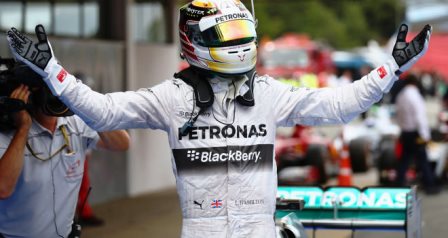 The only bit that I think is somewhat missing in this season's plot is the fact that there aren't teams competing against each other and hence team mate battles are coming to the fore. And there's nothing wrong with this either, so long as my favourite drivers beat their mates! In my view, it isn't always a pace related battle (Bahrain was a one-off!) with tyre and fuel saving strategies taking precedence.
While team mate battles are entertaining and interesting, there's almost a feeling that one is favoured over the other (in terms of tyre strategy) and so the outcome could well be fixed! Teams have gone public stating that they would let their drivers fight fair and square so long as they don't take each other out, which is fair, but also seems like a well scripted press release which is repeated every GP weekend. Which is also possibly staged because that's the only way to keep the fans interested!
For me, this season could possibly be about how Rosberg overcomes the Hamilton challenge in his team (mentally and technically) and which team is able to catch Mercedes, how and how soon! Rosberg's attempts at different tyre strategy to beat Hamilton are interesting, but that isn't too gripping a plot for holding an audience two hours every fortnight. Fans will want to see more of a challenge and soon.
As for the 2014 Spanish Grand Prix, Hamilton won a toughly contested fight with Rosberg. His Vettel-esque drive (yes, that is the term!) was as impressive as his boring PR talk post victory! Maybe he should take some tips to talk humour from the Inside Line F1 Podcast, because changing the corporate talk of Mercedes would be far tougher! I have personally had enough of his 'Nico was faster than me' dialogue! Someone give him a different script please!
Mercedes' fourth 1-2 finish needs to be applauded given that they're the only team to achieve this feat since Ferrari's Schumacher-Todt-Brawn days in 2002. Red Bull Racing and their drivers seem like the 'best of the rest' (Ricciardo more so than Vettel yet!) with Ferrari following not so closely and Mclaren further behind Sahara Force India and Williams. Although it was a pleasant surprise to see Grosjean score points for Lotus while Maldonado went about collecting yet another penalty.
And finally, the 'driver of the day' was Sebastian Vettel who drove an aggressive race aided by a perfect strategy to finish an impressive P4 (a penalty saw him start P14), and not surprisingly, his race was far more interesting to follow than that of Rosberg, although it wasn't for the win! And even though Rosberg's race was given more focus (TV and data wise) by the commentators. Sigh!
The biggest surprise for me of the weekend was Mclaren and them registering yet another non-points scoring finish. Formula1 needs a tighter grid at the top to the 2014 Formula1 Season go from boringly interesting to interestingly boring!
Lewis Hamilton
Nico Rosberg
Daniel Ricciardo
Sebastian Vettel
Valtteri Bottas
Fernando Alonso
Kimi Raikkonen
Romain Grosjean
Sergio Perez
Nico Hulkenberg
Jenson Button
Kevin Magnussen
Felipe Massa
Daniil Kvyat
Pastor Maldonado
Esteban Gutierrez
Adrian Sutil
Jules Bianchi
Max Chilton
Marcus Ericsson
Did Not Finish:
Kamui Kobayashi
Jean Eric Vergne
The 2014 Monaco Grand Prix is a fortnight away and if cosmetic surgery goes as planned, we could have the cars sounding different there. The in-season test begins in Barcelona on Tuesday and while I am against mid-season rule changes, there's possibly new exhaust designs that will be tested to 'enhance' the sound of the new hybrid power unit. Once we sort the grunt out, can someone please look into the noses? (Read: Engine No-ise)
The 'Know Thy Racer' feature of the Inside Line F1 Podcast has been extremely well appreciated and subscribed to, if you're yet to tune in and listen, here's your link: 'Know Thy Racer'.