It seems a little funny that I was absolutely enjoying the Vettel-Red Bull Racing dominance in 2013 and have a polar reaction when I now see Hamilton-Mercedes dominating the 2014 Formula1 Season. I guess this is what it feels like when a driver you don't support much is dominating. And of course, I wasn't one of those complaining during the Schumacher era either! (Read: Hamilton Is Winningly Boring)
The in-season test is currently underway and there are talks about a 'megaphone' exhaust being tried by teams to enhance the sound of the 1.6 litre V6 power unit. I am only glad that our earlier episode 'Engine No-ise' was taken seriously! And in the same breath, I hope to witness 'Racing First, Engineering Later'! But it is heartening to know that 'Formula1 Puts Fans First', finally!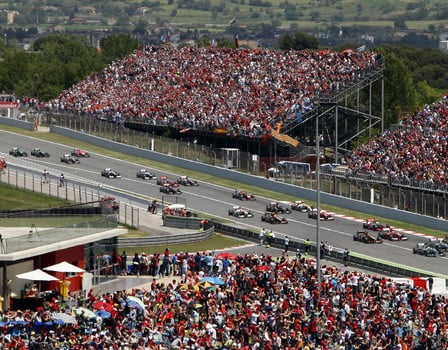 In the latest episode of the Inside Line F1 Podcast, we look back at the sheer dominance of Hamilton-Mercedes and wonder how Rosberg is usually only a tenth behind. And of course, we have Formula1's Pastor to talk about, who is leading a championship of his own. But before I beat around the bush, can someone please fight back? I know Formula1's structure and rules favour domination, but not Hamilton of all the drivers. Power up Rosberg!
Here's what's in store in the latest episode of our humour filled Formula1 Podcast:
Did you find the 2014 Spanish Grand Prix interesting? (Read: Mercedes Is The New Red Bull)
Has Hamilton got the better of Rosberg? Or is there more to this?
Full marks to Rosberg for trying and chasing lap after lap after lap!
The irony of being Kimi Raikkonen; we disclose
Could Vettel have been on the podium had he qualified better?
Dismal race for Mclaren, double points for Sahara Force India! #FeelTheForce
No points for guessing who leads the World Penalty Championship
Renault to stop supplying their under powered engines to a few teams?
'Megaphone' exhausts! We tell you more.
If Mercedes is to be beaten, the 2014 Monaco Grand Prix is the best chance for the rest!
Adrian Newey to Ferrari? Why not!
We pooh-pooh modern Formula1's PR strategy
The Inside Line F1 Podcast is now available on various platforms and I would urge you to choose your platform to listen to the humour that we add to the otherwise serious and complex sport of Formula1. And while our podcast frequency is weekly, come 'like' the Inside Line F1 Podcast page on Facebook for far frequent updates on the humour in the world of Formula1.
If you are an Apple user, you can subscribe to the Inside Line F1 Podcast on the iTunes Podcast Store or via our RSS feed (for Android/Windows/Blackberry users).
The Inside Line Formula1 Podcast is produced and hosted by Rishi Kapoor and Kunal Shah. Follow us on Twitter and on our Soundcloud, Spreaker, MixCloud and YouTube channels.