Kimi Raikkonen is finally back! After weeks of speculation and suspense, the Finn finally announced his comeback with Lotus Renault GP (Lotus F1 Team for 2012 Formula1 Season). There is excitement in the Paddock and amongst Formula1 fans regarding Kimi's comeback, however, there are certain challenges that Kimi and Lotus F1 team will have to overcome to make this comeback a success!
(Read post: Kimi Raikkonen Makes A Comeback To Formula1 With Lotus F1 Team)
Kimi Raikkonen
–          Unlike Schumacher, Raikkonen has raced in top-flight racing series like the World Rally Championship and the NASCAR while he was away from Formula1. The assumption that I would make here is that Raikkonen will be less 'rusty' than Schumacher when he returns to the cockpit of an F1 car next season. However, on the physical side, his neck muscles will need to be strengthened over the winter period.
–          His last drive in Formula1 was in 2009 when the new regulations had already taken effect and the 2012 regulations are said to be an adaptation of those barring a few edits. Having said that, Raikkonen will need time in the cockpit to adjust to an F1 car. However, there are limited pre-season testing opportunities available and hence every mile in the car will count.
–          The biggest challenge will be understanding tyre wear and behavior. In 2009, Bridgestone was the official supplier and it was publicly known that Raikkonen didn't take too well to Japanese rubber. Will the Pirelli suit the Iceman?
–          KERS was very much around that season but DRS will be a new feature. However, back in 2009, the adjustable wings were at the front and for next season Raikkonen will need to get used to using them at the rear! And most importantly adjusting to race with a full fuel tank! (Re-fuelling was permitted back in 2009)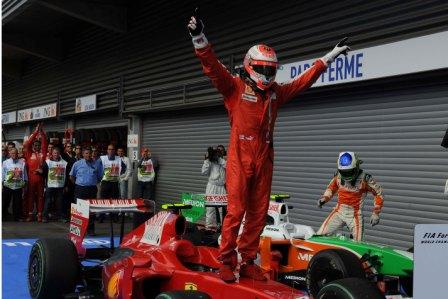 With Raikkonen's comeback, there will be six World Champions on the grid in 2012. Interestingly, every driver who has won a Driver's World Championship since 2000 will be racing next season.
Lotus F1 Team
–          Raikkonen is known to have motivational issues that affect his performance as was evident in 2009. However, he has been away from the sport for two years and it does seem that his hunger to succeed in Formula1 is back.
–          The most sure shot way of keeping a check on his motivation levels would be by delivering a quick car. The team's 2011 car was termed as a 'failure' and was almost beaten to 5th in the World Constructor's Championship by Sahara Force India in the last few races of the 2011 Formula1 season.
–          The team's biggest challenge will be Kimi Raikkonen! He is unlike your regular Formula1 driver who enjoys the limelight, media and the fans. In this day and age of over-exposure via all mediums including the social media, one does wonder how Raikkonen will cope.
There is little time to overcome much of these challenges given that the next Formula1 race is only a little over a hundred days away. Lotus has indicated that to increase Raikkonen's exposure in the off-season they will make available a 2009-spec demo car and their new driver simulator. Do you think the Raikkonen-Lotus gamble will pay off? Share your thoughts in the comments section below…