Now this is the tricky part for the Lotus F1 team after confirming Kimi Raikkonen for next season. Who should you hire to partner the Iceman? There are multiple options that exist for the Enstone based team. Infact, Lotus F1 Team is one of the few Formula1 teams to have as many as five test and reserve drivers (including Bruno Senna) in the 2011 Formula1 season.
Kimi Raikkonen has chosen the Lotus F1 team to make his comeback to Formula1 in the 2012 Formula1 season (Read post: Kimi Raikkonen Makes A Comeback To Formula1 With Lotus F1 Team). While this is good news for the team and for the sport, the team is yet to decide Raikkonen's team-mate for next season. The options are public and here are my thoughts:
–          Petrov, Senna and Grosjean are amongst the favourites and they are the team's current drivers. However, I wouldn't rule out an outside chance for Maldonado / Sutil, should their contracts with their existing teams not get renewed. (I know Sutil had a bust-up with an Eric from Genii Capital!)
–          Petrov has a contract for next season, brings in Russian sponsorship and has already raced with the team for two seasons scoring one podium and 64 points from 38 races. Being Russian, there is significant business interest to keep him in a seat since Formula1 will visit Russia in 2014 (2014 Russian Grand Prix). However, his recent media outburst against the team and a late season dip in form could work against him.
–          Senna could well pip the Russian to the second seat in the team. The Brazilian driver came in as a mid-season replacement to Nick Heidfeld and has scored two championship points in 9 races. He has shown flashes of brilliance in qualifying and matched Petrov for pace in the races. A Senna-Raikkonen pairing could well be attractive to sponsors for the Lotus F1 team. And the marketing fad of having a driver from BRIC countries would also be fulfilled for the team.
–          Grosjean drove for Renault F1 in 2009 for seven races and failed to score a single point. His best finish was 13th in the Brazilian GP that year. The team has had French connections in the recent past (Renault is a French manufacturer) and Grosjean's French nationality could well work for him. Additionally, Grosjean is also the current 2011 GP2 Champion and drove in the FP1 sessions in Abu Dhabi and Brazil.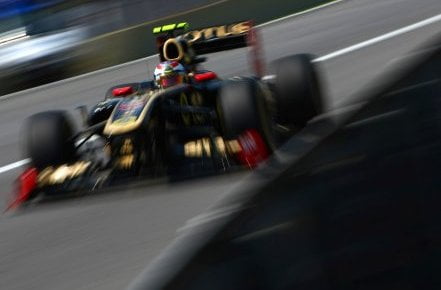 A few points to note:
–          Raikkonen was one of the highest paid drivers on the grid in 2009 and I would doubt if he's settled for too little a pay for 2012. This would mean that driver salary will be a cost factor for Lotus F1 Team next season and hence the second driver choice would need to be a mix of speed as well as money and Petrov was their pay driver for the last two seasons.
–          Assuming that all three drivers (Petrov, Senna and Grosjean) have significant funding available to 'buy' their seat, the team will need to consider their medium to long term option and choose a driver who can be groomed in the near future. This is where the scales could tip towards Senna or Grosjean.
–          Sutil and Maldonado too have funding available and hence could be viable options for the team. Should Barrichello not get an extension with Williams, he could have a slim, but a valid chance. His wealth of experience in developing race cars could come handy, especially when the team has a challenge to produce a quick car for Raikkonen.
–          Any other names that could make it? Daniel Ricciardo, Valterri Bottas, etc.?
Who do you think should Lotus F1 Team choose to partner Kimi Raikkonen next season?
And hot topic on my blog: Challenges that Kimi Raikkonen and Lotus F1 Team will face in the 2012 Formula1 season