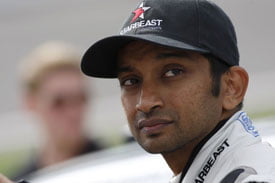 I write this post with extreme excitement. India's first ever Formula1 driver Narain Karthikeyan announced a comeback to Formula1 by signing up for a race seat with the Hispania Racing Team (HRT) for the 2011 season. Narain debuted in the pinnacle of motorsport in the 2005 season with the Jordan Grand Prix team before going on to test for Williams in 2006-07.
It has been 6 years since his F1 debut and Narain has dabbled with racing for the A1 Team India and competed in the NASCAR Camping World Truck Series with Starbeast Motorsport. His most notable drives were with the A1 Team India, where he converted the team from a back-of-the-grid to a race-winning team.
Narain's signing increases the prospects of having two Indian drivers on the F1 grid for the 2011 season. While Karun Chandhok's movements are still not clear, rumours do suggest that he will sign up for a team which will include testing and race duties. It is interesting to note that Karun Chandhok drove for HRT in the first half of the 2010 season.
Narain's signing was first revealed by Autocar India followed by Narain's tweets.
Narain also credited his long term sponsors TATA Group for their support and he did acknowledge that his comeback wouldn't have been possible without their support. This does indicate that Narain's seat would be a paid one. However, there is still no indication if his loyal sponsors MRF, Amaron and Speed will be supporting him in his second F1 season.
The other important factor in his signing is the presence of Collin Kolles as the Team Principal of the Hispania Racing Team. Kolles was a part of the Jordan management when Narain drove for the team. During his Le Mans stint in 2009, Narain drove for Kolles-Audi team.
While the new is joyful, I would surely keep an eye on HRT's driver rotation policy. In 2010, 4 drivers raced for the team. The team started with Bruno Senna and Karun Chandhok, who then made way for Sakon Yamamoto and Christian Klien. Question here is – how many races will Narain get to drive in 2011?
Rotation policy or not, I am hoping that Narain's contract does include a clause for a MUST DRIVE in the Indian Grand Prix – it is important not only for him as a driver, but also for his sponsors and of course the organisers of the Indian Grand Prix.
How good is the move? Narain always maintained that he had unfinished business in Formula1 and he would be back. So it's a promise that he's kept with his fans. HRT might not be the best option to make a comeback with, but with the arrival of Juan Villalonga (former CEO of Telefonica) I am hoping for a brighter future for the team. One of Villalonga's roles is to raise commercial sponsorships for the team and I am hoping that does happen. It will not only secure the future of the team, but also ensure that Narain's car gets updated through the season.  Go NK!
More to follow on Narain-TATA-F1 association