In my previous post 'Formula1 Is Cruel' I mentioned that Formula1 fans are crueler on social media. The proof of my point lies on Twitter where a search for #AskToto would yield plenty of Hamilton fans (not just British) asking the Mercedes team boss if the team would make good of their error by asking Rosberg to give up a possible win in the future!
Outrageous! First, by demanding such a 'correction' of sorts. Second, by expecting that Rosberg will win later in the year. How could they? If they're Hamilton fans, shouldn't they be rather hoping that he wins every single race remaining in the 2015 Formula1 Season? (Read: Did Bernie Call Mercedes…?)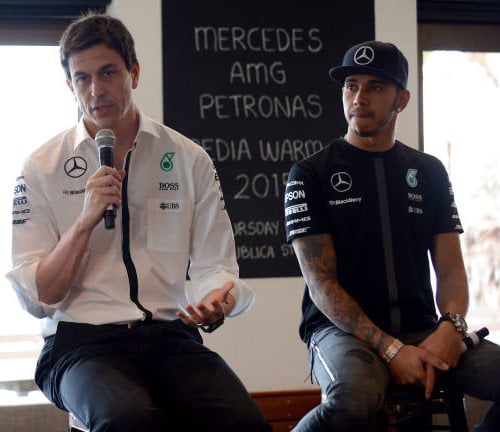 In this week's episode of the Inside Line F1 Podcast, Rishi Kapoor dedicates Elton John's famous song to the Hamilton-Mercedes saga that took place in the 2015 Monaco Grand Prix. We also offer our view on the events and why it is high time that the debate stops. After all, we have Max Verstappen to talk about and thank (profusely) as well. (Read: Max Worst-happened)
The youngest Formula1 rookie drove a fantastic race that was entertaining, exciting and encouraging. He showed (and so did Hamilton) that one can follow the lead car closely and fight with them without worrying about damaging tyres too much! I wonder why Nico Rosberg hasn't challenged Lewis Hamilton much this season! (Read: What's Wrong With Formula1?)
Apart from that we also celebrate Mclaren and Button's first points of the season. It doesn't surprise me much that it was Button who scored the team's first points and not Alonso. In the same breath, it won't surprise me much if it is Alonso who scores Mclaren-Honda's first win! (Read: Thank You Mclaren and Gillette Mclaren Honda)
The Inside Line F1 Podcast is now available on various platforms and I would welcome you to choose your platform to listen to the humour that we add to the otherwise serious and complex sport of Formula1. And while our podcast frequency is weekly, come 'like' the Inside Line F1 Podcast on Facebook and on Google+ for frequent humorous updates from the world of Formula1.
If you are an Apple user, you can subscribe to the Inside Line F1 Podcast on the iTunes Podcast Store or via our RSS feed (for Android/Windows/Blackberry users – You will need a Podcast player!). The Inside Line F1 Podcast is also available on TuneIn Radio.
The Inside Line Formula1 Podcast is produced and hosted by Rishi Kapoor and Kunal Shah. Follow us on Twitter and on our Soundcloud, DailyMotion, Spreaker, MixCloud and YouTube channels.