I have mixed reactions about the 2012 Monaco Grand Prix. Yes, it provided some close racing in parts, however, there were large parts of the race when the on-track action was boring with a majority of fans praying for rain! Eventually, the rain never arrived and we had to rely on the Pirelli rubber to entertain us. However, for the first time this season, it did seem like the teams got a hold of their tyre strategy with almost all drivers opting for a one-stopper!
The two predictions that I had made pre-race were that we will see a sixth winner in Monaco and that majority of teams and drivers will opt for a one-stopper tyre strategy (Hear about it here: Monaco, Pirelli and One-Stopper).
Mark Webber clinched his second win in Monaco. As covered in my 2012 Monaco Grand Prix Qualifying Report, seven out of ten races in the past were won by the driver starting from pole. Webber drove a splendid race and kept a charging Nico Rosberg at bay during several parts of the race.
Webber's win also makes Red Bull Racing the only constructor to win two races this year. Vettel, who ran the reverse tyre strategy to Webber made considerable ground to finish P4 after starting from P10.
Pre-race there was rumour in the Formula1 Paddock regarding Red Bull's RB8's floor, where teams found a 'hole' just ahead of its rear tyres which is not allowed as per regulations. There was talk that post-race Ferrari / Mclaren / Mercedes could lodge an official protest.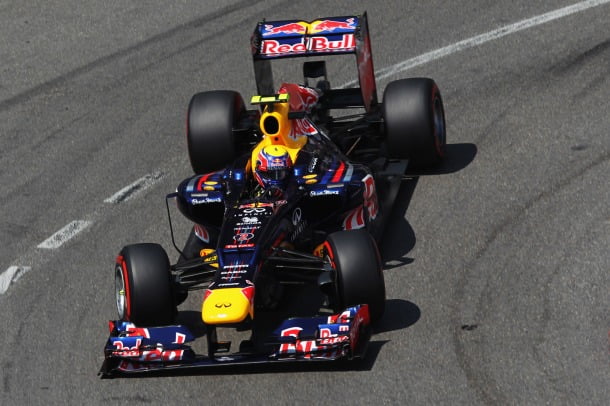 Rosberg, who claimed to have the pace to win, settled for second, whereas team-mate Michael Schumacher suffered from more reliability gremlins as his Mercedes AMG car retired due to fuel pressure problems. The German legend still has only two points from the six races contested this season.
Mclaren, the team that I expected to dominate this season, only had Hamilton finish in the points in P5. Button has failed to finish in the points in three out of the six races this season.
Schumacher was also involved in a first lap collision with Lotus' Grosjean which ultimately saw the Frenchman retire from the race. This was Grosjean's third retirement out of six races this year. Alongwith Webber, Grosjean was my underdog to win today's race.
Grosjean's team-mate Raikkonen, yet another favourite for victory, suffered from his team's tyre strategy errors and ended up finishing only ninth and four tenths ahead of Williams' Senna. Raikkonen's strategy it seems was dependent on the rain which ultimately didn't arrive causing the Finn to extend his stint on his first set of tyres.
Lotus has arrived at most circuits this season as favourites to win but have been unable to convert their strong performances to race victories. In my opinion, the team is too cautious in their approach and seems happy to be scoring points rather than victories at this point in the season.
Ferrari on the other hand would be happy after Alonso claimed the third step of the podium and took the lead in the Drivers' Championship table by three points. They would also be happy that Massa was able to match Alonso's pace and eventually finished 6th and only six seconds behind the winner.
The hero of the 2012 Spanish Grand Prix, Pastor Maldonado had to retire from the race after a first lap incident. TV replays showed him entering the first corner already with front wing damage. Maldonado was first penalized for an on-track incident with Perez in FP3, followed by a penalty for a gearbox change. Senna scored Williams' sole Championship point by finishing tenth.
Perez, who also started from the back of the grid after a gearbox change drove well to finish P11.
The non-scoring weekends for Sauber and Williams worked in the favour of Sahara Force India whose drivers Paul Di Resta (P7) and Nico Hulkenberg (P8) scored the team's second double points finish of the season.
Toro Rosso too could have scored a Championship point had they not pitted Vergne from P7 for intermediate tyres in expectation of rain. Vergne ultimately finished P12 and outside the points!
Caterham's Kovalainen had a good race which ultimately ended in P13. He battled with a Mclaren and Sauber often keeping them at bay during the course of his race. Petrov had to retire from the race due to electrical issues with his car.
Karthikeyan finished a further lap down on Marussia's Glock in P15, his best race finish since his comeback to the sport with HRT.
Consistency will be the key as unpredictable results pop up for the teams. This is also the reason why we've seen Alonso / Vettel lead the Drivers' Championship and Red Bull Racing lead the Constructors' Championship. And I expect them to do so going forward too!