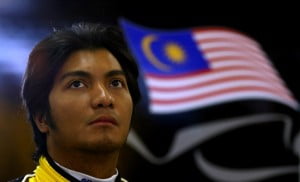 Malaysian driver Fairuz Fauzy is jumping Lotuses in the world of Formula1.
The newly formed Lotus Renault GP announced Fauzy has announced as their test and reserve driver for the 2011 Formula1 season. He will be driving alongside full-time racers Robert Kubica and Vitaly Petrov in Formula1 and compete in the GP2 series.
Interestingly, Fauzy was relieved of his testing duties with Team Lotus Racing (the other Lotus team!) at the end of the 2010 season. His signing up with Lotus Renault GP sends an indication that the team is serious in bringing in the Malaysian flavour in an attempt to attract the F1 fans in Malaysia.
Fauzy has tested for Spyker F1 in 2007, followed by racing stints in the GP2 series, A1 Grand Prix and the World Series by Renault.
Fauzy will be inducted into the newly formed LRGP (Lotus Renault GP) Academy which aims to train young drivers for the demands of Formula1 racing.
Fauzy who was out of luck after being relieved by Team Lotus Racing seems to be a surprise (but expected) beneficiary with the presence of two Malaysian-owned teams in Formula1.