The qualifying session of the 2012 Monaco Grand Prix lived up to its expectations of being exciting, entertaining and competitive. It also was a usual qualifying session in Monaco where we saw a few crashes bring out a red flag and of course an unexpected pole sitter! Thankfully, the weather stayed dry (against the weatherman's predictions) and that allowed us to witness yet another closely fought qualifying contest.
My thoughts on the 2012 Monaco Grand Prix Qualifying:
Q3:
–          Michael Schumacher drove a splendid lap in the dying moments of the session to clinch his first provisional pole position since his comeback to the sport. He clinched pole in his Mercedes AMG W03 car 8 hundredths of a second ahead of Red Bull Racing's Mark Webber.
A 5 place grid penalty from the 2012 Spanish Grand Prix for his incident with Bruno Senna means that Schumacher will start from P6.
Post session, there was confusion around who the pole position would be officially awarded to – would this be Schumacher's 69th pole or Webber's 10th? The 'official' word that came out was the 'starting order', which is released pre-race on Sunday defines the 'pole sitter' and hence in this case it is Webber's pole! (Though in my opinion, the pole is Schumacher's and the penalty is awarded only post-session)
This will be Red Bull Racing's third consecutive pole in Monaco after Webber inherits pole from Schumacher. Interestingly, pole position is important around the streets of Monte Carlo and seven out of the last ten races here have been won from pole!
Webber's team-mate Vettel stayed away from setting a laptime in Q3 and qualified in P10. He struggled with his car and had to use extra sets of tyres in Q2 to make the cut into Q3.
Ferrari's wake-up call to Massa finally worked after the Brazilian managed to get into Q3 for the first time this season and qualified in P7, a tenth behind Alonso in P6.
Hamilton was two tenths off Schumacher's pace and qualified in P4, less than a tenth ahead of Grosjean in P5. Raikkonen in the other Lotus that missed a practice session on Thursday could only manage P8 and a mega six tenths off his team-mate!
Maldonado, the star of Barcelona, made life difficult for himself after an incident in FP3 with Perez saw him pick up a ten place grid penalty in qualifying. He qualified P9 and will start the race from P19.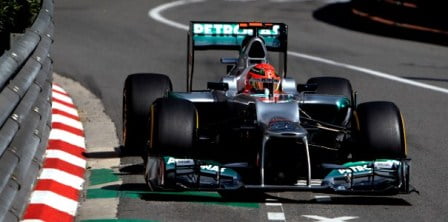 Q2:
Vergne's early crash ensured that his chances for Q3 were dented. He qualified a position better than what usually does at the races at, P17! Team-mate Ricciardo was a spot ahead in P16.
The biggest elimination of Q2 was Mclaren's Jenson Button who could only manage a P13. He missed the cut for Q3 by two tenths and was four tenths slower than team-mate Hamilton. Surprisingly, Button topped the time sheets in FP2 held on Thursday and this was Button's second consecutive Q2 exit!
Narrowly ahead of Button were Hulkenberg (in P11) and Kobayashi (in P12). In Q2, the time difference between P1 and P16 was less than a second and P2 to P6 was separated by a tenth!
Also surprisingly, Massa topped the timing monitors in Q2!
The biggest disappointment of the season so far has been Bruno Senna. He managed a lowly P14, seven tenths slower than Maldonado. Will we see a mid-season replacement for the Brazilian?
Q1:
Perez's understeer-y crash meant that Q1 was all about fixing positions P18 to P23, with Perez being classified as 'did not qualify'.
Q1 manages to get interesting when the mid-fielders and a few top runners come out using the option tyre and it did get interesting for Raikkonen and Vettel who had to use an extra set to avoid getting eliminated. Ultimately, this did affect their tyre strategy in Q3.
Also, Button missed being eliminated in Q1 by a narrow tenth of a second and it seems that Kovalainen on his options would have managed an entry into Q2 had he not got held up in traffic!
The qualifying order for the bottom teams saw a slight shift and I reckon this is down to Pedro de la Rosa's experience as a Formula1 racer. He managed to qualify ahead of Marussia's Pic by a four tenths margin.
Narain Karthikeyan once again brought up the rear of the grid and will start tomorrow's race from P23. (Read post: Has TATA Made The Wrong Decision With HRT?)
I am staying away from making predictions for race day but I do reckon that Webber, Hamilton and Grosjean are all capable of scoring their first win of the 2012 Formula1 season. However, the current season will get even more interesting if Michael Schumacher manages to clinch his 6th Monaco GP win! Who are you betting on?
RJ Rishi Kapoor and I made some predictions on tyre strategy for Monaco. Hear the podcast '2012 Formula1 Podcast: Monaco, Pirelli And One-Stoppers'