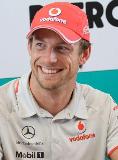 19th January saw two current Formula1 drivers share their birthdays; Mclaren driver and 2009 F1 World Champion Jenson Button and India's second F1 driver, Karun Chandhok.
The 2011 F1 season is important for both – one at the peak of his Formula1 career and serving his second season in one of the best F1 teams and the second is on the brink of building a long-term career in Formula1.
Button's 2011 season will start on an equal status with his team-mate Lewis Hamilton. However, his performance through the 2011 season will be important if he wishes to go down in history as a British double World Champion. The 2010 Mclaren car wasn't best suited to Button's smooth driving style and qualifying was his key area of concern. His early wins in Australia and China in 2010 were noteworthy of his driving talent and tactical brilliance. I am hoping that in the 2011 season he proves his worth in Mclaren and settles for a second F1 crown.
Karun Chandhok after serving half a season with HRT is still searching for an F1 seat on the 2011 grid. Rumour has it that he is open to a testing + race seat option as long as any team is offering him a long-term contract. With seats in most mid-grid teams filled up, Team Lotus Racing's reserve driver does seem to be an option for Chandhok. However, the option will be sweeter if it includes a race drive in the 2012 season. Here's wishing a long F1 career for Karun.