When we (Rishi and I) recorded the pre-season episode of the Inside Line F1 Podcast 'Ferrari vs. Mercedes, Really?' we were certain that we were kidding ourselves. We were certain that Ferrari were kidding us too (low fuel runs, we exclaimed!). We never imagined that a Mercedes would be beaten on raw pace and strategy in the 2015 Formula1 Season and some of our fans would've been delighted to know that we even wondered if Lewis Hamilton could win every single race this season. (Read: Mercedes Is The New Red Bull Racing)
Post the conclusion of the 2015 Australian Grand Prix, we were sure that our fears for the season could well come true. Hamilton was in a league of his own and Rosberg in his (that of making mistakes and playing cheeky!)! While Ferrari had caught up, they were yet far (and slow) enough to challenge for wins. Williams, as much as they'd like to believe so, have little chance of winning against a Mercedes with a Mercedes engine. Red Bull Racing seemed busy finding new excuses to blame Renault while Mclaren were busy hunting for motivational quotes to give away during each media interaction! (Read: Someone Please Fight Back)
If someone would've told me (or any other Formula1 fan in the world) that Sebastian Vettel would've not just challenged but won against Mercedes by the second round (2015 Malaysian Grand Prix) of the season, I would've saved my dime over a senseless bet and my time over wishful thinking. The only possibility of a non-Mercedes win this season (in my mind) was if the two Mercedes cars would've retired due to reliability reasons or taken each other out; with Rosberg racing, that's somewhat a possibility. (Read: A Nico and A Nico-le)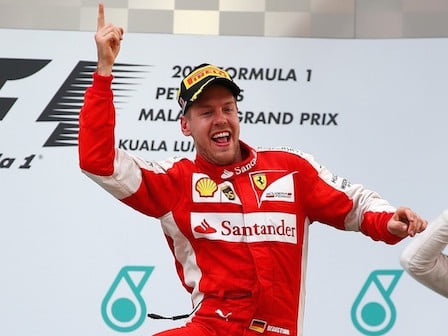 But Sebastian Vettel and Ferrari managed the unthinkable in Sepang. They pulled off a mega win by beating Mercedes on pace and by outsmarting them with a better tyre strategy. Yes, their strategy was aided by the early Safety Car period (Thank you Marcus Ericsson, you were of some good today!), but the team backed themselves to not pit under the SC period and continue to trust the medium compound to deliver results while Mercedes were in hot pursuit on the harder one.
Vettel's win was much needed – for Vettel himself, Ferrari, the sport and the fans. Despite winning four Drivers' Championships on the trot with Red Bull Racing, critics awarded his titles to Adrian Newey's design efforts rather than his talent. Early days to judge Vettel's career with Ferrari, but he does seem to have started on the right foot – podium in Australia followed by a victory in Malaysia. Fans and media also wondered, where Alonso failed, could Vettel succeed? After all, the Spaniard is the sport's 'most complete driver' yet! And in all of this, there's the burden of expectations to turn around the ailing team and turn them into a winning machine, much like his compatriot Michael Schumacher did. And if his critics aren't silenced yet, they never will be, but it is worth knowing that he is one of the only (or the only?) driver on the grid to have won a race in three different cars! (Read: From Vettel To Lord Vitthal)
The Italian team's last win was registered at the 2013 Spanish Grand Prix (nearly two seasons ago!) and they took some very brave and not-so-popular decisions at the end of 2014 to shake up their management (Bye Bye Montezemolo!) and driver line-up (Fire Alonso, Hire Vettel) in a strong bid to reclaim their lost glory and success.
On the other hand, the sport is still deeply stuck in a negative cycle which includes discussions and over analysis of various factors such as power trains, their noise, circuits and markets, marketing, etc. and of course, teams either unable to compete or threatening to quit the sport altogether. While Vettel's victory will change nothing, there's at least something to cheer about and of course, write about on my Formula1 blog! (Read: Blame It On Bernie?)
And finally, the fans, they're stuck in a deeper conundrum! A large but dwindling number tune in to the broadcast of the sport every fortnight only to witness one team dominate without much challenge from the others. Tune in or tune away, is the question that puzzles most of us, but luckily for Formula1, there no other major global motorsport category or event for us to follow! (Read: Formula1 Puts Fans First)
While Vettel and Ferrari displayed that Mercedes could be beaten, can they possibly repeat their feat in China or the races that follow? By their own admission and my understanding too, I wouldn't believe so. Ferrari benefited in Sepang with an early Safety Car period and a chassis that managed tyres in the extreme track temperatures (nearly reaching 65 degress!) better than Mercedes. The Italian team is in its period of transformation and this early victory will prove to be a shot in the arm, but I do expect Mercedes to return to the front in the 2015 Chinese Grand Prix. (Read: Formula One or Formula Rookie?)
The other plus of a Vettel victory (in a Ferrari) was the return of the German – Italian anthem combination, one that was made world famous by the great Michael Schumacher and brought back memories of his time at the Scuderia. It seemed almost wrong to not hear the Italian anthem followed by the German one each time Rosberg won last year. Admittedly so, I have possibly heard the German and Italian anthems the most after the Indian 'Jan Gan Man'! (Read: Permanent No. 1 – Vettel vs. Schumacher?)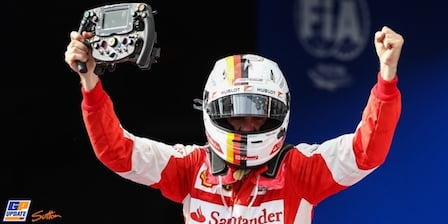 The reality of the matter is that a competitive Ferrari has always proved to be beneficial for the sport and it always helps to have two (or more) teams to compete for wins. I wonder if more fans would've tuned in to the broadcast of the 2015 Malaysian Grand Prix if they were certain that Ferrari vs. Mercedes was for real. And while a few more will tune in to the 2015 Chinese Grand Prix with hopes of the battle continuing, there's no guarantee that it will. Sigh! (This is exactly what the sport needs to work on without giving much of a damn on the regulations and 'formula' of Formula1!) (Read: Formula One Needs Better Marketing)
The two (other) notable drives of the day were that of Kimi Raikkonen and Max Verstappen. Raikkonen suffered an early race puncture (an evil one at that where his tyre blew just as he passed the entry of the pit-lane) and had to manage an extra pit-stop. Despite this mess, he finished only 54 seconds behind Vettel which makes me wonder – had everything been normal for the Iceman, could he have battled with Vettel for the win?
Verstappen drove a mature race with some good overtaking moves to finish P7, ahead of Sainz Jr. and his senior Red Bull Racing team-mates Ricciardo and Kvyat. Much as everyone is heralding his arrival at the top flight of Motorsport, I read a stat which confirmed that Formula1 cars of this era are not just easy to drive, but slow too (At Malaysia, the pole position time from the 2013 GP2 season would've been P8 for the 2015 Malaysian Grand Prix!). The lad has talent, no doubt, but I will reserve my views for a few more races. I would hate to praise a driver only to see him go the Alguersuari or Buemi way! (Read: Thank You Red Bull Racing)
Mclaren topped the list of disappointments this weekend (expectedly so) followed by the FIA Stewards who awarded harsh in-race penalties (ten seconds) and license penalty points to the Force India drivers. (Read: Thank You Mclaren)
Vettel's dream with Ferrari is to emulate his idol Michael Schumacher's success by not just following his footsteps, but laying a few of his own. If the emotions (by Vettel, Ferrari and the fans) at the 2015 Malaysian Grand Prix were anything to go by, I can't wait for Vettel's Ferrari dream to become a reality. But yes, I also wonder where would Kimi Raikkonen fit in this dream. A Rubens Barrichello, I am sure not!