Vettel vs. Hamilton For The Championship?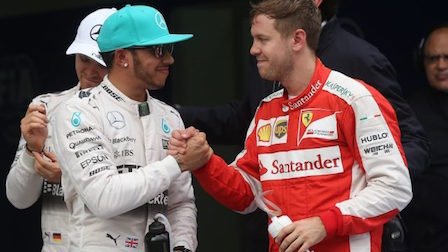 Yes, I am over-stepping myself, unlike Ferrari and Vettel probably. But this is exactly what the fans want and possibly what the sport of Formula1 needs – Game On, Ferrari, really? Will be super to have a Vettel vs. Hamilton vs. Raikkonen vs. Rosberg vs. Alonso vs. Button vs. Ricciardo vs. Kvyat and if Massa and Bottas are allowed to join the battle too! But the nature of the sport and its regulations (well almost!) dis-allow multiple teams from being competitive. Should this happen, it'll be a nightmare for Lewis Hamilton and his beloved fans. But this debate is for another day. (Read: Some One Please Fight Back)
Can Vettel and Ferrari remain in the battle long enough in the 2015 Formula1 Season to become genuine contenders? I think not, but I am hoping to be proved wrong and be surprised. I do believe that they will be a force to reckon with on circuits where tyre strategy can play a crucial role and they can manage to stop fewer times than their competition – guess this is a typical James Allison influence on their chassis and not a bad one at that. But on the rest, I expect Mercedes to fly away with Lewis Hamilton at the wheel. (Read: Mercedes Is The New Red Bull Racing)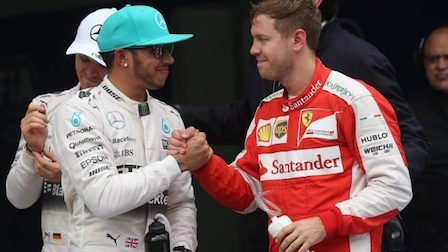 But what about Nico Rosberg? If he doesn't pick up the pace and beat Hamilton soon, he might just be reduced to playing a support role if Vettel vs. Hamilton does indeed happen. He seems to be a little more than lost and a bit of sports psychology could come to his rescue. But I don't think Kimi Raikkonen will face similar fate. Had he been lucky, he could challenged for the win in the 2015 Malaysian Grand Prix. Don't believe us? We offer some math in this week's episode of the Inside Line F1 Podcast.
Rishi and I love to research and reveal subjects on the sport that otherwise get missed. We might not have access to Rosberg's telemetry, but we reveal why he was slow all weekend in Sepang. Similarly well tell you Max Verstappen could end up forcing the sport to change their podium procedures should he manage one soon. Also, do you think so too that Vettel could do with a new tailor? (Read: Thank You Red Bull Racing and Formula One or Formula Rookie?)
Lastly, we agree with Bernie Ecclestone that we should have a separate Formula1 (or the likes) Championship for women, but our reasons differ. And before you think we are sexist, tune in to know why.
(Read: Blame It On Bernie? and 
Will Formula One Survive Without Bernie?)
The Inside Line F1 Podcast is now available on various platforms and I would welcome you to choose your platform to listen to the humour that we add to the otherwise serious and complex sport of Formula1. And while our podcast frequency is weekly, come 'like' the Inside Line F1 Podcast on Facebook and on Google+ for far frequent humorous updates from the world of Formula1.
If you are an Apple user, you can subscribe to the Inside Line F1 Podcast on the iTunes Podcast Store or via our RSS feed (for Android/Windows/Blackberry users). The Inside Line F1 Podcast is also available on TuneIn Radio.
The Inside Line Formula1 Podcast is produced and hosted by Rishi Kapoor and Kunal Shah. Follow us on Twitter and on our Soundcloud, DailyMotion, Spreaker, MixCloud and YouTube channels.
AND a big shout out to our new partners World F1 News! Go follow them on Google+ to receive latest news and views on the sport.