Come rain or shine, the fight for pole position was expected to be between Lewis Hamilton and Nico Rosberg. But it wasn't so, much to the surprise and excitement of Formula1 fans. Sebastian Vettel managed to split the dominant Mercedes team by driving a lap less than a tenth of Hamilton's, who grabbed his second successive pole position of the 2015 Formula1 Season and 40th overall.
What's happened to Rosberg? It seems he's lacking application and maybe some confidence. Hamilton has upped a gear or two after his World Championship win last year and Rosberg seems unable to respond at the moment. He's clearly struggling from the driver radio ban and this was evident in today's qualifying session too. Apart from that, it seemed that he wanted to rely on his cheekiness to slow down Hamilton rather than focus on lapping faster than him. His 'blocking' of Hamilton was an age old attempt to follow a racer and learn his racing lines! (Psst! He asked for similar guidance on radio as well!) (Read: Nico Ros-boo-rg and Ross The Boss)
But the sport is relying on Rosberg to perform, to take the fight to Hamilton and make the sport interesting. The 2014 Formula1 Season has gone down in history as the one where friends turned foes (Read: Still Friends #NoProblem) and we risk 2015 for being remembered as when Lewis Hamilton won everything! This is also where I am glad to see Ferrari pick up the pace and try and battle with Mercedes. (Read: Ferrari vs. Mercedes, Really?)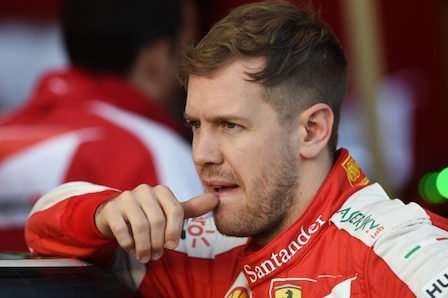 I do believe that today's wet session helped mask the apparent gap between Mercedes and Ferrari, but if it rains during the race, will it still be anyone's race? I think not! Mercedes have a greater advantage which they can unlock if and when they are challenged is my belief. Unless there are reliability issues or incidents on track, I doubt Hamilton can be beaten to the chequered flag tomorrow. I don't believe Rosberg, who is starting 3rd, will have the favoured tyre strategy for tomorrow's race – this is in line with how Mercedes has operated with their drivers over the past years. (Read: Mercedes Prefer A Blonde On Top)
Vettel's 'anything can happen' statement post-qualifying was one for the media and fans and not a depiction of reality, of course, I would love to be proved wrong. Strange that after accusing Vettel of making the sport boring not too long ago, we are relying on him to ensure that tomorrow's race isn't yet another snore-fest like the 2015 Australian Grand Prix. This could also mean that tomorrow might not be Mercedes vs. Cricket after all! (Read: iPhone5S-ebastian)
The biggest disappointment (after Rosberg and his cheeky incident) in qualifying was Kimi Raikkonen, who mistimed his Q2 attempt and got held up behind Sauber's Ericsson. I would love to know if this was a driver or a pit-wall error! Starting 11th, I hope the Finn can make up positions and entertain fans along the way. It is always good for the sport to see Ferrari doing well.
I also hope that it was the rain that affected the pace of the Williams F1 Team drivers. I was surprised to not see Bottas fighting at the front given his wet weather talent. That the second fastest Mercedes powered team was beaten by both the Red Bulls and a Toro Rosso does make me wonder if they went wrong with their setup altogether or just mistimed their runs. If Williams wish to compete with Mercedes and beat Ferrari (and finish top 3), they will need to up their smartness quotient! (Read: Fed Up Of Rule Changes In Formula1)
The star of today's qualifying session would be Max Verstappen – who qualified less than a tenth behind his Red Bull Racing team-mate Kyvat (I would usually say 'senior' Red Bull Racing team-mate, but I can't in this context!) and also equalled his father Jos's best ever qualifying position (P6) in his second race itself. While I applaud his talent, I am certain that the car that his father drove twenty years ago was far more difficult to manage and control and here is where I wonder if Formula1-spec cars are easier than ever to drive and if this is also why Sainz Jr., Nasr and other rookies have impressed in their early outings itself. (Read: Formula One Is Funny)
And lastly, I hope that it is the heat and increase in track temperature that will be the reason for Pirelli's degradation and not their recent transfer in ownership to a Chinese company, ChemChina. (Read: Our Secret Tyre Test With Pirelli)
Qualifying Results:
Lewis Hamilton
Sebastian Vettel
Nico Rosberg
Daniel Ricciardo
Daniil Kvyat
Max Verstappen
Felipe Massa
Romain Grosjean
Valtteri Bottas
Marcus Ericsson
Kimi Raikkonen
Pastor Maldonado
Nico Hulkenberg
Sergio Perez
Carlos Sainz Jr.
Felipe Nasr
Jenson Button
Fernando Alonso
Did Not Qualify
Roberto Merhi
Will Stevens
My blog made it to top 25 Formula1 blogs to read, thank you for your reads, likes, shares and listens! Keep Racing!