Lewis Hamilton was keen to attempt the 0-stop strategy used by Esteban Ocon in the 2021 Turkish Grand Prix. Here's why he might not have managed to pull off an Ocon! And also, the winners-losers from the opening lap of the race followed by Carlos Sainz Jr.'s fantastic recovery drive.
'If Ocon did it, then I can do it' was Lewis Hamilton's claim after the race in Turkey. Expectedly, there's been a fair bit of backlash and criticism around Mercedes' tyre strategy for Lewis Hamilton in the race in Turkey.
But could Hamilton have done it?
For starters, Ocon finished a lap down.
Ocon did 57 laps & Hamilton would've had to do 58 laps

Excerpts from what OCO said after 57 laps & his 0-stop strategy:

"I think one more lap, I would have got a puncture and two more corners I would have got overtaken by Giovinazzi."

Get the point? https://t.co/OHKwDDvSnR

— Kunal Shah (@kunalashah) October 12, 2021

But of course, our in-house data expert Nithyanand had to dig in and explain Mercedes' decision using data from the race.
Here's a graph depicting the 'drop-off' that Leclerc and Hamilton suffered a few laps apart. The 'before pit' is when their relative pace dropped – ringing alarm bells for Mercedes. The 'after pit' was the graining phase that all drivers complained about in Turkey.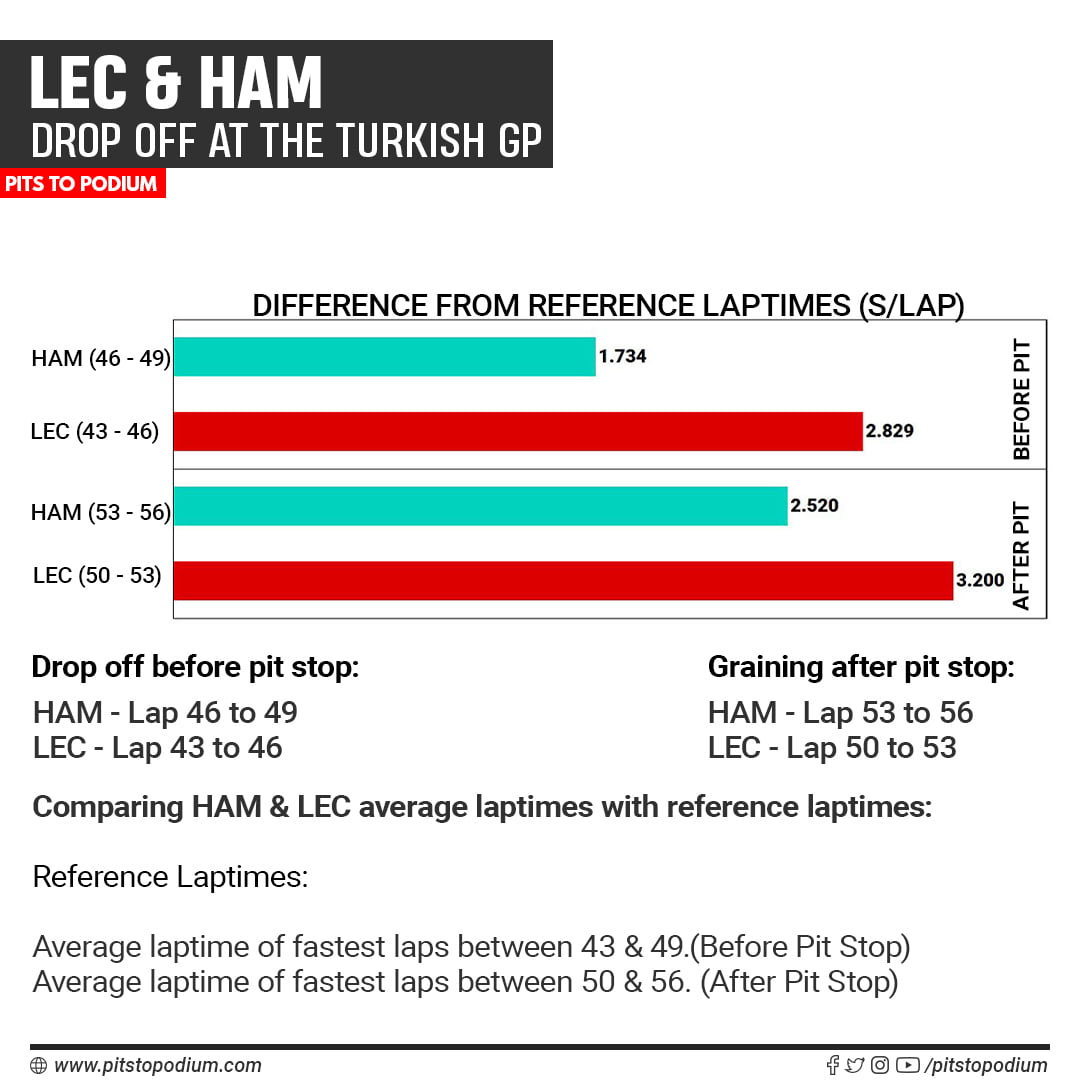 Based on the data, it was fairly evident that Mercedes needed their star driver to pit. Ultimately, Mercedes had two options:
Pit & hope that Hamilton is able to recover places on-track (he was undone by the graining phase here)
Stay out & pray that he a) finishes the race, b) finishes in the points
Mercedes chose the option that they believed cost them the least number of points. The disappointment around their decision was because it robbed Hamilton of a hopeful podium finish (or even a race win!?) & the points that came with it.
In my view, Mercedes could've risked a 0-stopper had they not been engaged in a tight title battle – basically in most other seasons of this hybrid-turbo era ? And of course, I am not the only one who believes that Hamilton undid Mercedes' strategy by not pitting for new inters when the team first called him in. Here's Mark Hughes' fantastic explanation around this blunder.
Carlos Sainz Jr's recovery drive 
Sainz Jr. has been one of two stand-out drivers of the season (the other being Mclaren's Lando Norris). After starting from the back due to a grid penalty, the Spaniard drove a fine race to finish 8th. He overtook drivers on-track & made Ferrari's strategy work in his favour. Here's a chart of Sainz's race progression.
16 races in, the gap between the two Ferrari drivers is only 0.5 points.

Carlos Sainz Jr.: 116.5
Charles Leclerc: 116#F1 #Ferrari

— Kunal Shah (@kunalashah) October 11, 2021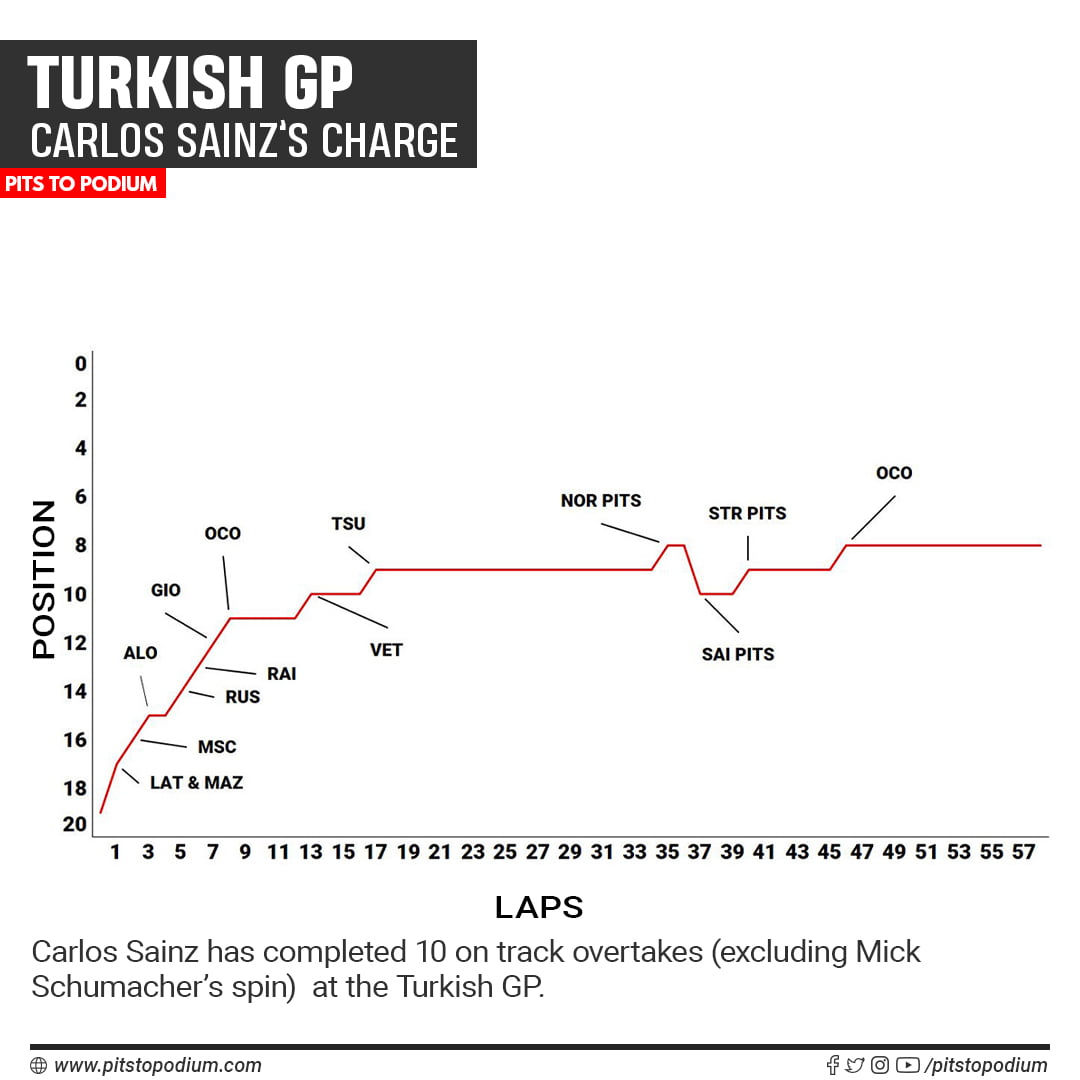 Race start & opening lap – winners & losers
Giovinazzi's defiance of team orders to let Raikkonen through might have cost the team a point or two in Turkey, but the Alfa Romeo Racing drivers were among the best starters in the race. It's no surprise that Alonso's spin on the opening lap cost him 11 places in the race order.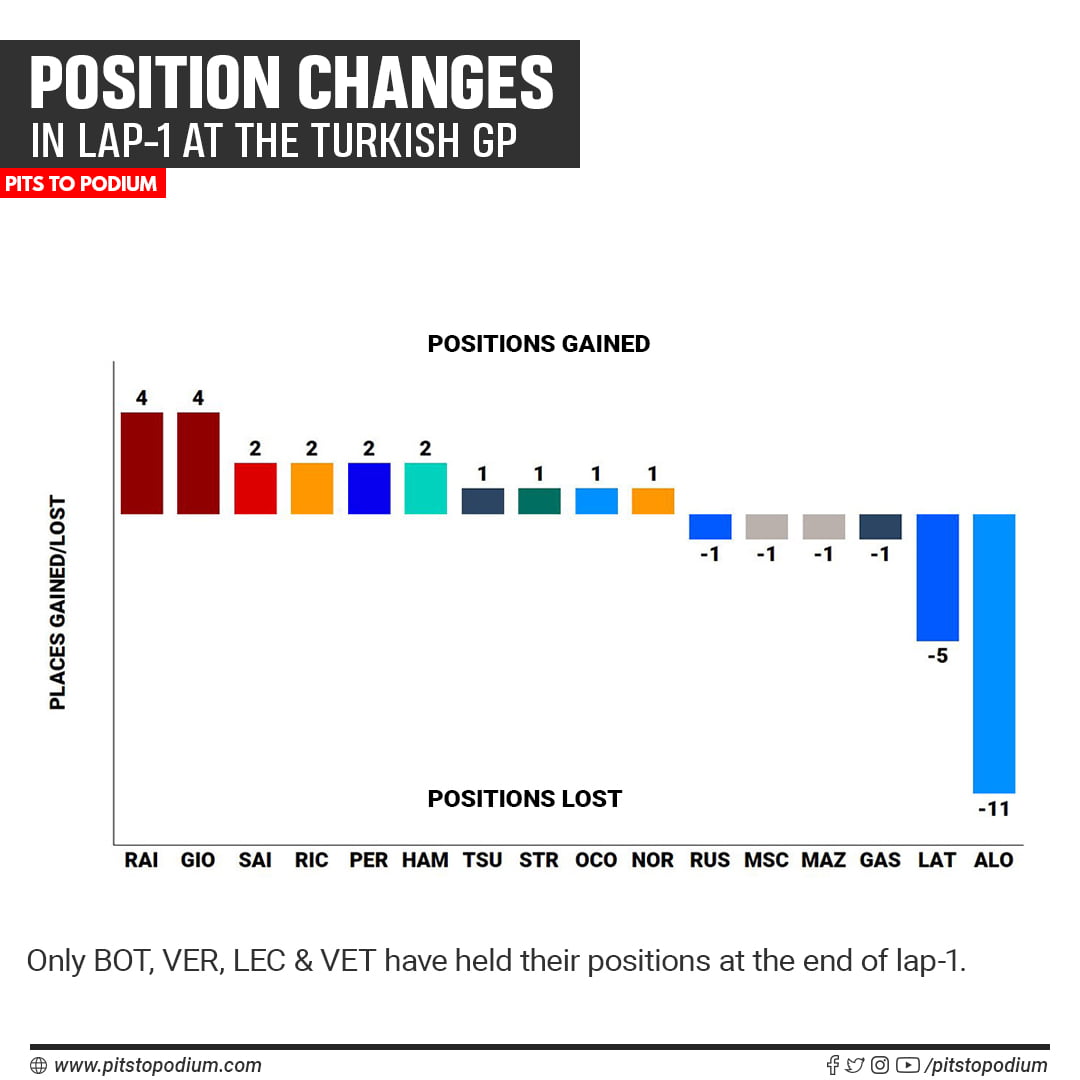 Last but not the least, you will find below Hamilton's 'lap notes' from Monza and a few other stats that really stood out for me post-Turkey. There are 6 races to go & the we're working to bring to you more insights, stats and a season-ending competition. Stay tuned!
Drivers who have failed to score a point in the last 4 races:

Sebastian Vettel
Yuki Tsunoda
Nicholas Latifi
Antonio Giovinazzi
Mick Schumacher
Nikita Mazepin

Here's the top of the field:#F1 https://t.co/1oBNJs6g1O

— Kunal Shah (@kunalashah) October 11, 2021
Hamilton's 'lap notes' around Monza
A young Lewis Hamilton checking his track notes on Monza circa 2006

? u/aegontargs pic.twitter.com/8YHjLkeQes

— Vincenzo Landino (@vincenzolandino) October 11, 2021
Liked our newsletter? Rate us below & forward to your friends – https://bit.ly/f1newsletter.