When Formula E came into the news a few years ago, I dismissed it. I thought to myself, here's another championship that is trying to make a mark on the global stage in the world of Motorsport where Formula1 rules the roost. Yes, I did follow the A1 Grand Prix and its debacle well to have learned my lessons, as a fan and maybe a marketer.
Let's face it, Formula1 is in a state of monopoly if you consider the global arena. DTM, Australian V8s, Indy Car, etc. have most of their appeal local, very little global. Formula1, is the world's most and best marketed Motorsport series. And on that note, it is only surprising that it feels insecure! (Read: 2014 Formula1 Season: Has The Dust Settled Yet?)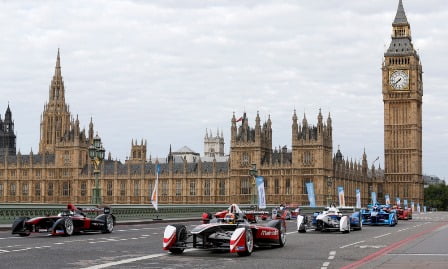 When the Formula E cars and their specs were revealed, I still dismissed it. I dismiss it even more now so after reading about the 'Fan Boost' plan, which I don't think anyone can yet convince me that it isn't anything but a gimmick. But I must give credit where it is due. The organisers are at least trying to woo the new age consumer via mediums he/she would relate to. (Read: Formula1 Needs Better Marketing)
But even in this dismissive mood of mine, I think, Formula E stands a chance. And that isn't because of the series itself (because it is yet to register its first race), but maybe because Formula1 has lost its way, or seems to have and is offering a chance, possibly at the best juncture in Formula E's yet to be written history. (Read: Just What Formula1 Should Be)
A single make series, ex-Formula1 drivers (not the biggest names, but well), high profile team owners (celebrities and entrepreneurs) and races held in the middle of the cities seems like just the mix that fans would relish. And not to forget the affordable access to tickets (that's what they say!)! On social media, Formula E has already put more content than Formula1 has.
If Formula E is able to produce exciting wheel to wheel racing action on a consistent basis (Alonso vs. Vettel in Silverstone), which I think is possible given the single make of the cars, they've a big chance of occupying the sporting-tainment space which Formula1 is struggling to do so. Could this be our wish of seeing top Formula1 (former for now!) drivers race in similar machinery? (Read: Permanent No. 1?)
If Formula E focuses more on racing of the cars than their engineering, there's a big chance that fans who are put off by Formula1's excessively complex technical regulations will deflect to a series which claims to be the future of automobile and racing and is possibly simpler to understand. And let's face it, up until 2013, it was the aerodynamic structure of the Formula1 cars that was difficult to understand. Starting 2014, the FIA and other stakeholders have added the engine to the list too. Err! Wait, it is no longer an engine, but a power train.
Given that the series is currently only testing their machines, it is way too early to call their success or failure. This post is about stating that there does seem to be a definite chance for the organisers to make a mark with their revolutionary series and a strong one at that even though the positioning and claim is that the series isn't competing with Formula1 that has been around for more than 60 years.
The series will need at least 5 – 7 years before it moves from an investment mode to generating adequate revenues to self-sustain to generating profits while giving fans a chance to embrace and adjust to the newer technology of racing and their apparent lack of sound. In this time period, Formula E will try and attract newer venues, team owners and crucially, former and well known Formula1 drivers to increase the equity and follower-ship of their series. I wouldn't be surprised if a few drivers from the current grid of 2014 will find themselves a cockpit in the new series in the years to come. And I hope Maldonado isn't one of them!
A couple of months left before Formula E's debut race and while the stakes are high for the new series organisers, I hope the powers of Formula1 are keeping a tab on the developments. If I were Mr. E, I would be cautiously curious, but well, I am certain the real Mr. E isn't bothered whatsoever!
Read about India's Mahindra Racing and their entry in Formula E: 'Mahindra Racing Expands Footprint, Enters Formula E'