This was post was well overdue, so here it finally is! The overdue is not because I waited for the New Year (Happy New Year, btw!) to post it, but more so because the contributions of Mohan Nagarajan to Indian Motorsport deserved to be written and spoken about a few years back. (I mean on my blog!)
I have interacted and briefly worked with Mohan a few years back (in 2008/09) while his Production World Rally Championship team, Team Sidvin India, was competing in the PWRC as a privateer team from India. First Naren Kumar and then Gaurav Gill steered the team at various rallies held as a 'companion series' to the World Rally Championship. This also means that he has the unique distinction of being one of the few Indians who have invested in racing teams competing in globally renowned motorsport championships.
While Team Sidvin is currently off the tarmac, the SIDVIN Festival of Speed is one of India's biggest motorsport events after the Indian Grand Prix. Below are the excerpts from my chat with Mohan on motorsport and related topics: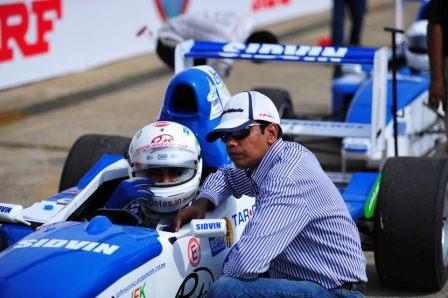 Me: Your inspiration behind creating the SIDVIN Festival of Speed?
Mohan: The 2012 SIDVIN Festival of Speed was the return of this concept of doing things differently. We had the first SIDVIN Festival of Speed in 2009 with the FIM Asia Road Racing Championship round. FIM came to India after 15 years and we were instrumental in bringing them back. This made us start thinking of doing things differently. The cost of running races in BIC is very huge as compared to running elsewhere in the country and was not affordable for a single series to be run over a weekend. So we created a platform for all the major series in the country to come and race on the same weekend. The inspiration comes from the aspirations of all Indian budding drivers to be driving on one of the best racing tracks in the world.
(Hear RJ Rishi Kapoor and me in our podcast discussing the 2012 SIDVIN Festival of Speed)
Me: SIDVIN is primarily in the oil exploration business, is the investment in the SIDVIN Festival of Speed from a business point of view? Or is it purely due to your love for motorsport?
Mohan: Primarily, it has been due to my personal association with the sport for close to two and half decades. (Mohan was an active participant in the Indian Rally Championship back in 80s/90s) This association is definitely evaluated from the business point of view in the long run. We are not looking for short term gains and making money isn't the objective. Motorsport is one of our corporate sports and we would like to use this medium to further our business objectives. We at SIDVIN have always made a difference, be it in our CSR initiatives, Employee Management or the way we work in the Oil and Gas Industry. We wanted to up the ante and offering from Indian Motorsport towards all stakeholders (organisers, fans and participants) so we brought in SIDVIN Festival of Speed to offer a platform and give our teams and drivers a never before experience of driving on a world class track.
Me: How was the response in the first year at the Buddh International Circuit?
Mohan: We had close to around 15,000 people. I would consider this as a good number given the fact that the 2012 SIDVIN Festival of Speed was put together in a very short time (20 days). There is a lot of scope for improvement in the coming years with regards to marketing of the event. Also, racing has been a mainstay in South India. The North is witnessing this for the first time so we expect it to grow (in popularity and attendance) over the years.
Me: You have said that this is an annual feature, where do you see the SIDVIN Festival of Speed heading in the years to come?
Mohan: As I said earlier, we want to create a platform whereby all the stake holders in Indian Motorsport benefit. We will share the costs with all the participating companies and series to keep the costs as low as possible and making profit is not the aim right now. We will wait for the SIDVIN Festival of Speed to establish itself in the first few years. We want to make it an event that all drivers and teams wait for to drive in.
Me: And the BIG question – how did you manage to bring JK and MRF under the same series banner? (Unthinkable!)
Mohan: To be very honest, Formula1 in India was a great contributor to this. Both JKRAS and MRF Challenge ran together as support races to the Indian Grand Prix. They shared a common area in the paddock. They had a friendship already going. We need to understand that Motorsport is very nascent in our country and the costs of running are huge. Both JK & MRF have invested huge monies over the years in Indian Motorsport and they need the right platform to be created where there is no clash of interests. The cost sharing pattern we adopt in the SIDVIN Festival of Speed makes it a winning proposition for any company (to partner). Next year we may see more manufacturers coming together. As for 2012, Mr. Prithviraj Siddappa, the Head of Motorsport for VW India took the lead in this. (The VW Polo Cup was one of the participating series in the SIDVIN Festival of Speed)
Me: Thoughts on Indian Motorsport and the effect of the Indian GP on it? Do you think the buzz surrounding Sahara Force India, Narain and Karun is spreading the word of motorsport in India?
Mohan: The biggest buzz so far has been Sahara Force India. I should congratulate Dr. Vijay Mallya for his contribution to put India on the global motosport map in a very strong way and for bringing the sport of Formula1 closer to Indian audiences. Jaypee Group has taken this forward by putting up a Grade – 1 track in Noida, the Buddh International Circuit. Narain (Karthikeyan), Karun (Chandhok), Aditya Patel and Gaurav Gill have been the greatest ambassadors of the sport in the country and globally.
(Can Mahendra Singh Dhoni Be The Ambassador For Indian Motorsport)
Me: You have invested in Rallying earlier and now Track Racing. Any plans to get into grass roots by promoting go-karting?
Mohan: As I said earlier, we would like to create the right platforms for promoting Indian Motorsport. If there is an opportunity in go-karting, we may look into that.

Me: Who do you think will be the next Indian driver in Formula1? (After Narain and Karun)
Mohan: A very difficult question. But the Sahara Force India Driving Academy has thrown up some young talent to watch out for. Jehan (Daruvala) and Arjun (Maini) lead the pack I think.
Me: Would SIDVIN be interested in associating with the Sahara Force India Formula One Team Academy?
Mohan: As of now we have no plans. It would be interesting to explore the opportunities.
Me: Given the positive environment in Indian Motorsport, any chance of us seeing the return of the SIDVIN PWRC team?
Mohan: We are looking at options for Gaurav Gill. If things are commercially viable, we will surely be back.
Me: Can you explain commercial viability of owning / running a Rally team for the benefit of the readers?
Mohan: The commercial viability in the present scenario is very low. Rallying is mainly driven by manufacturer investments. Unless the team has a tie up with a manufacturer, it would be difficult to make it financially profitable.
(Any further questions on the commercial viability of racing teams? I am happy to answer or direct them towards Mohan!)
Me: And India's hope in Rallying after Gaurav Gill, any talented drivers who have caught your eye already?
Mohan: Gaurav Gill is the Best Rally driver we have produced in India so far. It is difficult to find such natural talent. I have seen a few boys drive but they are too theoretical and still lack the basic instinct that Gaurav has. But one kid who has really caught my eye in his driving style is Samrat Yadav. He seems to have the natural talent to be India's next Gaurav Gill if trained properly.
A BIG thanks to Mohan for taking time to talk to me. And on this note, my Formula1 blog enters its second year (3rd January is the date!) and I would like to thank you all for reading my posts and hearing my Formula1 podcasts with RJ Rishi Kapoor and contributing to the overall success of my blog. As always, I am open to thoughts, suggestions, ideas, comments and above all, criticism. So keep it coming!
And of course, Keep Racing…!
+++
Read all earlier posts on Indian Motorsport, Narain Karthikeyan, Karun Chandhok, the much-hyped i1 Super Series and hear the humourous 2012 Formula1 Podcast Awards.