Yes, you can read that headline again! After clinching the 2013 Drivers' Championship at the 2013 Indian Grand Prix, Sebastian Vettel clinched the lead in the 2013 Constructors' Championship at the 2013 Abu Dhabi Grand Prix. Such has been his dominance; prompts us to take our 'Helmets off to Vettel' yet again! And read, from 'Sebastian Vettel to Lord Vitthal' and Apple's tribute to our youngest quadruple Formula1 Champion: iPhone5S-ebastian.
Lord Vitthal, as we fondly call him on the Inside Line F1 Podcast, drove yet another race with surgical precision, won it by a mile over his nearest competitors and was offering donuts as 'prasadam' (yet again) while the others squabbled for their points finishes. Luckily for him (and for RBR, who foot the bill), the grandfather (read FIA) didn't yield his cane.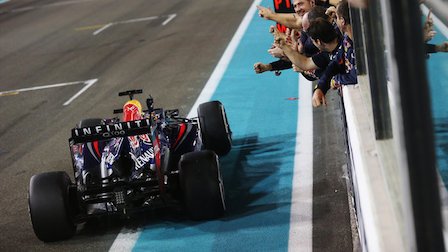 And also in this week's episode of the Inside Line F1 Podcast, we celebrate Nico Rosberg's multiple podium finishes in India and Abu Dhabi and Puma, the official partners to Mercedes AMG Petronas, have joined in the celebrations on our Formula1 Podcast and are going to offer lucky winners official merchandise. Contest details mentioned in the podcast!
What's in store this week: (YouTube channel: http://youtu.be/L9JnO3WkjUE)
Sebastian Vettel, we support his chances to win the 2013 Constructors' Championship title! Will we see the debut of the Vettel01 in the 2014 Formula1 Season?
Also, will Vettel win the last two Grand Prixs? And Rishi believes that he might just let Mark Webber 'win' a race for 'goodwill' reasons. Your views? (Read: Multi21, PR Talk and Team Orders)
Will Kimi Raikkonen race in the 2013 United States Grand Prix? We reveal what he might just do.
With rumours of the Quantum deal being finalised with Lotus F1 Team; should this be a team of choice for drivers next season? I offer some gyaan.
Similarly, will the fight for 2nd place in the Constructors' Championship hamper Mercedes, Lotus and Ferrari's preparations for next season?
And finally, have Ferrari and Alonso finally found a way to generate extra downforce (read: G force) for their car?
And our 'I told you so' moment: Is this Ross Brawn's last Formula1 season?
As for the 'Win Mercedes AMG Petronas merchandise' contest, it is time you add a caption for each image in the comments section below and given that this medium is about adding humour to Formula1, we would like you guys to stick to the brief! And final decision would be by Rishi and myself, so while we appreciate your participation, let us not go fighting for top honours the way Massa and Hamilton did in 2008! Keep racing!
Photo1: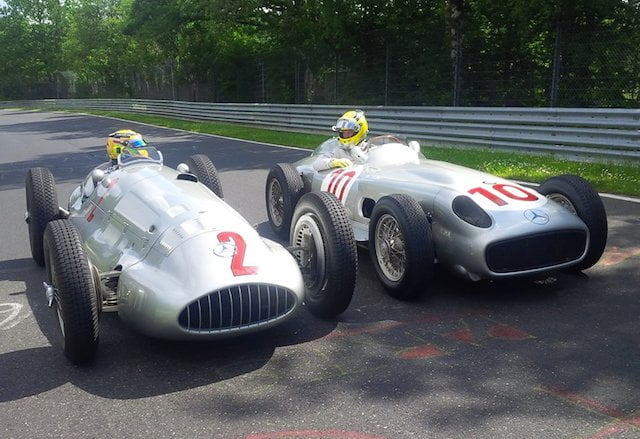 Photo 2: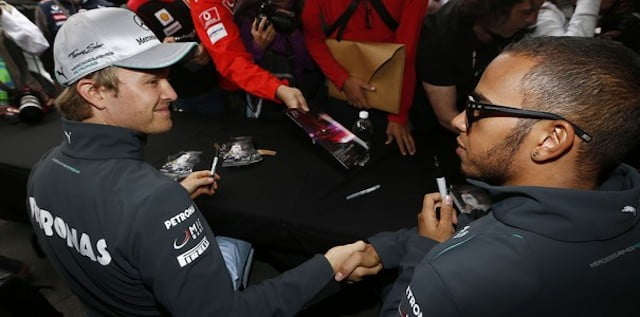 The Inside Line F1 Podcast is now available on various platforms and I would urge you to choose your platform to listen to the humour that we add to the otherwise serious and complex sport of Formula1.
If you are an Apple user, you can subscribe to the Inside Line F1 Podcast on the iTunes Podcast Store or via our RSS feed (for Android/Windows /Blackberry users).
The Inside Line Formula1 Podcast is produced and hosted by Rishi Kapoor and Kunal Shah. Follow us on Twitter and on our Soundcloud, MixCloud and YouTube channels.
Contest rules:
Multiple entries allowed per reader. Please fill your full name, email address and city of residence in the post. Incomplete posts will not be considered for final prize. 
Please use 'Photo 1' and 'Photo 2' in the comments section while filling your captions. 
The decision by the Inside Line F1 Podcast is final and biding. Contest promoted by the Inside Line F1 Podcast, Kunalsf1blog and Puma.