You may love or hate Sebastian Vettel, but you've got to admit that he is possibly the most powerful driver on the grid today. After four consecutive World Championship wins with Red Bull Racing, he forced the FIA and the likes to 'rewrite' regulations so that they could bring an end to his dominance. But that's not where his power stops. (Read: Vettel vs. Schumacher – Who Is No. 1?)
After changing his helmet design for nearly every race for the last two seasons, he's now got the smart administrators of the sport to impose a ban on creative design changes on the helmet. 'Ridiculous' was my first thought and is still the second. But a longer deeper motive emerges which is in line with what Formula1 has struggled to do for the last decade or so – build 'brands' out of teams and drivers. Mr. E and his band of boys (F1 Strategy Group) have made little effort to bring about meaningful changes to the sport and its business to retain the mid-field teams (read: brands), but it does seem that such a ban will do wonders to the sport in some way that I am unable to comprehend. (Read: Formula1 Puts Fans First)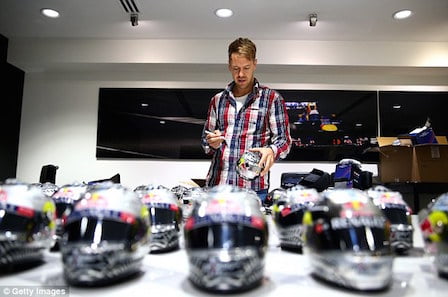 But I do admit that this is also where Formula1 lags when it comes to Football or Cricket or any other sport, the lack of 'facial' connect with the driver. This is probably why fans go wide eyed when a steering wheel camera showcases the eye movements of the drivers and that is as far as one can go in this sport. There's the pit-to-car radio, but that is audio at its best. I believe this 'ban' has been put in place to create and sustain the emotional connect with a driver, which is currently lacking. And while Rishi agrees with the ban, I am on Vettel's side – I absolutely disagree!
This ban could get further ridiculous if the FIA expands it further by stating that no two drivers can have the same colours on the helmet given that all you see at over 300 kmph is a blurry line of colours! And trust me, they are capable of such a regulation! Why not debut the 'info wing' from the 2015 Formula1 Season instead? (Read: Fed Up Of Rule Changes In Formula1)
In this week's episode of the Inside Line F1 Podcast, Rishi and I talk about the helmet design ban, whether Alonso's crash and possible absence will dent Mclaren's chances of winning a race this season (LOL!) and how Mercedes have managed to extend their unreliability streak from machine to man. And of course, before we forget, we reveal why Ferrari has been secretly designing their cars to look like Lego racing cars. Tune in and laugh along! (Read: Gillette Mclaren Honda)
The Inside Line F1 Podcast is now available on various platforms and I would welcome you to choose your platform to listen to the humour that we add to the otherwise serious and complex sport of Formula1. And while our podcast frequency is weekly, come 'like' the Inside Line F1 Podcast on Facebook and on Google+ for far frequent humorous updates from the world of Formula1.
If you are an Apple user, you can subscribe to the Inside Line F1 Podcast on the iTunes Podcast Store or via our RSS feed (for Android/Windows/Blackberry users). The Inside Line F1 Podcast is also available on TuneIn Radio.
The Inside Line Formula1 Podcast is produced and hosted by Rishi Kapoor and Kunal Shah. Follow us on Twitter and on our Soundcloud, DailyMotion, Spreaker, MixCloud and YouTube channels.