Fernando Alonso applies for sick leave for Malaysia, Bahrain and China was actually supposed to be the headline of this post. But this isn't unexpected. I am certain that Mclaren-Honda were well aware of their capabilities in Melbourne. Is this why they voted in favour of Manor racing in Australia? Ironically enough, even if they did, Manor couldn't overcome their software issues. But this is what happens when you run Windows OS in this day and age of hybrid Formula1.
Strangely enough, Honda's engines have made more noise on Twitter than on track since the announcement of their return to the sport with Mclaren. Pundits are expecting Honda to match Mercedes as the season progresses, but in Australia, it is the heat that they are unable to beat. I can only wonder what will happen to them in Malaysia! Is Fernando Alonso the unluckiest charm in the paddock? Looking at Ferrari's form (yet) in Melbourne, one might wonder so.
It was business as usual as Mercedes decimated their opposition and Lewis Hamilton started his title defence on a perfect note by out-qualifying Nico Rosberg by over half a second. Felipe Massa's P3 is a delight (he was being funny when he 'hoped' for the same engine as the Mercedes cars!), but the near 1.4 second gap is a worry, but again, not unexpected. If Mercedes and Hamilton run qualifying pace in the race, they will finish nearly 90 seconds ahead of the rest of the pack. They seem to have stretched their lead a further few tenths from the rest.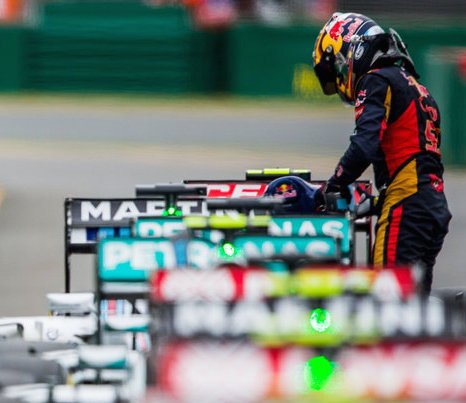 But then again, it isn't the 'best of the rest' he will be competing against. His battle will be with Rosberg; and from the 2014 Formula1 Season we know that the German's strength is qualifying over race pace. And though Rosberg made an error on his fastest lap today, he shouldn't be taken lightly in the race tomorrow. I hope that the Hamilton vs. Rosberg battle will bring cheers in the 2015 Australian Grand Prix and in the 2015 Formula1 Season as fans prepare for yet another single team domination.
'Like father, like son' would be the apt phrase to define Carlos Sainz Jr.'s show of pace and talent on his debut. He managed to qualify his Toro Rosso in Q3 (P8), ahead of his much spoken about team-mate Max Verstappen and less than two tenths off his Red Bull Racing senior driver Daniel Ricciardo. His drive has to be the 'drive of the day' for me.
Despite Sauber's limited running this weekend, Felipe Nasr did fairly well to almost get a qualification in Q3. Luckily for him, he won't face legal implications for racing a car that legally was supposed to be for Giedo Van Damme.
Lastly, I hope that Ferrari and Williams offer a good battle for the last spot on the podium, because the top two slots will be split between the Mercedes drivers. And thanks to Mercedes, they will be allowed to battle for it.
Here's also the link to this week's episode of the Inside Line F1 Podcast, 'Oh No! Alonso!'. Tune in!
The Inside Line F1 Podcast is now available on various platforms and I would welcome you to choose your platform to listen to the humour that we add to the otherwise serious and complex sport of Formula1. And while our podcast frequency is weekly, come 'like' the Inside Line F1 Podcast on Facebook and on Google+ for far frequent humorous updates from the world of Formula1.
If you are an Apple user, you can subscribe to the Inside Line F1 Podcast on the iTunes Podcast Store or via our RSS feed (for Android/Windows/Blackberry users). The Inside Line F1 Podcast is also available on TuneIn Radio.
The Inside Line Formula1 Podcast is produced and hosted by Rishi Kapoor and Kunal Shah. Follow us on Twitter and on our Soundcloud, DailyMotion, Spreaker, MixCloud and YouTube channels.