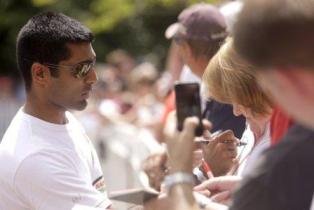 Narain Karthikeyan is set for his comeback with the Hispania Racing Team for the 2011 F1 season. While Indians are celebrating his comeback to Formula1, there is much silence over Karun Chandhok's move for the coming season.
Here I go evaluating where Karun could end up in the 2011 F1 season:
1. Team Lotus Racing: Tony Fernandes led Team Lotus Racing has confirmed Jarno Trulli and Heikki Kovalainen for the 2011 season. However, their test and reserve driver seat is vacant. (They relieved Malaysian rookie Fairuz Fauzy of his role after the 2010 season). Karun could fit in perfectly well with the Malaysian team and it could be a win-win for the team and driver. Sauber, Virgin and Williams have finalized their line up (includes regular and pay drivers) and HRT is not an option for Karun. A Friday driver role followed by a race seat in 2012 would be a good bargain. Would it also include a mentorship role for the Team Air Asia GP2 team?
The Indian Grand Prix will bring a sea of change in the way Formula1 is approached in the country – by fans and sponsors alike. With Air Asia expanding their operations in India, leveraging Karun's Indian (and South Indian) origin will be something that the airline could surely benefit from. For the interested, out of the 9 destinations that the airline flies to in India, 6 destinations are based in South India. Like I said; a win-win for the team and the driver (and their respective sponsors!)
2. WilliamsF1 Team: Now this one seems a long shot and I am being ambitious! Rubens Barrichello and Pastor Maldonado have been confirmed as 'race drivers' for the 2011 F1 season.  Can Karun Chandhok bag a reserve role with the Frank Williams led team?
The WilliamsF1 team has been struggling to secure their financial future off late. While sponsors are difficult to come by, the team is exploring floatation on the stock market to attract investors. Can Karun Chandhok be signed as their reserve driver who can open doors to a large pool of Indian investors for the struggling team from Grove? With the way sports marketing has taken off in India, I would never say never!
Permutations and combinations aside, I wish to see Karun signed up with an F1 team and soon!