Red Bull Racing maintained their 100% pole position record of the season (Read: F1 Statistics) as Mark Webber clinched his second pole of the 2011 Formula1 season. The qualifying session was a mix of wet and dry weather and we saw Heikki Kovalainen and Paul di Resta as two major stars of today's qualifying session.
Q1:
Rain was expected to arrive a few minutes into the Q1 session of qualifying and we saw most drivers take to the track in the first minute itself. Usually we would expect to see a surprised driver or two get caught out in the confusion, attempt a timed lap a little too late and end up getting eliminated due to the changing weather conditions. However, Q1 this time didn't see any big names get eliminated.
Team Lotus' Heikki Kovalainen was a big beneficiary from the rain that arrived a few minutes into Q1. His first timed lap was quick enough to see him qualify for the Q2 session. His promotion meant that both Toro Rosso cars were eliminated in Q1 itself.
Timo Glock qualified his Virgin Racing car ahead of Team Lotus' Jarno Trulli and this was the first time this season that the Virgin team managed to beat a Lotus racing car.
Debutant Daniel Ricciardo was only 6 tenths slower than his team-mate Vitantonio Liuzzi and will start his first ever Formula1 race from 24th position.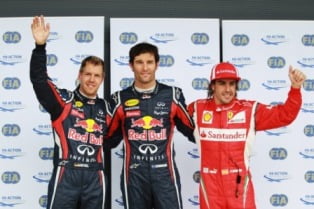 Q2:
There is still confusion on the ban on blown diffusers this weekend and we have seen top manufacturer teams complain to the FIA on the unfair and unsporting implementation of the regulation. The biggest loser of this rule seems to be the Lotus Renault GP team. Both their drivers were unable to qualify for Q3 and this was probably for the first time this season. Petrov once again out-qualified his team-mate Heidfeld.
Formula1 veterans Rubens Barrichello and Michael Schumacher, also known to be one of the best 'wet weather' racers in the field were big retirements in Q2. Their lesser experienced team-mates managed to out-qualify them yet again.
Qualifying in Q2 was a lottery as the track was drying and it meant that the driver who timed his lap to the very last minute would have the advantage of more grip. It was this timing that saw Paul di Resta qualify ahead of team-mate Adrian Sutil and ensure his second appearance in Q3 this season. Adrian Sutil will start tomorrow's race from 11th position.
The Sauber's were in the mix yet again, beating the likes of Mercedes GP and Lotus Renault. Perez qualified 12th.
Q3:
Drivers experienced mixed weather in this session. The track was dry at the start followed by a slight drizzle towards the end of the session. This meant that drivers who left their final run towards the end were unable to go faster.
Mark Webber and Sebastian Vettel clinched a 1-2 for Red Bull Racing and there was delight in their camp. Red Bull is believed to have lost around 0.3 to 0.5 sec due to the new regulation change on the blown diffuser. This change reflected in their qualifying pace.
Ferrari locked the second row of the grid, Alonso ahead of Massa. The better statistic here is that Ferrari were closer than ever in qualifying to Red Bull Racing. The 2011 average deficit in qualifying is just about a second, but in Silverstone, Alonso was only a tenth behind. The Ferraris are better starting cars in the race and it will be interesting to see the run to the first corner tomorrow.
I would predict that even if the Ferrari's don't jump the Red Bulls off the line, their race pace should be able to match the Bulls and we might just see a Ferrari on the top step of the podium. Someone to break the Vettel domination?
Paul di Resta drove a stunning lap to qualify 6th, Force India's best starting position this season.
As with Button, Rosberg too made a late attempt to charge towards a pole position, but had to abandon his timed lap mid-way through after the conditions worsened.
Rookie Maldonado qualified 8 places ahead of Barrichello, yet another impressive performance. His Q2 lap was over a second quicker that saw him through.
Mclaren drivers qualified 5th and 10th in Q3, Button ahead of Hamilton. The team had a tyre selection gaffe when they sent out their drivers on racing slicks on a wet track! Hamilton's late attempt to better his qualifying time didn't work with the arrival of fresh rain towards the end of the session. Button's lap was about 1.5 sec off Webber's.
The race is expected to be a dry one with a slight chance of rain towards the end. In that case, one should know that the Pirelli option tyre is significantly quicker than the prime, but loses about 0.3 sec after the first lap. This should make tyre strategy interesting in tomorrow's race.
The qualifying pace difference between the top 3 drivers is around two tenths. It will be interesting to see their outcome in the race. I am expecting a cracker!