I am in Singapore for the 2013 Singapore Grand Prix and was lucky to witness the qualifying session live from the Formula1 Paddock and even though I am penning this post a few hours post qualifying, I am short of words to describe Vettel's qualifying performance today. And I think I am now tired of labeling it as Schumacher-esque because it probably was more than that!
Vettel clinched his sixth pole position of the 2013 Formula1 Season. This was also his 41st career pole, a tally he seems to be adding to at his own will. And Singapore was testimony to that. In a bold move, Vettel and Red Bull Racing decided to not attempt their second qualifying lap and the three times World Champion instead chose to leave his cockpit, unbuckle his helmet and see how others would fare on-track and IF they could match his pace, let aside beat him. An act I last remember Schumacher attempting and succeeding at! And in my previous post, I have already had my 'Helmets Off To Vettel'.
And only one driver almost matched his pace and that was Nico Rosberg, the Mercedes driver and he out-pacing Lewis Hamilton is not the story of the qualifying session; being only a tenth off Vettel is! After all, only the two Germans managed a laptime in the 1min 42s.
The other side stories include Raikkonen's Q2 exit and Grosjean's P3, Massa out-qualifying Alonso to P6, Gutierrez's first ever Q3 appearance and Maldonado and Di Resta's Q3 exit! I expect the Pirellis to make the racing boring yet again on Race Day, but I am hoping that a few of the mid-field runners (this includes Raikkonen, Perez, Saharas Force Indias, etc.) attempt some bold tyre strategy to make up ground, else we will see the possibility of a status quo. Could they use the supersofts as the prime tyre in the race and manage a faster race time than the others with an extra stop? Or will Grosjean / Maldonado oblige by engaging in their usual act? I just pray and hope that it is an interesting race after all, I am still reeling from the boredom of Spa and Monza! (Read: Monza or Yawn-za)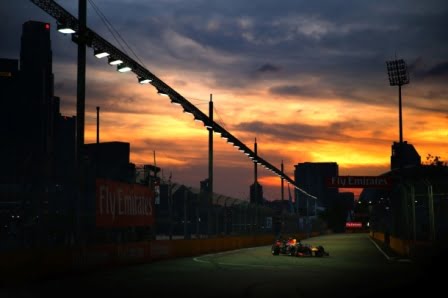 On that note, I think Ferrari's announcement of Alonso-Raikkonen pairing for the 2014 Formula1 Season was probably the most interesting that has happened to Formula1 since the August shutdown! (Read: Ferrari, Fernando Alonso, Kimi Raikkonen, 2014 And Beyond and Ferrari Steals Vettel's Thunder)
Qualifying Results:
Sebastian Vettel
Nico Rosberg
Romain Grosjean
Mark Webber
Lewis Hamilton
Felipe Massa
Fenando Alonso (Read: Alonso Has No Option But To Race For Ferrari Till 2016)
Jenson Button
Daniel Ricciardo (Read: Hips Don't Lie For Red Bull Racing)
Esteban Gutierrez
Nico Hulkenberg (Read: Hulkenberg Playing Musical Chairs)
Jean Eric Vergne
Kimi Raikkonen
Sergio Perez
Adrian Sutil
Valtteri Bottas
Paul Di Resta
Pastor Maldonado
Charles Pic
Giedo Van Der Garde
Jules Bianchi
Max Chilton
Read when Formula1 went from 'Let Us Save The Arctic' to 'Let Us Save Formula1'. And I request you to come help 'Save The Indian Grand Prix'.