The title of the post could probably have been 'Alonso won or Red Bull lost?' and that is exactly how the 2011 British Formula1 Grand Prix was! Fernando Alonso and Ferrari won their first race of the 2011 season as Red Bull Racing went about deciding which one of their drivers would finish second.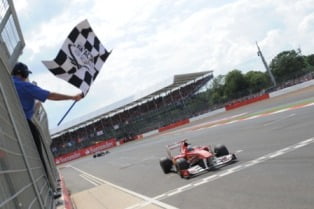 Here are my observations from the 2011 British Grand Prix:
Alonso's win came from P3 on the grid and on the day when Ferrari won its first ever Formula1 race 60 years ago. Alonso was best placed to beat the Red Bulls after their advantage was cut down due to change in diffuser regulations during the weekend.
Alonso's win can be credited to two things: 1) his pace on his used tyres. He showed that maintaining tyre temperatures was more important than having a set of new tyres and 2) Red Bull's botched pit stop for Sebastian Vettel that cost him track position to not only Alonso but also Hamilton. However, my belief is that even if Vettel would've been ahead of Alonso on track, he would've been DRS-ed.
Massa drove a decent race and had good pace on the intermediate tyre. While he ultimately finished 5th, his best memory from Sunday's race would be his fight with Hamilton going into the last corner of the last lap, a one that he narrowly lost. He finished 0.024 seconds behind Hamilton.
Victory in Silverstone was Ferrari's first since the Korean GP last year and Alonso's 27th career win.
Sebastian Vettel matched his worst performance of the season by finishing 2nd on Sunday. In an ideal scenario, he should have won the race as he pulled out nearly a second a lap in the first 5 laps. But a jammed rear wheel during one of his stops meant that he lost track position and time to the front runners. This is only the second time this season he's finished second. And every time he's not second, he's finished first!
Mark Webber, who finished 3rd, drove a fantastic last stint on his new tyres and was on Vettel's tail for the last few laps. In fact, the Red Bull Racing team issued team orders to have Webber not overtake Vettel in the closing stages. Webber ignored team orders even after they were repeatedly delivered by the management on the pit wall. This issue will be discussed at length in the races to come.
Hamilton finished 4th after starting 10th on the grid after making yet another good start. For a change, he didn't collide with any other cars on the grid. Hamilton's race was marred by his team's mis-calculation of fuel loads and spent nearly 15 laps to the end driving in a fuel-saving mode. His last lap last corner fighting with Massa was probably the best of the weekend for his local British fans. Button's fight for the podium ended prematurely after the lollipop man released him from his box with a loose right front wheel.
Mercedes GP yet again were the 4th best team and beat their nearest rivals Renault fair and square in Silverstone. Rosberg finished 6th after defending from Sauber's Perez while Schumacher finished a disappointing 9th after being penalized a 10 second stop-go penalty for his collision with Kobayashi. Interestingly, Schumacher blamed the lack of DRS experience in Silverstone as the reason for his crash. (The practice sessions were all wet and hence there was no DRS used)
The GP saw mixed weather conditions with wet weather at the start and a drying track towards the end. Schumacher and Button (as always) were the drivers who made the best strategy calls while switching from intermediates to slicks.
Team Lotus Racing, who saw Kovalainen qualify in Q2 and start 17th had both cars retire from the race within the first 10 laps. Kovalainen suffered from gear box problems.
Lotus Renault GP seemed to be the team that has taken the biggest beating in the blown diffuser saga. The team suffered from its worst qualifying of the 2011 season, which was salvaged on Race Day by Heidfeld who crossed the flag 8th. Petrov, who out-qualified Heidfeld, finished 12th.
The new pit lane in Silverstone has been much appreciated. However, the garden area is much broader than the actual lane!
Force India cars ran consistently in the top 10. However, the team's pit stop error lost Paul di Resta time in the pitlane and position on the track. He could not recover from this error finally finishing 15th. His gutsy drive was applauded by the British public. Sutil finished half a second behind Toro Rosso's Jaime Alguersuari.
The race again was divided into 2 and 3 stoppers. The first half of the top 10 stopped 3 times for new rubber, while the bottom half stopped twice. Typically, Perez made his tyres last longer to see him grab 7th place in the race.
Maldonado qualified a career best 7th position in qualifying (Read: 2011 British GP Qualifying Report) but managed to only finish 14th in the race. Barrichello finished 13th.
Narain Karthikeyan's replacement Daniel Ricciardo managed to finish his first ever Formula1 race. He finished 19th and a full lap behind team-mate Tonio Liuzzi.
The German GP is up next and with the diffuser rules going back to what they were pre-Silverstone, I would expect Red Bull Racing to dominate yet again.