Fernando Alonso has raised his game in the 2012 Formula1 season and I must say that I have gone from being a harsh critic to a fan! And the part title of this post is for his third win in Hockenheim and his third win overall this season. He is the only driver to have scored three wins yet and his win in Hockenheim was well deserved as opposed to the 'gift' he received in 2010!
The lack of dry running in Hockenheim made Race Day a bit of a lottery as teams were unsure of what to expect from the Pirellis in the long runs. I was expecting a Red Bull vs Ferrari vs Mercedes fight, however, it only took the first opening laps to prove that Schumacher's Mercedes wouldn't have the pace to fight at the front. We also got an early indication that Button's Mclaren was running well in the dry was in contention for victory.
My thoughts on the 2012 German Grand Prix:
Alonso demonstrated superior driving skills to clinch his 30th Formula1 career win. This race also was his 22nd successive points finish! The Spaniard is now 34 points ahead of his nearest rival in the Drivers' Championship table. The cherry on the cake for Alonso was low championship point scores for Webber and Vettel and a retirement for Hamilton!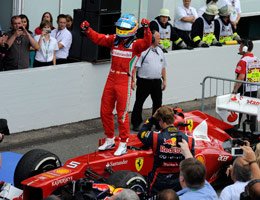 Vettel, who could've finished 2nd, pulled off a hasty move on Button which the Stewards deemed as illegal and hence awarded him a 20 seconds post-race penalty. This dropped him down to 5th, elevating Button to 2nd, Raikkonen to 3rd and Kobayashi to 4th.
Mid-corner Button seemed ahead of Vettel and at the exit, Vettel moved ahead by using the tarmac available outside the breadth of the circuit – a clear indication that he did gain some advantage.
In hindsight, I am sure Vettel is wondering why he didn't wait to pull this move off next corner while entering the Mercedes Benz complex. In an attempt to gain one position, he lost four and a large chunk of championship points!
Hamilton who suffered from an early puncture did make his mark in the race even though he was completely out of contention. His trying to unlap Vettel and then Alonso was somewhat unnecessary especially given the close times that the front runners were running. And maybe somewhere this loss of time allowed Button to undercut Vettel in their next round of pitstops.
Ultimately Hamilton and Mclaren decided to retire the car after realizing that they wouldn't be in contention for points. As the commentators put it, there are a few tactical advantages if you retire car than end up finishing the race outside the points.
The other team worth talking about would be Sauber. After a few dull races and a duller qualifying session where their cars started 12th and 17th, Kobayashi and Perez finished 4th and 6th respectively. This was Kobayashi's career best finish! The team scored 20 championship points to pull away 33 points clear of 7th placed Williams and trail Mercedes AMG by only 25 points!
Button's second place wasn't Mclaren's only highlight in Germany. They overtook Lotus for 3rd place in the Constructors' Championship and after receiving much flak for their pit-stop work, the team registered a new world-record when they turned around Button's car in his second stop in just 2.31 seconds!
Sahara Force India's Hulkenberg finished the race with a three stop strategy and in 9th place scoring 2 points for the team. He started the race from 4th place and heavy tyre wear cost the team and driver places upfront. Paul Di Resta used a 2-stopper to finish 11th and outside the points. The team now trails Williams by 1 point in the Constructors' Championship.
At the bottom end of the grid, Petrov in his Caterham did well to finish 16th and ahead of Senna, Grosjean and team-mate Kovalainen.
The HRT of Pedro de la Rosa finished ahead of Marussia's Glock while Karthikeyan finished only 3 tenths behind in 23rd!
Pre-race there was a controversy on Red Bull and Renault engine mapping levels for Hockenheim. While the FIA did investigate the issue, Red Bull was let off without a penalty. However, I doubt if this is the end of this saga and the 2012 Hungarian Grand Prix should see more dramas next weekend.
I am still hoping for Raikkonen or Grosjean to pull off a Lotus win and the layout of Hungaroring might just suit their car alongwith the warmer temperatures. While Alonso and the Red Bull and Mclaren drivers will be in contention at almost every race this season, I am certain that we will have a new winner at some race this season. Who the driver will be is anyone's guess!