The inaugural Indian Grand Prix is only a few days away and during the build up to the race, all eyes have been on Karun Chandhok. For the lesser known, Karun (and Team Lotus) was yet to confirm his drive for the Indian Grand Prix. What came in the week of build up was that Karun would be driving in the Free Practice 1 session, but still not the race.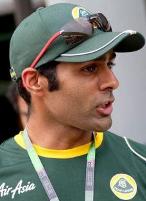 Today's announcement from Team Lotus' Team Principal Tony Fernandes clarified that Karun will indeed not be driving his home grand prix. A heart break for many Indian Formula1 fans and most certainly for the Chandhoks, who have been lobbying a drive for Karun for the past many months. Karun last drove for Team Lotus in the 2011 German Grand Prix where he finished 20th.
While many Indian fans have been upset by this decision and have shown sympathy for Karun on Twitter and various other social mediums, there is logical in this decision, however unfair. Team Lotus hasn't had the best of seasons (while they are only in their second one) though their performance in the last couple of races has been better than before.
The team has suffered from more DNFs (Did Not Finish) than any other teams; a total of 9 retirements till date as compared to Virgin who have had only 4 and HRT, who have 6. This means that the team's 10th place in the Constructor's Championship is under threat from the other two new comer teams.
Performance wise, Team Lotus' best performance has been 13th, which they achieved in 3 races this year. HRT too has 13th as their best finish, whereas Virgin Racing's best has been a 14th. This means that even amongst the bottom grid team, there has been strong competition to ensure that they don't finish last! However, for any of the three new teams to finish 10th in the championship, they only need to finish 12th once.
One could argue as to why 10th is an important position in the championship especially since it would still be without any championship points. But the real deal is that 10th place in the championship certainly has more prize money than 11th. While the actual amounts are never known, there are indications that the 10th place would receive upto $30 million.
Tony Fernandes himself indicated that the money was too good to take a chance with and that Karun's limited running this year made them choose against his driving in his home race.
This decision actually is a win-win for Lotus and a raw deal for Karun. Karun's probably the most covered Formula1 driver in the last few weeks and all of his coverage does lead back to brand salience for Team Lotus. Most of his interviews have always been about 'whether Team Lotus' will give him a drive for the Indian GP or not!
Many in the F1 Paddock assumed that Karun's contract with Team Lotus would include a drive for the Indian Grand Prix by default, but of course it was not the case. This could also indicate that at the start of the season Karun probably had no option but to sign for Team Lotus and hence signed up even though he knew that the Indian GP was not on offer.
However, such is the way of life for an F1 driver. Karun has probably dreamed about racing in the Indian Grand Prix ever since he decided to take up racing, only that he might need to wait a year longer to fulfill that dream of his!
PS: I had predicted as early as two months back that Karun wouldn't get the drive. Infact, in a giveaway at the start of this week, ESPN announced that their mobile app would have live race updates from the Indian GP by Karun Chandhok. Now would that be possible had be been given the drive?