That would be a great headline to kickstart the 2013 Formula1 Season for Indian Formula1 fans! For those who think this is silly, go ahead and read the rest of the post! With the Hamilton to Mercedes, Schumacher to retire rumours, I hope to read news about Karthikeyan and his departure from HRT.
Karthikeyan is probably the most covered driver on my Formula1 blog and quite obviously so. F1 in India has received a boost largely because of his exploits in the sport and of course with the participation of Sahara Force India. Infact, I have written numerous posts about him, the support he enjoys from TATA and his stint as a Formula1 racer with HRT. The relevant post to read would be "Narain, TATA and Formula1".
During the Singapore GP weekend, TATA increased their investment in Karthikeyan by having TATA Tea enter Formula1 as a sponsor for HRT. You can read more on that story here "TATA increases investment in Karthikeyan, TATA Tea enters Formula1 with HRT".
However, I have also been vocal about TATA having gotten it all wrong with HRT. Read "Has TATA made the wrong decision with HRT?" Hence, could Karthikeyan take TATA and their bags of money with himself to race for another team? We all know that the bottom and a few mid-grid teams are open to the idea of pay drivers. Marussia, Caterham, Sauber and WilliamsF1 either have one or both drivers as pay drivers to the team. While TATA's overall commitment to Karthikeyan and his Formula1 drive in 2012 is not known, is the pool enough to help him secure a drive elsewhere? Karthikeyan has been inconsistent this season, but we also know that much of his problems are also with the HRT F112. Can he perform better with a team who delivers a better car to him?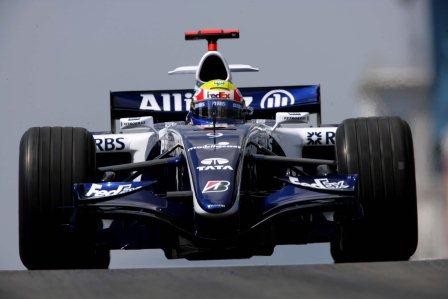 While Karthikeyan debuted with Jordan Grand Prix (now Sahara Force India) back in 2005, he did spend the 2006 and 2007 Formula1 seasons as test driver to the WilliamsF1 team. So would WilliamsF1 be interested in Karthikeyan and the million odd bucks from TATA? They've already got two paid drivers, out of which one isn't the quickest and while the other is quick prefers the barriers more than the chequered flag!
While Karthikeyan has indicated that he would like to keep his HRT drive for next year, I did pop this question to him when I met him during the 2012 Singapore Grand Prix. And well, I am sure you know what his reaction was! No prizes for guessing!
"So in March 2013, Narain did finally confirm his plans for 2013, although not all of it. Read more about it here: 'Narain Karthikeyan Switches From Formula1 To AutoGP In 2013'."