Woohoo! Was my first reaction when I saw the '#masterblaster' text on the VJM06s earlier this week; of course, this was a covert op and very few people were aware of it till earlier today! I might not be the biggest Cricket fan, but I do adore and respect Sachin Tendulkar for who he is and what he has done with his career in a very demanding sport, even more so if you're an Indian.
They say that 'ideas belong to those who execute them' and I am glad the team backed this idea and let it see the light of day. And below is the official text released by Sahara Force India and I believe every word of what has been written below: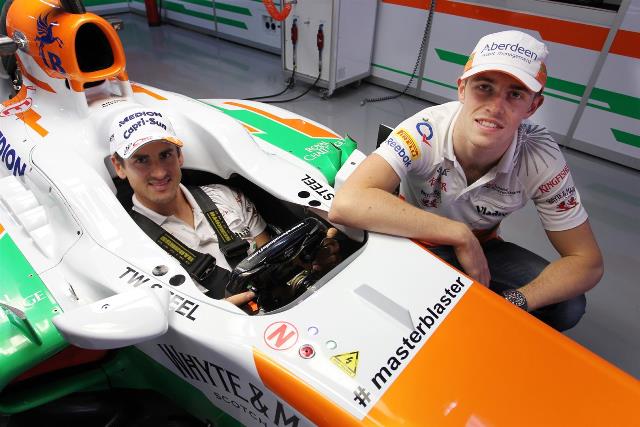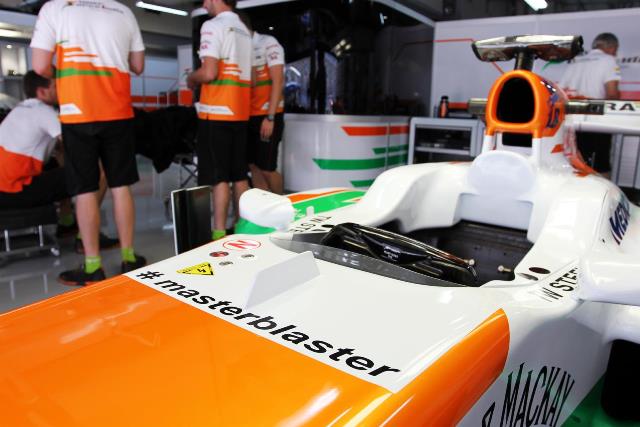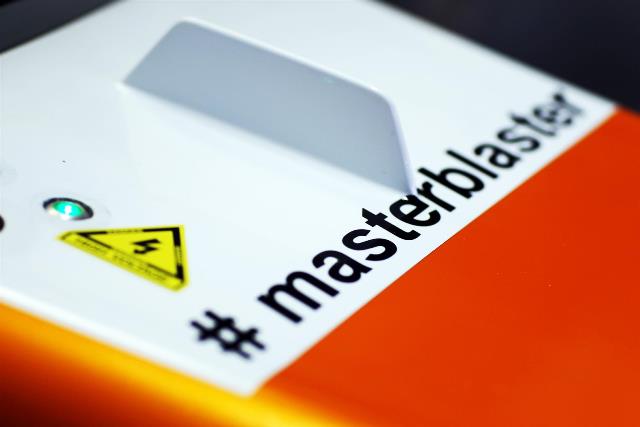 "Sahara Force India Formula One Team, India's only F1 team, is celebrating the incredible career of cricket legend Sachin Tendulkar at the Indian Grand Prix.
As the thrill of Formula One arrives in New Delhi, Sahara Force India unveiled a special tribute to Tendulkar, who recently announced his retirement from cricket. During the Indian Grand Prix weekend, both Sahara Force India cars will be sporting a special hashtag, #masterblaster, referring to Sachin Tendulkar's nickname – owing to the prowess on the crease that made him a fixture in the record books.
Sachin Tendulkar is a legend of cricket and a great friend of the team: he was a welcome guest at our headquarters in 2009 and supported us as a guest at the 2011 Indian Grand Prix. During his career, spanning more than 22 years, Sachin accumulated a list of honours and achievements hard to match for any sportsman or sportswoman; he scored the highest number of centuries in test matches (51), had the most overall number of runs in the sport and was voted 2010 ICC Cricketer of the Year.
Like Sachin Tendulkar, Sahara Force India aims to be a big hitter in the world of sport. With our cars adorned with the commemorative hashtag, our team will endeavour to harness the passion of an entire country and achieve a great result at our home race, the Indian Grand Prix."
18th November, Tendulkar's final day as an Indian Cricketer may be about three weeks away and this is our way of making the next three days even more special. Don't we love it when there are cross promotions across different sports and personalities? And what better when it comes from a sport that Sachin loves and a team he whole-heartedly supports!
While I have said in the past that Mahendra Singh Dhoni can be the ambassador for Indian Motorsport, Sachin Tendulkar surely is the unspoken ambassador for Indian sport overall. Sit back and enjoy the tribute and various photos that the team will release on the weekend of the 2013 Indian Grand Prix.
And of course, here's the pre-Indian GP episode of the Inside Line F1 Podcast: 'How To Save The Indian Grand Prix'. Now what if we just got Sachin Tendulkar to race in one of the Sahara Force India cars, wouldn't all of India manage to fill themselves in the stands of the Buddh International Circuit? How I wish!