'I was there!' will be my reaction to historic references of Sebastian Vettel winning his 4th consecutive Drivers' Championship title at the 2013 Indian Grand Prix. 'I was there!' when Vettel decided to ignore Rocky's radio message to follow standard operating procedures and return to the pits and instead chose to ignore the pit entry, downshift to let out an engine roar before churning out a series of donuts for Indian Formula1 fans who despite not regarding donuts as their staple diet (like their American counterparts) enjoyed every moment of it! Or like I told someone in the pitlane, Vettel's attempting the medu-vada!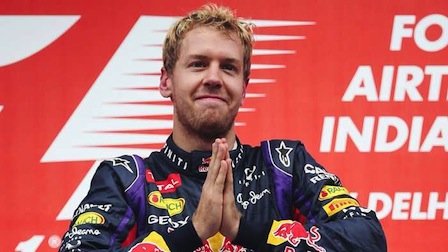 'I was there!' when Sahara Force India's drivers were guest Sports Editors of a leading Indian daily and when Jehan Daruvala was the apple of everyone's (Indian media) eye in the Sahara Force India team hospitality building addressing a joint media conference with Team Principal Vijay Mallya. 'I was there!' when a certain Niki Lauda (for the unknown, he is the 'hero' from the movie Rush) dropped in to congratulate him too! 'I was there!' when India's only Formula1 team paid tribute to Sachin Tendulkar (#masterblaster), arguably one of the best cricketers in the world.
'I was there!' when Sahara Force India drivers registered a double points finish at their home Grand Prix and added 7 points to the difference between themselves and 7th placed Sauber. 'I was there!' and wondering (like everyone else!) what on earth was Gulshan Grover doing on the starting grid for this race too! (He has been there on the grid since inception!)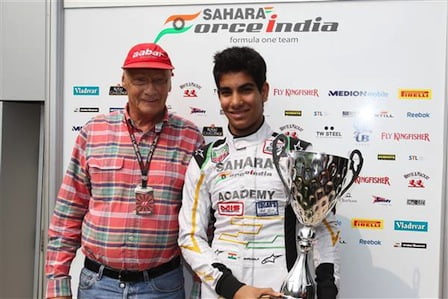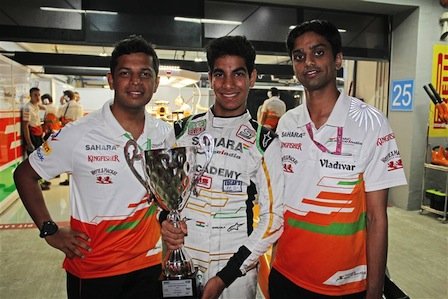 'I was there!' when Sebastian Vettel ran amok (isn't that how the FIA saw it?) post-race before leaping to hug Horner-Newey, reminding Formula1 fans of the good ol' days of Todt-Brawn-Schumacher. 'I was there!' when Indian Formula1 fans chanted 'Vettel! Vettel!' instead of boo-ing him like their evolved (in terms of the sport's following) Western counterparts.
And 'I was there!' when Vettel-Rosberg-Grosjean hogged the limelight on the podium and sprayed champagne on a crowd that hoped that this wasn't the last time they saw their favourite Formula1 drivers race in their homeland. Watch the podium video!
Rishi was there too! Seated in the Main Grandstand, enjoying the engine notes and making his notes for this week's episode of the Inside Line F1 Podcast. Infact, Rishi was there to interview Nico Rosberg for the Inside Line F1 Podcast and the interview will be played out next week (post-Abu Dhabi). And of course, Rishi was there to host an interaction organised by Puma and Mercedes AMG Petronas!
 Here's what's in store in this week's episode of our Formula1 Podcast: (YouTube channel: http://youtu.be/6qFviakqflQ)
Lord Vitthal wins the 2013 Indian Grand Prix! (Read: ALL about the Indian Grand Prix)
Ever wondered why cars are referred to as 'she'?
Donuts or medu-vadas? Prasadam for Indian fans! And whatta sight!
AND we relive the 'donut' spinning RB9 which Vettel-ed India.
Great start to the race for Massa. We reveal what he ate for breakfast (our little scoop!)
(Raikkonen X Lotus)/100 = Raikkonen's motivation (Read: Alonso, Ferrari, Raikkonen and 2014)
Shouldn't FOM monetize Raikkonen's radio messages? (yet another money-making idea for Formula1)
Rishi blushes at the mention of Rosberg and his fantastic drive to P2! Hear why!
Double points for Sahara Force India, woohoo!
Will the Indian Grand Prix be back in 2013? (Read: Ecclestone Checkmates The Indian Grand Prix) And this is where we share a few bloopers by our fellow Indians that made news during the GP weekend!
Up next is Abu Dhabi; we reveal our best part of the race track. What's yours?
Which manufacturer-driver combination do you think would beat the Red Bull Racing-Vettel combination in Abu Dhabi?
A BIG thank you to all our listeners for tuning in week after week to the Inside Line F1 Podcast. And tune in next week for an opportunity to win prizes from Puma, partners to the Mercedes AMG Petronas team!
And for those still in the trance of the Indian Grand Prix, do hear 'How To Save The Indian Grand Prix'.
The Inside Line F1 Podcast is now available on various platforms and I would urge you to choose your platform to listen to the humour that we add to the otherwise serious and complex sport of Formula1.
If you are an Apple user, you can subscribe to the Inside Line F1 Podcast on the iTunes Podcast Store or via our RSS feed (for Android/Windows /Blackberry users).
The Inside Line Formula1 Podcast is produced and hosted by Rishi Kapoor and Kunal Shah. Follow us on Twitter and on our Soundcloud, MixCloud and YouTube channels.