Formula1 fans witnessed yet another qualifying session where Rain God had a part to play and thankfully unlike the 2012 British Grand Prix Qualifying, there was no hold up in play. However, what came across in the German Grand Prix Qualifying session was that top talent managed to find their way to the front irrespective of the conditions and tyres, and this has been true for the entire 2012 Formula1 season.
In our Pre-German GP Formula1 Podcast, RJ Rishi Kapoor and I mentioned that Pirelli and atleast five Formula1 drivers will be debuting this weekend in Hockenheim. And while we're still in fixation with the old Hockenheim layout, we hope tomorrow's race will be entertaining come rain or not!
Thoughts from the 2012 German Grand Prix Qualifying:
Q3:
Fernando Alonso clinched his second successive pole position of the season by showcasing some excellent car control and driving skills around the treacherous Hockenheim circuit. It was only a fortnight back in Silverstone where he took pole in similar conditions.
This session ended up with a drying track and this meant that the last driver crossing the line for his qualifying lap would be at a crucial advantage. Incidentally, Alonso happened to be the last driver to start a qualifying lap, but his earlier lap itself was a stunner that went unbeaten.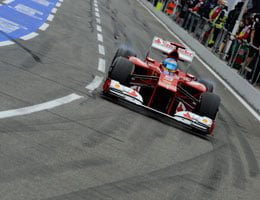 Red Bull Racing drivers Vettel and Webber were in the hunt for pole, but their best effort fell a massive four tenths off and had to settle for 2nd and 3rd respectively. Webber is one of three drivers with a 5 place grid penalty and hence will start the race from P8 tomorrow.
Schumacher, who qualified 4th and will start 3rd (due to Webber's penalty) almost missed making the cut in Q1 itself. It would be interesting to see an Alonso – Vettel – Schumacher fight in the race tomorrow.
A drying track often brings back memories of the 2010 Brazilian Grand Prix where Nico Hulkenberg put a Williams on pole. In Hockenheim, he made the best of the conditions and was the best of the mid-fielders to qualify in 5th. Hulkenberg managed to beat both Mclaren drivers and he will start the race alongside Schumacher from row 2 of the grid.
Hulkenberg's team-mate Paul Di Resta qualified 9th making Sahara Force India the only mid-field team with both drivers starting in the top 10. Indian Formula1 fans would hope to see their team leave Germany tomorrow with a large chunk of points!
The disappointment of Q3 has to be the two Mclaren drivers and Lotus of Kimi Raikkonen (10th). While Button managed to out-qualify Hamilton for the first time this season, Mclarens seemed lost in the mixed weather conditions. Their only hope would be a dry race tomorrow as they did show competitive dry pace in the practice sessions.
And I hope Maldonado steers clear of any troubles in the race tomorrow. He qualified 6th.
Q2:
Rain arrived at the start of Q2 prompting all drivers to go out on the intermediates and assess the conditions before deciding a switch to extreme wets.
The laptimes set initially in the session didn't see further improvement as the rain intensified and even a late switch to full wet tyres was worthless.
Rob Smedley informed Massa over the radio that the intermediate tyre would be in its prime only for the first lap or two and it would be crucial to set a good laptime upfront. Massa couldn't manage that and ended up qualifying P14.
While both Sahara Force India drivers made it into Q3, both Saubers were eliminated after they qualified 12th (Perez) and 13th (Kobayashi). Post-session, Perez was penalized 5 grid places for impeding Raikkonen and Alonso on their qualifying laps. He will now start 17th!
And interestingly, Ricciardo, who eventually ended up 11th in qualifying, missed the Q3 cut by only 0.06 of a second!
Grosjean (P15) and Rosberg (P17) are the other two drivers with grid penalties for unscheduled gearbox change and will start 20th and 22nd respectively.
Q1:
Michael Schumacher gave the German fans a scare (or entertainment, depends how you see it!) when he almost didn't make it into Q2 at his home race. In an attempt to save an extra set of tyres, the German legend decided to use only the medium tyre for this session eventually ending up into Q2 by a narrow margin of 0.06 sec!
Schumacher's progression into Q2 meant that Toro Rosso's Vergne was the fall guy of Q1 yet again – his 6th elimination in 10 races so far this season.
For Caterham, Marussia and HRT, it was status quo as they occupied positions from P19 to P24. Caterham fell about a second short of qualifying into Q2 and Pic outqualified Glock in his home race.
Q1 was run in the dry and the time difference between P1 and P17 was only a second!
The talk leading into qualifying was of Webber, Grosjean and Rosberg all picking up grid penalties due to an unscheduled change of gearbox. I have a point of view on this which I shall share in a separate post after the GP. However, it would have been funny had Webber, Grosjean and Rosberg claimed the top 3 position in qualifying – in which case P4 would have started on pole!
Sunday's forecast is dry weather and I would expect Mclaren and their vastly upgraded car to join the fight at the top. However, a Ferrari and Red Bull fight will be inevitable. It would be most interesting to see if the Mercedes AMG car of Schumacher will have the pace to fight for victory.
As for the mid-field teams, I am hoping Sahara Force India manage a good points score after their performance in qualifying; even more so after most of their competition is starting outside the top 10. After a wet qualifying session, teams and drivers will be allowed to start with the tyre compound of their choice and it will be interesting to see tyre choices on the starting grid tomorrow. Indications are that tomorrow's race is going to be an absolute stunner, so do tune in!
Reading up Formula1 information pre-race? Hear our 2012 German Grand Prix Formula1 Podcast!