The qualifying session of the 2011 German Grand Prix was exciting to say the least. While Mark Webber clinched his second successive pole of the season, it was Lewis Hamilton that managed the perfect qualifying lap while Sebastian Vettel could manage a P3.
The session saw interesting battle between team-mates of Force India, Mercedes GP, Lotus Renault GP and Williams. The mid-field teams did do a good job with Force India managing to get the better of them all.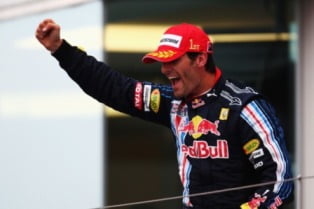 Observations from the 2011 German Grand Prix Qualifying:
Q1: Top Ten Shoot-out
Mark Webber clinched his second successive pole of the season and on this track. While Red Bull Racing managed to keep their 100% pole position record intact, their gap towards the rest of the field has significantly narrowed. Webber was only 0.050 seconds ahead of Lewis Hamilton who still start the race from P2. Interestingly, while doing my round of F1 statistics (Read: F1 Statistics Till The 2011 German GP), I got to know that Webber hasn't led a single lap this season and his last victory was at the 2010 Hungarian GP.
Championship leader Sebastian Vettel could only manage a P3 at his home GP. Interestingly also, Vettel's third position was his worst of this season and this was only the 3rd time this season where he has been beaten for pole. Vettel has started 14 consecutive races from the front row. However, Vettel's fans who are gunning for his victory should know that he has won only one race while starting off the front row!
Lewis Hamilton's qualifying performance was remarkable and quite a contrast from his pre-qualifying remark that his Mclaren car won't be able to challenge for pole. This will be Hamilton's 1st front row start in 15 races. Team-mate Jenson Button will start P7 after a not-so-great weekend. He had KERS problems in the practice sessions and was nearly a second off Hamilton's pace in qualifying. Button aborted his second and last qualifying attempt, which saw him lose P6 to Mercedes' Nico Rosberg.
Jenson Button's best hope will be in the mixed weather that have been predicted for the start of tomorrow's race. He is one of the better drivers on the grid to understand and make use of the conditions to his favour. If it rains, Button will be the man to watch!
After much pre-qualifying hype, Ferrari's managed only P4 and P5 in qualifying. A post-qualifying tweet from the team indicated that the cold track temperatures worked against their performance. Alonso once again managed to out-qualify Massa and the difference between their laptimes was half a second. Felipe Massa used a set of soft tyres yet again in Q1 of qualifying. For those thinking that he 'wasted' the set should know that he re-used the same set while setting a time in Q2.
Mercedes GP's Nico Rosberg once again went quicker and finished higher than team-mate Michael Schumacher. From the TV shots, it seemed that the Mercedes cars took longer to generate heat into their tyres, which was a cause of worry for both drivers. Michael Schumacher in particular looked very ragged during the entire qualifying session. Rosberg beat Button to P6 and Schumacher was beaten by Petrov and Sutil to 10th.
Trends show that the top 8 starting positions are more or less reserved by the drivers of the top 4 teams, which means that there is always an interesting battle for the 9th and 10th places during Q3 of qualifying. This weekend Force India's Adrian Sutil and Lotus Renault's Vitaly Petrov made it through to Q3 of qualifying. Sutil will start P8 and Petrov, P9
Interestingly, of all the German drivers, Timo Glock was the only driver outside the top 10. Vettel, Schumacher, Sutil and Rosberg will all start in the top 10.
Q2 Eliminations:
Lewis Hamilton has managed the quickest Sector 1 and 3 timings in all phases of qualifying. This means that if he gets away at the start, he will be a difficult man to catch! Sector 3 in particular deals with braking and traction ability of a racing car.
The difference between the prime and option tyre was about 1 to 1.5 seconds and we saw most drivers use the prime tyre in Q2 to get into Q3.
Talking of the Q3 trend, as per current form, Force India and Lotus Renault seem the two teams best poised to make the cut into Q3. Hopefully, Sauber, Toro Rosso and Williams will join the fight soon. Q2 happens to be my most interesting part of Formula1 qualifying.
Force India's Adrian Sutil managed a super lap to qualify into Q3, however, team-mate Paul di Resta will start tomorrow's race in P12. Post-session, Paul commented that he had lack of grip and that the team had compromised set-up for tomorrow. Would that indicate towards rain?
Lotus Renault GP team-mates Petrov and Heidfeld were engaged in a classic battle for the last spot into Q3. Petrov got the better of Heidfeld, who will start tomorrow's race in 11th spot. The engine mapping and exhaust blown diffuser rules have seems to affect Lotus Renault GP the most. From challenging Mercedes at the start of the season, the team is now fending off a strong attack from Force India.
WilliamsF1 duo of Rubens Barrichello and Pastor Maldonado to start P13 and P14. Maldonado beat Barrichello yet again, who had a futile last minute attempt to get into Q3. Barrichello was half a second off his team-mate's pace.
Toro Rosso driver Jaime Alguersuari to start P17 and for a change wasn't the 'fall guy' in Q1 of qualifying. With the weather predictions this weekend, the team has split their set-up between the two drivers. Alguersuari has a dry, whereas Buemi has a wet setup. Whichever way the weather goes, the team is hoping that at least one of their drivers can benefit. However, post-qualifying the FIA decided to penalize Buemi for fuel irregularity in his fuel sample. The team decided to not protest the penalty since there was a change made in his fuel system during the weekend. Buemi now has the option to either start last or from the pit lane.
Sauber's Sergio Perez will start the race P15 and if the weather goes well, he will attempt a one-stop strategy to score points in the race. Team-mate Kamui Kobayashi was the unfortunate elimination in Q1 of qualifying.
Q1 Eliminations:
Kobayashi and Perez attempted a late run to qualify in Q2 of qualifying and as a result ran out of time to put a competitive time for Q2. Kobayashi's three attempts were in vain as he was unable to get himself into the top 17 for Q2. His elimination was a shocker and Sauber need to re-think their qualifying strategy going forward. The silver lining for Kobayashi is that he will have two new sets of soft tyres which could be an advantage on race day, i.e. if the race is a 'dry race'!
The bottom of the grid was standard as always. HRT brought up the rear of the grid with Tonio Liuzzi and Daniel Ricciardo qualifying P23 and P24. The interesting statistic here is that Liuzzi was only 0.025seconds ahead of Ricciardo's qualifying time. Quite an impressive performance from the Australian rookie in only his second F1 weekend! Narain Karthikeyan, who was dropped by HRT pre-British GP (Read: Narain Karthikeyan Replaced By Daniel Ricciardo), drove in the Friday Free Practice 1 session and managed a better time than Ricciardo.
Karun Chandhok debuted for Team Lotus racing in today's qualifying session (Read: Karun Chandhok Replaces Jarno Trulli For Team Lotus At The 2011 German GP). He managed to qualify in 21st position and about 9 tenths off team-mate Heikki Kovalainen's position in P19. Chandhok was beaten to 20th by Virgin Racing's Timo Glock in the dying moments of the session.
The funny part of Chandhok's session was when Steve Slater commented on his first laptime of Q1 that it was 'within the 107% time' and that he will make it to the starting grid!
Timo Glock's home race saw him beat Karun Chandhok to 20th by only 0.22 of a second. Jerome D'Ambrosio will start tomorrow's race behind Chandhok in 22nd.
Points to remember during the 2011 German Grand Prix:
The Pirelli soft and medium tyre will be used during the GP. The soft tyres will be marked 'yellow' and the medium tyres in 'white'. (Read: Pirelli's Colour Codes In Formula1)
The difference between the two compounds of tyres is only about 1-1.5 seconds as shown in qualifying and the practice sessions. We may see the mid-field drivers attempt a one stop strategy as the soft tyre is expected to last as much as 30 laps.
The characteristic of the Nurburgring circuit mean that grid position is preferred over tyre strategy. Overtaking is difficult and tyre degradation is consistent and stable.
Weather: Saturday's radar image indicated light to moderate showers in the first hour of the race. If this is true, we can expect an exciting start to the race where the finish won't necessarily be as everyone would have predicted.