This is a slightly delayed post race update on my blog, but I hope you still enjoy it!
Lewis Hamilton came, didn't see, but still conquered Nurburgring. I know my attempt to modify the traditional phrase might not be too successful, but well, the German GP was all about Lewis Hamilton and his 'surprise' win.
Let's face it. Few of us thought that Mclaren had the speed to even fight for victory at Nurgburgring. I must admit, I always thought that the German GP would see a fight between Red Bull and Ferrari. And I was not alone, Hamilton thought the same too, when he made bold press statements of Mclaren having lost pace and their inability to fight for pole or win in Germany.  Hence, 'came, didn't see, but still conquered'. (Read: 2011 German GP: Qualifying Report)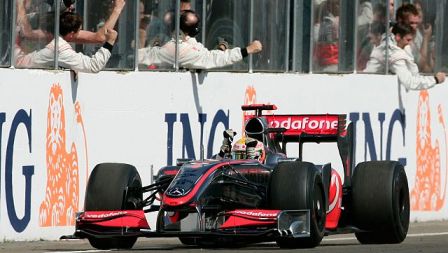 Observations from the 2011 German GP:
I read one of tweets of the TV commentators and Nurburgring (apparently) had around 300,000 Formula1 fans witnessing the action LIVE on Race Day. (WOW!)
The weather leading upto the start of the race was wet, but we saw drivers use the dry weather tyres during the entire duration of the race. Talks of showers interrupting the race in the middle were also supported by a Button win from P7. At the 2011 Canadian GP, Button started 7th, made the most of changing weather conditions to clinch his victory of the 2011 season.
However, it was team-mate Lewis Hamilton who snatched a surprise win. Two things that sealed his win: 1) The start where he blasted past Mark Webber's Red Bull and 2) when he overtook Fernando Alonso on track after their 2nd round of pit stops. The move was decisive and Hamilton showed tremendous commitment while overtaking Alonso from the outside into Turns 2 & 3.
Hamilton registered his 16th career win, which is now equal with Championship leader Sebastian Vettel. A great start complimented by great mid-race pace can be credited for his victory.
Button registered his second consecutive retirement of the season after he suffered from a hydraulics failure. He however had a race to forget after losing positions at the start and spending much time racing outside the top 8 positions. Button must be credited for attempting different tyre strategies yet again. He seemed to be able to stay out longer on the Pirelli soft tyres, which would have worked in his favour had it rained.
Ferrari and Fernando Alonso arrived at Germany hoping to have the pace to beat the favourites, Red Bull. Well, they did beat Red Bull, but unfortunately Mclaren seemed to be the team to beat and Ferrari's were not too far off their pace. Alonso finished second to Hamilton, but managed to beat Mark Webber after a great fight where we saw the lead of the race change after every pit stop. Alonso lost a position off the starting line to Sebastian Vettel, but managed to overtake him under-braking into the first corner in a non-DRS but KERS assisted move.
The top 3 drivers, Hamilton, Alonso and Webber were separated by only 2 seconds for most of the race, which meant that track positions were only down to pit stop strategy. In Germany, better strategy was to pit a lap earlier and generate enough heat in your tyres which would ultimately help you overtake your competitor should he beat you in the round of pitstops.
Felipe Massa on the other hand finished 5th, in what should have been a well deserved 4th place. Massa battled Rosberg's Mercedes in the first stint and took an overtly long time to overtake him, losing almost 1.5 seconds a lap to the leaders. However, the most credible part of Massa's race was his pace and ability to keep Vettel behind him from lap 18 to 59. Massa lost 4th place to Vettel due to a botched pitstop by the Ferrari crew on the last lap of the race.
Interestingly, Felipe Massa has led 3 of the last 4 races, but only for 1 lap. Do you think he can clinch a victory this season?
Post-race Ferrari agreed that it was the cold temperatures in Germany that worked against their favour in the race.
Red Bull Racing weren't expecting to be beaten in Germany, but were beaten by a fine margin. Webber looked like the quicker of the two drivers and once again had a miserable start and lost position to Hamilton. Webber finally broke his duck of not having led a race this year and managed to do so twice in Germany. However, the round of pitstops saw him lose the race lead. Team-mate Vettel had a race to forget as he finished his season's worst in 4th place. Vettel had an unusual half-spin on lap 9 and then failed to overtake Massa for nearly 40 laps. He however leads the Driver's Championship table by 77 points. Post-race, Vettel was criticized for being unable to race in the mid-field.
Usually we have seen Red Bull suffer from KERS issues. However, in Germany we had Rosberg, Schumacher and Button suffer from KERS problems.
Adrian Sutil managed a strong 6th place finish, which is Force India's best performance in the 2011 season. He made a good start and consistently ran in the top 10 and managed a two stop strategy to keep pace with the top teams. Paul di Resta was nudged into an unfortunate spin by Nick Heidfeld that saw him drop down to 24th and last place. His race was a catch up which finally ended in 13th place.
The pace of the VJM04 was very good to see and Force India not only battled but beat the factory teams of Mercedes and Renault in Germany.
Mercedes drivers only managed a 7th and 8th place finish in the race with Rosberg finishing ahead of Schumacher. While Rosberg had a good start, the car's slow race pace meant that he couldn't hold onto his position for long. Schumacher hit a wet patch that spun him out and compromised his race. Honestly, I was surprised to see Schumacher spin in conditions that he's known to be a master of!
Kamui Kobayashi, who was the fall guy in Q1 of qualifying managed to finish 9th after starting 18th on the grid. He managed a good two stopper to get into the points. Sergio Perez on the other hand finished 11th and just outside the top 10. An early race spin saw Perez lose positions on track.
Lotus Renault GP had yet another weekend to forget after the 2011 British GP. Vitaly Petrov finished a lowly 10th position earning only 1 championship point for the team. Heidfeld crashed during the early stages of the race after attempting an overtaking maneuver on Sebastien Buemi.
Post race, Petrov and the team management expressed surprised on being beaten by privateer teams like Force India and Sauber. The team also expressed their disappointment with F1 veteran Nick Heidfeld who was brought in at the start of the season as a replacement to Robert Kubica. Heidfeld's lack of leadership and performance hasn't gone down too well with the team who also decided to replace Heidfeld with Bruno Senna in Friday Free Practice 1 Session at this weekend's Hungarian GP.
After supporting Heidfeld's drive at the start of the season, I too would agree with Renault's disappointment with the German driver. Do you think so too?
Toro Rosso scored no points in Germany and their drivers were unable to show pace to match the other mid-grid teams. Alguersuari finished 12th and Buemi, 15th. Post-race Buemi was handed a 5-place grid penalty for the Hungarian GP for causing a collision with Heidfeld.
WilliamsF1 had yet another shoddy race, after Maldonado finished 14th and Rubens Barrichello retired due to an engine oil leak. This was Barrichello's 15th Nurburgring start and only his 2nd retirement here.
Team Lotus cars finished yet another race and their only exciting moment seemed to be Karun Chandhok's momentary spin. Chandhok, who didn't make a good start, lost 4 positions in the opening lap and finally finished 4 laps down on the leaders and a lap down on Heikki Kovalainen. His fastest race lap was also 1.4 seconds slower than Kovalainen.
Funnily, Steve Slater on Star Sports was sounding sympathetic with Karun Chandhok on his performance in the German GP. I couldn't figure if he was speaking for or against Karun.
Both Virgin Racing cars too finished the race in 17th and 18th position. Timo Glock finished ahead of Jerome D'Ambrosio.
Rookie Daniel Ricciardo finished his second Formula1 race and finished the race 19th. Team-mate Tonio Liuzzi had a strong early part of the race where he battled with the Virgin Racing cars, but however had to retire from the race after his car suffered from electronic problems. Both the HRT drivers were matched for pace mid-race, which is encouraging for the team.
Key Notes:
Pitting a lap earlier actually worked in Germany. It allowed the drivers to generate enough heat in their tyres and Nurburgring was more about heat management in your tyres.
Sebastian Vettel ended his streak of 11 successive podium finishes by finishing 4th.
Alonso has scored maximum points in the last 3 races as opposed to every other driver.
Next this weekend is the Hungarian GP and do you think Red Bull will be back to their winning ways?