I am all about sports, be it in real or reel; and of course real scores over because a lot sports movies tend to over-dramatize to please the audiences. A few good sports movies that come to my mind would be Invictus, The Hurricane, the Rocky series, Million Dollar Baby, Jerry Maguire, Lagaan, etc.
In the genre of sports movies, movies on car racing are far too little to talk about. I think Days of Thunder has probably been the best in this genre and Driven the worst. And if you're an Indian, Ta Ra Rum Pum probably embarrassed you the most followed by Shah Rukh Khan's attempt to lose a race in Baazigar.
In that light, I think making movies on racing is far more difficult than making one on sports that are played indoors or in a stadium with rackets, bats and body armour! Notwithstanding the millions it would cost to just repair and restore the machines needed for the shoot and the extra millions to fund travels to various circuits around the world. Thankfully in the world of computer graphics, it isn't absolutely necessary to hire expensive racing car drivers! And then if you're making a movie on 'Formula1', the copyright fees that one would need to shell out to Mr. E!
When you keep all this in perspective, you realise that Rush is a brilliant attempt at making a movie on one of the world's most popular sports, Formula1. And if you think this post is about the review of the movie, direction, screenplay, cinematography, etc. you will be disappointed; because my knowledge of movie making is limited and hence I stick to my topic of Formula1 and its marketing. (Read: Formula1 Needs To Market Itself Better)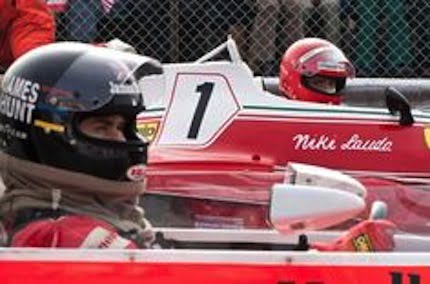 The storyline of the 1976 World Championship between James Hunt and Niki Lauda, which is extremely thrilling to read about, has been brought to life in a very apt manner, and by that I mean 'Formula1' manner. I have been lucky to attend quite a few races in my life and I must say that the depiction of the sport on and off track is as good as it can get. The balance between the drama and technical aspect is well maintained which means that it appeals to a larger audience. It tells the world the early need of sponsorship in a racing car driver's career and how funds are needed to back the best talent too! It also exposes the bigger truth, that while the focus for each team is to make money, they barely do. And how driver decisions are made and contracts negotiated! (Read: Formula1 Drivers To Play Musical Chairs)
There has been a buzz about the movie's launch in India and an interesting one at that. While it would be an obvious 'must watch' for Indian F1 fans (yes, the ones who have not helped the cause of the Indian Grand Prix), I have noticed a high-level of interest from non-Formula1 followers; ones who know about the sport of Formula1 but haven't really bothered to follow it. While data would be absolutely raw and untested, the cinema hall last night was nearly 50% full and this is a week after release and it was a late night (2300hrs) mid-week show.
This made me wonder, should Formula1 use the platform of 'movies' to attract more audiences? Well, if not the established ones, could it do so in the emerging markets? Whether movies or documentaries, can Formula1 content be re-packaged and sold differently to a different set of audiences? After all, fans who have been following the sport for a while would agree that nearly every third World Championship fought is as interesting (if not more) as the one that was fought in 1976. The battles during the days of Schumacher, Senna, Hill, Villeneuve, Hakkinen, Alonso, Raikkonen, Hamilton and now Vettel are extremely interesting ones to record, edit and broadcast to an audience that has interest in the sport but doesn't have the attention span that pans over near 20 races held for over 9 months of the year!
The benefit of such an option would mean that 'boring' races wouldn't drive away the audiences (lesser blame to Pirelli!) and the possible elimination of the technical aspect of the sport could actually attract more eyeballs to the sport. And don't get me wrong, while I absolutely love the technical aspect of the sport, there are millions who prefer the wheel-to-wheel racing minus the geek talk and with oodles of drama that it would offer. And while it would be absolutely impossible to gauge, I would like to see how many cinema-goers who liked Rush actually turn into Formula1 viewers starting the 2013 Korean Grand Prix (damn! That's a bad first race for anyone to see!!).
The idea of an annual Formula1 movie seems like a possibility because the assets (drivers, cars, circuits, team owners, etc.) needed to produce and direct a film would anyway assemble at a different racing venue twice every month and this would also include world class camera equipment and renowned reporters and journalists too! So quite simply put, all one needs to do is put the idea together and execute it after an approval from Mr. E. And what could accelerate the process of approvals would be the fact this could be an additional source of revenue for the FOM. Now to write to Mr. E and seek my appointment!
Scheduling issues have dogged the last two episodes of the Inside Line F1 Podcast. However, we will be back in full force pre-Korea. Tune in!