(My blog has completed a year today on 3rd January 2011 – read my anniversary post 'It Has Been A Year')
After the i1 Super Series revealed their 2012 driver line up in Abu Dhabi, I was slightly surprised to not see Narain Karthikeyan's name on the list. After all, he is one of India's first and best motor-racing driver; the best also in terms of 'brand recall'. Post that, I spoke to Narain's team-mate at Hispania Racing Team, Vitantonio Liuzzi, who mentioned that he (Liuzzi) had a contract with the team for the 2012 Formula1 season and he was hoping that it would be honoured.
(Read posts: i1 Super Series Driver Line Up; Tonio Liuzzi Is Excited To Participate In The i1 Super Series)
That is exactly when I thought – where will Narain Karthikeyan be in 2012? Hispania Racing Team, Narain's team in the 2011 Formula1 season, have changed ownership and will be turning almost everything they own or will own to 'Spanish' in 2012. They are moving their team base to Spain and have even hired Formula1 veteran and Spanish driver Pedro de la Rosa as their race driver for the 2012 Formula1 season. They are yet to announce de la Rosa's team-mate and rumours in the Formula1 paddock indicate that in all probability it will be a young Spanish driver (not necessarily Jaime Alguersuari).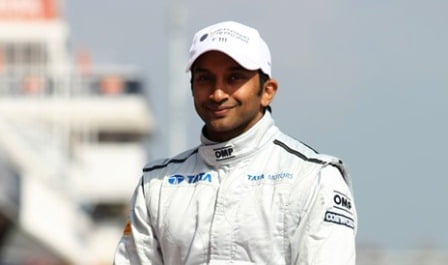 Interestingly, HRT have even fired (and replaced) their former Team Principal Collin Kolles last month and this is probably one of the key factors to consider while discussing Narain's future with HRT and in Formula1. Narain made his comeback to Formula1 in 2011 alongwith HRT and much of this was possible due to his closeness with Kolles, who mentored Narain during his first stint in Formula1 at Jordan Grand Prix (in 2005) and during his Le Mans stint a few seasons back. With Kolles gone, will HRT still be interested in Narain?
(Read post: Narain Karthikeyan And His Formula1 Career With HRT In 2011)
So what are the possible options for Narain in 2012?
–          A drive (race or reserve) with another team in Formula1 in 2012?
–          A return back to the Superleague Formula?
–          Race in the USA with his former team, Starbeast Motorsport, in NASCAR?
–          Race in the Le Mans series this year? (His earlier stint was marred by a dislocated shoulder hours before the race)
I am sure there are plenty more options for Narain that are not public yet and going by his New Year tweet 'Welcomed new year in Coimbatore with family – an exciting 2012 ahead and wishing you the best. Back to the fitness regime starting today!' I do have a feeling that it will be well worth the wait to know Narain's raceabouts for 2012!
Narain has seen unparalleled support from the TATA Group and hopefully with them by his side, Narain's 2012 will only be brighter and not bleaker! Watch this space!