I have always maintained that my blog posts will be from a fan as well as an F1 columnist's perspective. So this blog post is where the Formula1 fan in me is speaking!
The time between the end of the 2011 German GP and the start of the 2011 Hungarian GP is only 4 days. Life can't be better for an F1 fan with 2 Grand Prixs scheduled on back to back weekends.
In the 2011 Formula1 season, the German and Hungarian GPs are the third set of back to back races. The first were the Malaysian and Chinese GPs and the second were the Spanish and Monaco GPs. The fourth set of back to back races will be the Japanese and Korean GPs, which means that at least 8 races of the 19 race calendar will be held in a span of a week!
This is a perfect setting for an F1 fan, who otherwise gets his dose of F1 on alternate weekends. By the time you dwell on the race result of one GP, news, controversies and expectations from the next GP start to pour in. Sometimes it does get difficult to keep a track of all the stories, but what the heck! I haven't yet come across an F1 fan who has complained of an overdose of Formula1 in his/her life!
The back to back GPs are of course hard on the F1 team personnel and media. The trucks and motorhomes are dismantled, packed and sent to the next venue via road or otherwise as planned only to be unpacked 3 days later! The trip from Nurburgring to Budapest is approximately 10 hours by road (I asked Google!). I wonder if the mechanics that do the packing and unpacking enjoy the back-to-back races as much!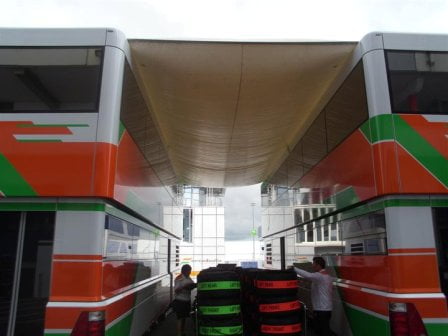 Media that covers Formula1 GPs too undergoes a hectic time. Imagine them filing their stories post-race on Sunday evening or Monday morning, only to follow and report on the latest news leading upto the next GP simultaneously. Infact, for the media, Thursday is when they their action in the F1 paddock starts. In the middle of this, did I mention that they have to board flights in and out of the GP venues! (My blog update on the 2011 German GP: Race Report was delayed too, hope you've read it!)
But, along with us Formula1 fans, I am certain that the drivers love it. We have read stories and news in the past where the drivers have complained of lack of track action between the races and there is a proposal being discussed to bring back in-season testing in Formula1. Whatever the case, sit back and enjoy the Hungarian GP this weekend because after this, Formula1 enters its annual mid-season break. This means that the Belgian GP will be four weeks away! (Sigh!)