The 2011 Hungarian GP is the 850th Grand Prix in the history of the sport. The qualifying session was a closely fought one and for once, we didn't have too many non-runners in the Q2 and Q3 sessions of qualifying. However, it was Championship leader Sebastian Vettel who was back on pole with the Mclarens not too far behind on 2nd and 3rd.
The German and Hungarian GP was held on two back-to-back weekends, much to the excitement of Formula1 fans.
Observations from the 2011 Hungarian GP Qualifying:
Red Bull Racing used the first of their four curfew extensions on Friday night. The team disclosed that extensive set up work was the reason behind their extension.
Leading upto the Hungarian GP, Alonso and Liuzzi were the only drivers to out-qualify their team-mates at every race this year.
6 drivers, Alonso, Massa, Button, Hamilton, Vettel and Rosberg have always made it into Q3 of qualifying this season.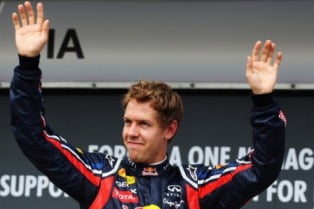 Q1:
HRT's Daniel Ricciardo's lap was just over a tenth slower than Tonio Liuzzi. A commendable job by the Red Bull rookie in his 3rd F1 qualifying session. Both HRTs were quicker than the Virgin Racing driver Jerome D'Ambrosio, who will start the race 24th and last. Ricciardo will start 22nd and Tonio, 21st.
Timo Glock, who extended his Virgin Racing contract by 3 years at the 2011 German GP, was only 4 hundredths faster than Tonio in his HRT. Of the bottom teams, Virgin seemed to suffer in particular. Glock could only manage P20 in qualifying.
The 107% time was 1:27.288 and there was a slight worry between Free Practice 3 and Qualifying if few of the bottom team drivers would miss the cut. However, all drivers were faster than the 107% laptime.
Jarno Trulli, who was replaced by Karun Chandhok at last weekend's German GP, had an updated power steering to his car. The update was much needed after Trulli's complaint of lack of 'feel' during the early part of the season. While Trulli was ultimately beaten by team-mate Kovalainen, the difference between their laps was only 2 tenths. The Team Lotus cars will start 18th (Kovalainen) and 19th (Trulli).
Toro Rosso's Sebastien Buemi was the fall guy of the qualifying session after being unable to make it through to Q2 of qualifying. Buemi's Q1 lap was 8 tenths slower than team-mate Alguersuari and will start tomorrow's race 23rd, after a 5 place grid penalty that was awarded to him post the German GP for colliding with Renault's Nick Heidfeld.
However, Buemi has managed to save a set of super softs for the race, but I don't see him doing a Mark Webber-style recovery and finishing on the podium.
Teams that battled to avoid the 18th and elimination spot in Q1: WilliamsF1, Sauber and Toro Rosso.
Team Lotus cars were around 2 seconds quicker in qualifying than the Virgin and HRT cars.
Q2:
Red Bull had KERS issues yet again. Their drivers were advised to use the power boost only at the start of the lap. One wonders if these are issues or a smart implementation of the power boost.
In Q2, the top 7 slots are booked by default by the 2 drivers of the 3 top teams and Mercedes' Nico Rosberg. This would mean that the battle for 8th, 9th and 10th would be between Michael Schumacher, the Renaults and the Force India cars.
The highlight of today's Q2 session was Hamilton's lap on the prime tyre, which was a second off Alonso's lap on the options. This lap saw him through to Q3 and saved him an extra set of softs, which will be an advantage for his tyre strategy during the race.
Nature of the circuit meant that the difference in lap times between the top teams and the mid-field teams was higher. The only driver able to match the laptimes of the top teams was Nico Rosberg.
Adrian Sutil managed yet another top 10 qualifying for Force India. Paul di Resta was bumped by Michael Schumacher in the dying moments of the session to 11th. It was the 4th consecutive race this season that at least one Force India driver has made it to Q3, giving the team a top 10 start.
Both Lotus Renault drivers failed to make it into Q3 for the first time this season. Petrov (12th) out-qualified Heidfeld (14th) yet again. The Lotus Renault team seems to be going backwards on the grid and have been comprehensively beaten by Mercedes and Force India in the past few races.
Sergio Perez once again out-qualified Kamui Kobayashi and managed to qualify 10th in Q2 and get into Q3.
Pastor Maldonado, who got into Q2 with a last minute attempt failed to set a laptime in Q2 and probably has saved himself a set of super soft tyres.
Q3:
Sebastian Vettel clinched pole position by a tenth of a second from Lewis Hamilton and will start tomorrow's race from the front row. Jenson Button in the other Mclaren was another 5 hundredths behind in 3rd. The battle into the first corner will be an interesting one to watch.
Red Bull maintained their 100% pole position record this season, with Vettel claiming his 8th pole position of the season. Vettel has never won the Hungarian GP and will hope to turn his fortunes around tomorrow.
11 Hungarian GPs have been from pole and 5 each from 2nd and 3rd places. It will be a Vettel-Hamilton and Button fight in the race.
Mark Webber had a poor qualifying where he blamed his DRS wing and the Pirelli tyre for being unable to extract pace out of his car. He will start tomorrow's race from 6th. The slowest of the top 3 teams.
Sutil, Schumacher and Rosberg attempted only one timed run in the session. Rosberg qualified 7th and a full second ahead of his team-mate Schumacher. Sutil, sandwiched between the two Mercedes cars, will start tomorrow's race in 8th place. Sutil's Q3 lap was half a second quicker than Schumacher's.
Felipe Massa beat Fernando Alonso in qualifying for the first time this season. The last time he achieved this feat was at last year's Belgian Grand Prix. Massa's upped his Q3 pace (went 0.7 sec quicker than his Q2) while Alonso's Q3 lap was slower than his Q2 attempt. The Ferrari was unable to maintain pace throughout a single lap. Alonso's second timed lap in Q3 saw him lose around 7 tenths in the 2nd and 3rd sectors.
Interesting to note the difference in pace. The top 6 drivers are separated by 6 tenths, the 6th and 7th places too are separated by 6 tenths.
The 2011 Hungarian GP will be Jenson Button's 200th GP start. He won his first ever F1 GP here in 2006 after starting 14th on the grid. He starts tomorrow's race from P3, can he win?
This race also happens to be Nico Rosberg's 100th GP start. He will start in 7th and next to Adrian Sutil. Rosberg and Schumacher's qualifying split so far has been 10-1 in favour of Rosberg. His tyre strategy will be interesting to see after he too saved a set of super softs.
Sergio Perez didn't run in Q3, which means that he will have a free choice of tyres to start the race on. This goes back to my discussion on a mid-season rule change in qualifying to avoid such undue advantage to drivers. This was his second entry into Q3 this season, but it will be the first time he will start in the top 10. The first time he entered in Q3 was the 2011 Monaco GP, where he was unable to start due to a crash in qualifying.
Points to remember:
Pirelli have brought their soft and super soft tyres to Hungary. The soft (prime) tyre is YELLOW in colour and the super-soft (option) tyre is RED in colour. You can memorize Pirelli's tyre codes in Formula1 by reading my previous blog post: Pirelli's Colour Codes In Formula1
The difference between the prime and the option tyre is around 0.8 to 1.2 seconds.
Overtaking is difficult at the Hungaroring and hence grid position matters. However, if your grid position is not favourable, tyre strategy can help you overtake cars this season. Pirelli has suggested that even a 4 stop strategy is possible.
Weather:  the temperature is expected to be in the mid-20s and the possibility of rain is very little. Perfect conditions to go racing!