'It is not winning, but participation that matters' is the adage we grew up with during our formative years in school. To me, that was the turning point, I participated in various activities (sporting and non-sporting) that I never would've assumed I otherwise would. From a psychological view, it made a hell-of-a difference!
Along the years, one picked up a few activities one was good at and dropped the others. Like I said, the key was to experience and participate in as many activities, which was crucial. Without trying, one wouldn't know what one is good at or not and that adage was my true companion while I went about entering unchartered territories.
I am guessing most of my readers experienced similar experiences in life and hopefully they can relate to this post. As we picked up the activities we were good at, it was only human to want to get better at them. 'Turning your weakness into your strength' was attempted too, I am sure, but the drive was about getting better at what you do, every time, all the time. This was followed by the intense desire to win or to be the best at what one did; the desire to succeed. This is where the adage 'winning matters and not just participation' made more sense. I mean, one spent those innumerable hours training and practicing not just to participate, but to go out and win.
After a point, the crucial question that an athlete faces is 'winning at all costs'. Given the millions of dollars, fame and a career at stake, victory is important. The thin line that exists between 'winning' and 'winning at all costs' is the line that possibly defines the mindset of most athletes. Lance Armstrong is the immediate name that comes to my mind, but I am sure there are a thousand others. It is this very mindset why there are and will always be extreme reactions about Michael Schumacher in the Formula1 pitlane.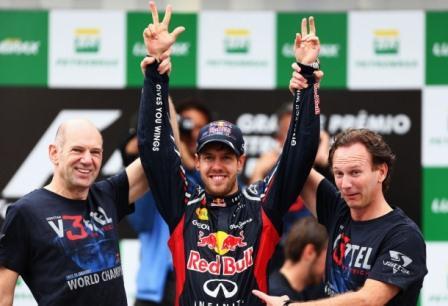 If you've not guessed it already, this post is about Sebastian Vettel's ignorance of team orders at the 2013 Malaysian Grand Prix (Read: Emotions, Tensions And Vettel Score A Win) to claim victory. The signals from Red Bull Racing post this saga have been skewed. Formula1 fans and media will never be able to ascertain what actually transpired before, during and after the race. Was Webber asked to turn his engine down more than Vettel? Was Vettel put in his place post-race? Did the post-race debrief settle the animosity between the team-mates? I guess these questions and many others will remain unanswered in the public domain.
The public domain also has been filled with numerous views and opinions of fans world over. Social media was abuzz with various bloggers, journalists and fans and their reporting of this incident. Few sided Webber, others sided Vettel. My thoughts on this episode were recorded on the Inside Line F1 Podcast edition title 'Multi21, Team Orders and PR Talk'. Surprisingly, the feedback received on this Formula1 podcast indicated that most fans sided with Sebastian Vettel!
Given the extreme interest in this incident and my liking for sports psychology, I thought it would be best to get a professional view on Sebastian Vettel's possible mindset and behavior. So I asked my dear friend and one of India's most successful sports psychologists Dr. Shree Advani to help me dissect Vettel's disposition that created waves not only inside Red Bull Racing but across the entire Formula1 fraternity. Here's Shree's view:
As human beings, we tend to define our identity by what we do and how much we achieve. Most people make this mistake of evaluating self-worth with success rate. Although, an even deeper thought-provoking matter is the concept of success itself. What is success? Some believe it is the number of titles won, amount of money made, number of materialistic possessions acquired, etc., while a handful assess their success level by how happy they are, the quality of sleep they get each night and so on. You get the drift (no pun intended).
Vettel is one such personality who probably falls in the trap of letting personal glory represent who he is. He is an athlete in a sport that requires individual excellence keeping in mind the greater good of the team. It's a unique situation for a sportsperson. It's only human to want to win at any cost but given the way Formula 1 works, team orders are gospel. We all are wired differently and have varying values, but all Formula1 drivers have to work in this unique system, where while you are racing for the team, you are also competing for yourself. This system, as history has shown, can be a hypocritical one in itself since rules against team orders can't be policed effectively.
Given that, we are all governed by rules. The judiciary system has laws, society has norms and every sport has rules, all in place to provide structure and discipline. In Formula 1 though, the unique predicament of going for a win versus following team orders (when both aren't the same) may appear to leave F1 drivers in a fix. But this is no grey area if the job requirements of a driver as part of a team are understood. The team gives the racer a car and a contract backed by commercials as well as terms and conditions. Give and take! A Vettel or Webber first represents Red Bull Racing and then themselves. It is the team that maketh the driver!
Roger Federer plays for himself but operates within the framework of rules made by the ATP. When he plays for his country in the Davis Cup, he abides by his team management's decisions. It's not that complicated. Drivers just need to make this critical point crystal clear in their minds. Agreed that being asked not to win for the sake of another person, a competitor, requires magnanimity. In saying that, that person is after all your own teammate, probably requires it even more so. However, as we have seen in the past, Formula1 drivers have often struggled to think beyond themselves  and this is because of the overlap of the Drivers' and Constructors' Championships, often forgetting that it is the latter where the money is made. And as Kunal put it, quite funnily, teams are happy to hire such drivers!
Back to Vettel, the 3-time world champion is a superstar and has a massive following. He has an image to uphold and a reputation to maintain. I'm certain with age and maturity, Vettel will look back at this day and realise it was not his proudest moment (hopefully he's already realised it). Till such time, both stronger team discipline (Horner's authority!) and a more responsible Vettel are required, pronto!
To sum it up, professional sport isn't where you should be looking for a 'good guy'. If you still are, I wouldn't recommend judging the sportsperson by their behavior and decisions made while competing in their sport. After all, it is only human to want to win!
More on Mark Webber and Red Bull Racing on the Inside Line F1 Podcast: Should Mark Webber Retire Or Move Teams In 2014?
Dr. Shree Advani is a Bangalore-based sport and performance psychologist with clients based in different parts of the world. He plays 'mind coach' for athletes across various sports that include Cricket, Tennis, Badminton, Motorsport, Billiards, Snooker, Skating and more. You can follow him on Twitter: @ShreeAdvani.
** This attempt at analysing the psychology of an F1 driver is a new one for my Formula1 blog. Shree and I have had endless discussions on several athletes and their psychological mindsets before, during and after games / matches / races. Hopefully I am able to publish much of it with his inputs and permission.