The Belgian Grand Prix is always interesting, but Indian F1 fans were in for a shock when the local TV broadcaster (ESPN Star Sports) chose to air live English Premier League matches over Formula1. There was furore over social media and the internet as Formula1 fans were puzzled by ESPN Star Sport's decision or the lack of it!
Anyways, I had to catch up qualifying online and it probably turned out to be a better decision except for the rain-related network disconnection. The 2011 Belgian GP qualifying was down to 'timing' – what time you chose to do your qualifying lap probably mattered than everything else. Due to the unpredictable weather conditions, when one chose to switch over from intermediates to racing slicks also mattered the most.
Q1:
–          'Timing' was right, if you were one of the first runners on track. The session started wet with an expectation of heavy rain towards the middle or end. In such a situation, one would expect casualty from one of the drivers of the top teams, but Q1 went as per plans except for one racer, Michael Schumacher.
–          Schumacher crashed on his out-lap after his right rear wheel went loose and ended in the barriers. The biggest casualty of Q1 will start the race 24th and last tomorrow. The only positive for Schumacher is that he will have more tyres available than the other drivers. Not to forget, Schumacher has the highest no. of wins at Spa: six! I hope to see him go charging through the field in tomorrow's race.
–           The other casualty of Q1 was Force India's Paul di Resta who ran out of track time after a driver error. The Scot who finished his career best 7th place at the 2011 Hungarian Grand Prix will start tomorrow's race from 17th (after Maldonado's penalty).
–          The biggest gainer of Q1 was Team Lotus' Heikki Kovalainen. Whenever there are big casualties in Q1, Kovalainen has consistently managed to get himself into Q2. His Q1 qualifying lap was 2 seconds quicker than Jarno Trullis'.
–          We didn't see last minute improvements in Q1 as rain arrived 2 mins before the session ended. The key point for Q1 was when to crossover from intermediates to slicks. The entire field was separated by a whopping 10 seconds in Q1 of qualifying.
Q2:
–          Force India's Adrian Sutil crashed while tackling Eau Rouge and brought out the Safety Car during Q2. Excessive usage of kerbs on a rainy track caused Sutil's crash.
–          Rain faded away towards the end, which meant that the track was drying and here 'timing' was to get your qualifying lap at the last possible moment. The conditions were switching from wet to dry and in such cases, as the track dries out, grip increases and laptimes start to tumble. The entire field was separated by 5 seconds in Q2.
–          Fernando Alonso managed to get himself into Q3 at the very last moment, while Lewis Hamilton and Pastor Maldonado banged wheels twice in 2 corners for which one (Maldonado) was awarded a 5 place grid penalty and the other (Hamilton) a reprimand.
–          This is Hamilton's second reprimand this season and as per the new rule, three reprimands could lead to a grid penalty. (Rule explained: Driver Reprimands To Be Replaced By Grid Penalties)
–          Winner of the last race, Jenson Button, was the biggest casualty of Q2, who got eliminated due to a wrong call by the Mclaren pit crew and will start tomorrow's race a disappointing 13th. Button will be my man to watch in tomorrow's race should there by unpredictable weather conditions.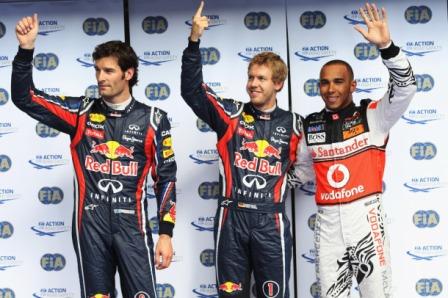 Q3:
–          Track had a distinct dry line which meant that dry tyres were used to set a laptime in Q3.
–          As with Q2, this session too needed the drivers to time their flying lap at the last possible moment and that is what Sebastian Vettel did to clinch his 9th pole of the season, beating Hamilton and Webber in the dying moments of the session.
–          Q3's most interesting story was of Bruno Senna, who qualified in the top 10 on his debut with the Lotus Renault team (Read post: Lotus Renault's Driver Changes Show That Money Is Very Important In Formula1) ahead of team-mate Vitaly Petrov. Senna will start the race from P7, Petrov from P10.
–          Toro Rosso's Jaime Alguersuari qualified his season best P6 and was only 3 tenths slower than Ferrari's Felipe Massa, who in turn, managed to out-qualify team-mate Fernando Alonso for the second time this season. Massa will start 4th and Alonso a lowly 8th!
Points To Note:
–          Tomorrow's weather forecast is 'dry', which means that teams who have compromised setup in qualifying should have the upper hand in the race. Difficult to pin point, but Alonso's lack of pace indicates that his setup was more to towards dry?
–          Should there be a wet race tomorrow, we could have a situation where the teams run out of fresh rubber. Each session of the Belgian GP weekend has been run in the wet and hence most teams have ended up using their 4 sets of intermediates and 3 sets of wet weather tyres. Dry tyres or racing slicks were only used in Q3 of qualifying today. Should this arise, it will be interesting to see how Pirelli and the F1 teams tackle this situation. Also, Pirelli have their medium (white) and soft (yellow) compounds in use this weekend. (Read post: Pirelli's Tyre Compounds In Formula1)
The other news story of the Belgian GP weekend was Mark Webber's re-signing of his Red Bull Racing contract for the 2012 season. (Read post: Ferrari and Fernando Alonso Had No Option But To Sign Till 2016)
Have you heard my 2011 Belgian Grand Prix Pre-Race Podcast yet?