2011 Hungarian Grand Prix: Button Proves His Might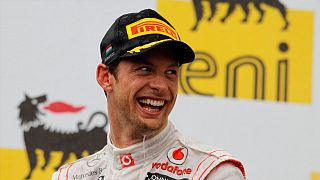 The 2011 Hungarian Grand Prix was by far one of the most closely fought ones in recent years. The damp conditions at the start made racing extremely difficult and it was only the best that actually came out on top. It was a great sight to see all Formula1 cars slip and slide on the race track, try different lines and yes, still go racing! That is how much fun the Hungarian GP was! (Read: 2011 Hungarian GP: Qualifying Report)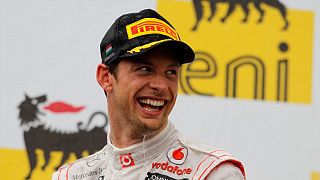 My only worry after the fun that a damp and drying circuit provided, will Ecclestone now hard sell his sprinklers idea?
Here are my observations on Sunday's race:
This was (nearly) the 2nd only wet race in Hungary in 27 years.
Webber and Vettel now have 13 successive points scoring finishes. Schumacher holds the record with 24 finishes.
Ferrari was expected to be quicker here, but it seems the unexpected cold temperatures worked against them again.
A GP of statistics: 850th Formula1 GP, 200th race start for Jenson Button, 100th GP for Toro Rosso and Nico Rosberg. Button is the 11th driver in history to hit the 200 mark and the 1st ever to win his 200th GP.
The race start was damp and the track was drying, this put emphasis on tyre strategy. The driver who would be the first to pit from intermediates to slicks would either be a 'hero' or 'zero'! Felipe Massa and Mark Webber were the 'heroes' this time as they were the first of the top drivers to pit for racing slicks.
The race started on intermediates, which meant that using both compounds during the race was no longer compulsory. This added a different angle to tyre strategy during the race. At the start, one thought that drivers like Hamilton (who saved an extra set of super set tyres in qualifying) would have an immediate advantage.
Race start: Adrian Sutil's first lap saw him go from P8 to P20 after an incident on the first lap. Both the Mercedes GP drivers made fantastic starts and were mixing it up in the front for the first few laps. Rosberg has finished 7 races lower than his starting position this year. Clear indications that Mercedes GP has been unable to sort out their race pace.
The opening laps were only down to driver ability. Hamilton showed his aggression on a damp track, while Button showed his finesse. The fight for the lead between Hamilton and Vettel was classic.
Sebastien Buemi too made the most of his opening laps: he went from 23rd to 12th! In the end, STR registered a double points finish in their 100th race. Also, this was the 4th time only when all Red Bull owned cars finished in the points.
Massa spun on wet paint and made contact with the barriers damaging his rear wing. The damage was substantial and one thought that he would retire from the race. However, this mini-incident was a blessing in disguise for the Brazilian as he chose to pit and put on racing slicks and charge up the field. Notwithstanding the damage on his rear wing and effect on the aerodynamics, Massa went onto clock the fastest lap of the race.
Massa finished 6th after his early race incident. His form was inconsistent during the race, where he ended up spinning in the first half and then went onto become the fastest driver of the race in the second half. Ironic! Alonso who was in the fight for the lead, ultimately finished on the podium. This was his 4th consecutive podium this year.
Michael Schumacher finally led a lap after his comeback to Formula1; well it was half a lap! Kudos nevertheless! Shame that a gearbox problem saw him retire from the race.
The race was all about tyre management and Button once again showed that is the best amongst his class. His ability to read the conditions, drive in them and not change to intermediates towards the end of the race was the only reason he won the race.
Hamilton's spin and correction to join back the race was distasteful. Once again showed that he's willing to take risks, but doesn't respect the presence of the other drivers on track as much. I think he spun because he knew that they were on the wrong strategy and would be losing the race to Button. Anyway, he was awarded a drive through penalty for his unsafe rejoining on track.
It was also great to see Mclaren let their drivers race on track. The Hamilton-Button duel was exciting to see and the drivers while racing were responsible enough to not bump each other off track. Classic Formula1!
Paul di Resta finished his career best 7th in Hungary. His pace was strong from the start and comfortably ran most of the race distance in the top ten.
Nick Heidfeld had an adventure that no other driver would probably want! First, he had an off track excursion while attempting a late braking move on one of the Toro Rosso cars. The move was an amateur one which saw him lose a string of 3 to 4 places on track. Next, he pitted only to exit the pit lane with a car on flames. He parked the car, jumped out only to hear a minor explosion a few seconds later! Scary!
What was scarier was the marshalls towing Heidfeld's car back to the pits. They reversed the tow truck up the pit lane exit only to find a charging Vettel.
The reason why the Safety Car wasn't called for Heidfeld's incident was because the FIA preempted that an SC period would only lead to more pitstops and it was the pit lane that they were clearing!
Team Lotus had a double retirement in the race and blamed it on hydraulics. At one point in the race, Kovalainen was running 15th and ahead of Sutil, Heidfeld and Perez.
Kobayashi tried yet another short tyre strategy and one thought he would just make the top 10. His strategy worked 7 laps short and saw him lose his place in the top 10. Good try, no doubt!
HRT duo's pace was notable. One doesn't know if Liuzzi had a problem, but Ricciardo finished 2 positions and a lap and a half ahead of him. Ricciardo also beat D'Ambrosio's Virgin car.
D'Ambrosio also ended up spinning in the pits! Did you see that?
The late race rain made the race even more interesting. Switching to intermediates was the wrong strategy and that is what Webber, Hamilton and Alonso fell for. This meant that they had to pit once again to revert back to the correct strategy.
Button's maiden F1 win was at the Hungaroring in 2006, hence the taste of the victory champagne for him would have been sweeter. He also became the only driver after Vettel and Hamilton this year to twin two races. In what was a bad joke, the night before the race, Button's website was hacked and claimed that he had met with a road accident and was in critical condition thereafter. The joke ended on the hacker when Button claimed Mclaren's 10th overall in Hungary, making them the most successful team here.
Vettel, while only finished second, gained points on his nearest rivals Webber, Hamilton and Alonso and will now enter the August break with a massive lead of 85 points – his highest points lead all season. Infact, Hungarian GP race winner, Button is 100 points behind. Vettel's lead is such that all drivers lower than Rosberg (7th) are mathematically out of contention to win the Driver's Championship! To add to all of this, Vettel has gone 3 races without a win.
Leaving Vettel's dominance aside, team-mate Webber is yet to win a race this season!
Mclaren scored their 3rd win in 5 races, showing signs that the Red Bull dominance on Sunday has probably ended. They are now only 103 points behind Red Bull in the Constructor's Championship.
After enjoying the back-to-back F1 GPs in Germany and Hungary, Formula1 now enters its August break, where all factories have a compulsory shut down for two weeks.
If you miss Formula1 action, be sure to keep visiting my F1 blog…a good list of updates planned to give you your dose of Formula1! Keep Racing!