Fernando Alonso winning the 2013 Spanish Grand Prix = Mumbai Indians winning the Indian Premier League at the Wankhede Stadium! Of course, the latter hasn't happened yet! But I am only trying to explain the electric atmosphere that must've been at the Circuit de Catalunya for Formula1 fans to see their home hero win his 32nd career GP.
The race result has had an impact on the Championship standings, but before I go to that, I must say that this was probably one of the races where the scales were tilted too much in favour of the managing the tyres than going racing! And I have said this before and I am saying it again, this isn't what Formula1 racing is all about…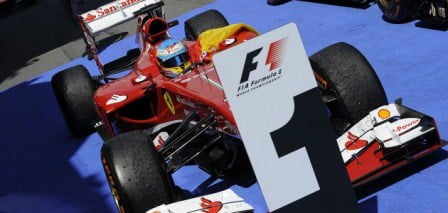 The race result of the 2013 Spanish GP:
Fernando Alonso: Alonso and Raikkonen were my favourites to win today and it was Alonso's day. A good start, followed by two awesome overtaking moves on Raikkonen and Hamilton in the opening sequence of corners set the mood for the race. One of those classic moves where you realize that DRS and Pirelli-induced overtaking is artificial. Alonso's 32nd career win and a victory in Barcelona after 7 years! In the Championship standings, he reduced his deficit to 17 points. And in all this, the FIA pulled up the Spaniard for picking up a flag on his victory lap post-race! Sigh!
Kimi Raikkonen: He said post-race that he was disappointed with 2nd place and he should be. In the past, he's started outside top 5 and managed to finish on the podium; from P4 a race win was well within reach. The Iceman was the only 3-stopper of our podium finishers and is now only 4 points away from the lead of the Drivers' Championship. The classical question, what does he (and Lotus) need to do to win?! And by the way, this was his 23rd consecutive points finish and 33rd race finish. Mr. Consistency of this era? (Read: Raikkonen To Red Bull Racing In 2014)
Felipe Massa: Pleasantly surprised to see him on the podium, especially after a penalty post-qualifying saw him start from P9. While P3 would make him and Ferrari happy, the time difference (26 seconds) to Alonso should be something he (and Rob Smedly) needs to work on.
Sebastian Vettel: No podium finish would disappoint the German, and as Horner told him post-race to 'chin up'! Lost vital points to Alonso in the Drivers' Championship today, but a good run to the first corner to overtake Hamilton. Expect Red Bull to go hard on Pirelli and complain in the coming weeks. The irony of their race (thanks to Pirelli!) was when Vettel was fighting Raikkonen for position and the team asked him to back off to conserve tyres! And on the same note, in the Inside Line F1 Podcast leading up to the Spanish GP, we discussed if 'aero' or 'tyre' efficiency would win in Spain…
Mark Webber: An unexciting race that saw him finish 5th; poor start yet again and the 'Multi21' saga seems to have dented his confidence badly! Time to visit a sports psychologist? (Read: Multi21, Team Orders and PR Talk and 'A Sports Psychologist's View On F1 Drivers')
Nico Rosberg: From pole to P6, would make the team and driver happy! Tyre woes are extreme and they don't have an easy fix! First time at the Spanish GP where the pole sitter finished outside the top 5!
Paul Di Resta: Good race yet again, best of the mid-fielders, 6 points for Sahara Force India, who still are ahead of Mclaren in the Constructors' Championship. Icing on the cake would've been overtaking Rosberg towards the end of the race.
Jenson Button: Tyre management saw him make a pitstop less than the others around him. A late race coded team message to Perez saw Button retain P8. Mclaren's updates didn't work as expected in the 2013 Spanish GP. (Read: A Guide To All Updates For The Spanish GP)
Sergio Perez
Daniel Ricciardo: His race was compromised as the team had to delay his pit-stop to fix Vergne's damage. However, of all the teams, Toro Rosso's upgrades have been most visually successful.
Esteban Gutierrez: Only 0.3 seconds away from scoring his first Formula1 championship point. Got the fastest lap of the race, but there are no points for that! And he did Formula1's first 'wheelie' drive in the entry to the pits and no points for that either! (Life is unfair, I know!)
Lewis Hamilton: P2 to P12, disaster! Got overtook by a Williams and was displeased by that, absolutely loved his radio messages with the team.
Adrian Sutil: Bad luck again for the German driver to finish outside the points. A great start where he made up 5 positions (wonder how and why the TV cameras missed that!) only to have issues in his first pit-stop that hampered his race progress.
Pastor Maldonado: His highlight of the race would've been overtaking Lewis Hamilton, for some P13 or P14 though! The 2012 race winner finished P14.
Nico Hulkenberg: A clash in the pit-lane with Vergne ruined his race. 6 visits to the pits; 4 for tyres, 1 each for change of nose and serving a penalty!
Valterri Bottas
Charles Pic: Finished a lap ahead of the Marussias and only 2.4 seconds behind Bottas.
Jules Bianchi
Max Chilton
Did Not Finish:
Jean Eric Vergne
Giedo Van Der Garde
Romain Grosjean: No, he didn't crash!
Post-race, opinions and views were split if Pirellis were controlling the race outcome a little too much for everyone's comfort. Interestingly, Paul Hembrey, Pirelli's Motorsport Director tweeted post-race that he was disappointed too, but was asked to deliver less durable tyres. A change, he said, would be in place by Silverstone, which means that Pirelli will go the conservative way. How conservative, is the question though! We need a balance between the two, not the extremes!
In my view, Hembrey is probably the most powerful man in Formula1 currently; after all, his tyres will be the key decisive factor in this year's Championships. However, I am surprised that with the best possible technical brains in the sport, no one ever imagined that we would reach this stage in the sport where not cars and driver talent, but tyre management would be the talking factor fortnight after fortnight.
More on the 2013 Spanish Grand Prix in the Inside Line F1 Podcast…