RJ Rishi Kapoor was so smitted by Kimi Raikkonen's performance in the 2012 Bahrain Grand Prix that I caught him imitating the 'Iceman' minutes before we started recording our latest podcast.
I had to try hard to convince him to retain the imitation as a part of this podcast! While he agreed, this is also what we ended up discussing:
A quick look back at the Bahrain Grand Prix

Best performance was by the Pirelli rubber?

Raikkonen, Grosjean and their podium effort in Bahrain – could Raikkonen have won? Could the Iceman have overtaken Vettel for victory? We think YES! Hear to know WHY!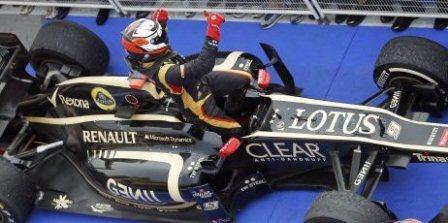 Schumacher said 'qualifying isn't as important', do you think so too? And reality struck Rosberg?
He also was critical about the Pirelli tyre – we try and decode what he meant…
Was the Bahrain Grand Prix safe? Was it right for Formula1 to go racing there?
And Sahara Force India's invisibility cloak – RJ Rishi Kapoor didn't admire Harry Potter at work as the FOM Editor in Saturday's qualifying session
But, a great two stopping strategy for Paul Di Resta and his strong 6th place! We celebrate!
We try and predict the pecking order again. The easiest was to predict P19 to P24! Hear this podcast to know if you agree with our prediction!
And predict the order at the top – we just couldn't! Can you?
Also, Rishi discusses the openings in the Mclaren pit-crew, interested candidates should apply!
French GP is back, but it will alternate with the Belgian GP every year (you will agree with Rishi's reactions!) and possibly more than 20 races in a calendar year!
And lastly, we talk about Ecclestone's ideas of a Grand Slam of Grand Prixs!
Hear our 2012 Formula1 Podcast
We purposely stay away from predictions for the 2012 Spanish Grand Prix! Why? The ever important mid-season test in Mugello (which is from 1 – 3 May) will hopefully shake up the pecking order further!
If you're an Indian Formula1 fan, do read 2012 Indian Grand Prix Tickets Go On Sale and go buy your ticket for the Indian Grand Prix!