Yes, Sebastian Vettel called them the 'Silver Buses'! And it seems silver buses they were in the 2013 Monaco Grand Prix. There's more on the arrows to buses theory in the latest episode of the Inside Line F1 Podcast.
However, this Formula1 blog post is much about my trip to Monaco as it is about the Formula1 podcast. Rishi and I got together once again to bring to you this episode. Do let us know how you like it. And like always, the contents of the podcast are below.
As for my trip to Monaco, as most of you would already know, I was there on work. Work at Grand Prix weekends is fun, because that is actually where the 'product' is displayed to the global audience. Between the GPs, the 'product' (our race cars if you didn't get it already!) goes back to the factory where it is visible to only a select few!
On Saturday while I was getting ready to leave my hotel room for Qualifying, the iPad started playing tracks from the Michael Jackson playlist. Funnily, most of the songs summarized my experience of the GP; 'Thriller', 'Remember The Time' and of course 'The Way You Make Me Feel'. (And 'Blood On The Dance Floor' for Pirelli and Mercedes, maybe?)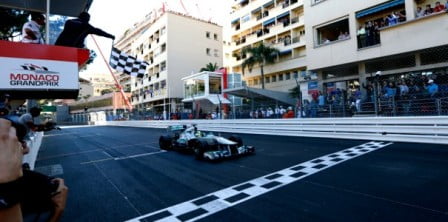 Enough of the entertainment and back to the sport, this wasn't my first trip to a Formula1 Grand Prix, however, it was my first to Monaco. And I must say that for any Formula1 fan, you've not seen a race live, until you've experienced it in Monaco. The entire country was abuzz on the four days of the GP weekend (yes, Thursday onwards) and was celebrating the arrival of the Formula1 circus. Most of the parties (between track sessions) were held on the circuit itself (La Rascasse being the most famous!).
I had a few amazing moments in Monaco the best of which was being driven (in a road car and NOT by an F1 driver) from the famous hairpin, through the famous the tunnel and around the swimming pool complex! Yes, we did hit a kerbstone just for the heck of it!
And I am not the types to go clicking (or excessively) during my GP trips, however, for those keen, you'll can see my Monaco Grand Prix album on Facebook.
To the podcast, here are the contents of the Inside Line F1 Podcast: From Silver Arrows to Silver Buses (YouTube channel: http://youtu.be/7xi9eAyLdI4)
Mercedes & Pirelli show that there are no secrets in Formula1! (Read: Pirelli Spin All In Spain)
Could Rosberg's race have ended due to a 'bird hit'? And was his win a pure coincidence? (Read: Ross Brawn's Last Season In Formula1)
Silver Buses aided Paul Di Resta's charge from P17; good drive!
Driver of the day: Adrian Sutil or Sergio Perez?
Mercedes to resume 'racing in reverse' in the 2013 Canadian Grand Prix?
Monaco saw the return of our favourite characters, 'Crash'jean & 'Crash'naldo!
And we caught hold of a secret message Lotus sent to Kimi mid-race.
Also, Rishi and I are pissed off at the TV producer in Monaco. Hear to know why!
Lastly, we now know what Felipe Massa learned from Michael Schumacher when they were team-mates at Ferrari. Of course, we spread the knowledge!
Short break our listeners before we meet next week for the 2013 Canadian Grand Prix. If tyre talk was already overbearing for us all, brace for more of it in the weeks (and hope not, but months) to come! And last but not the least, here's why Pirelli shouldn't renew their Formula1 contract for 2014 and also why and Indian tyre manufacturer should replace Pirelli in Formula1.
***
We've introduced 'fan comments' on the Inside Line F1 Podcast, so if you wish to get your views or opinions featured, share them with us. If you are an Apple user, you can subscribe to the Inside Line F1 Podcast on the iTunes Podcast Store or via our RSS feed (for Android / Windows users).
The Inside Line Formula1 Podcast is produced by Rishi Kapoor and Kunal Shah. Follow us on Twitter and on our Soundcloud and YouTube channels.