'Whatta race', was our reaction post the 2012 European Grand Prix! A Ferrari reunion and quite literally so! In our European Grand Prix Podcast, RJ Rishi Kapoor expresses his love for Pastor Maldonado and quite literally (again!) pops champagne to celebrate Michael Schumacher's podium.
So here's what we discussed in our Formula1 Podcast:
'Sweet child of God', 'Angel' and 'Massa' a few names that we joked about for you know who! Rishi even likened him to a former Colombian racer, any guesses who?
And do you think Maldonado's antics brought Schumacher his podium?
The Stewards took Hamilton's side, for a change! We try and play Stewards too!
Schumacher, Schumacher, Schumacher! From being outside the points to getting onto the podium! And Webber just copy-pasted Schumacher in Valencia, didn't he?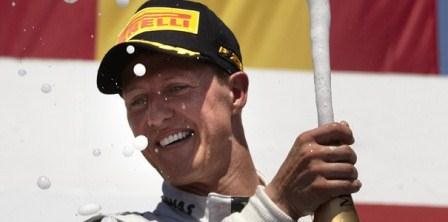 11th to 1st, we fall short of words and expressions to describe Alonso's splendid drive! And poor ol' Massa!
'Electric', 'Hydraulic', 'Mechanical' and now 'Alternator' problems; we try and talk about it!
Of course, like the other Formula1 teams and drivers, we too haven't forgotten Vettel's pace, which should've actually made him the first double GP winner of the 2012 Formula1 Season.
Mclaren's front jack, jacked Hamilton's race! And Button's Drivers' Championship hopes are over?
And we saw two teams dogfight on the F1 track! You too know who they are!
We go about counting the number of drivers being discussed as Massa's replacement for 2013
HRT beat Marussia in qualifying, we pray that they do the same in the race, soon!
Click to hear our 2012 Formula1 Podcast
Up next is the 2012 British Grand Prix and we expect it to be a helluva race! A home race for many, Silverstone too will offer some exciting racing we are sure. Our money is on Vettel already…!