Ferrari vs. Mercedes, Really?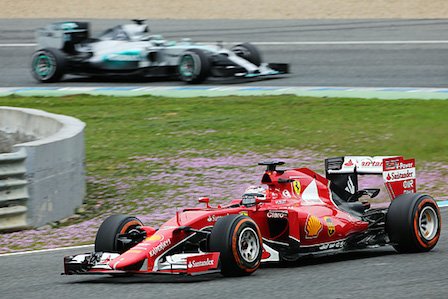 Test times don't matter, race times do! Yes, my attempt at modifying a famous quote for the world of Motorsport! If you pay heed to that quote, you'll know that Mercedes are still the class of the field of 2015 despite not topping the time sheets at the first test in Jerez. Similarly, you will know that Ferrari will be the ones chasing them again for top honours, but will they be the lead chasers?
Does seem to be so! Ferrari seemed rejuvenated and quick in Jerez, well, I mean quicker than their slow self of 2014. Is it the Vettel factor? Too early, I say. Is it the team re-jig? I doubt, the changes were too late to have a significant impact in the 2015 Formula1 Season. But if the 2015 car does turn out to be as quick as they showed in Jerez, would it be due to inputs from the not-capable-of-leading-a-team Alonso? The uber talented Alonso does seem to be the worst lucky charm for an F1 team currently! (Read: Gillette Mclaren Honda)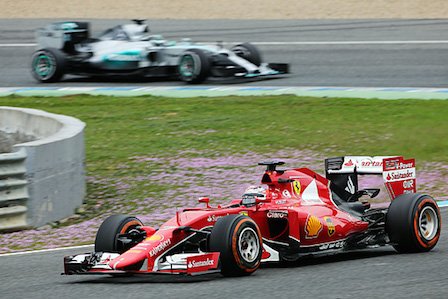 The sport does seem to have come a long way in the last year. The pre-season tests in the 2014 Formula1 Season were embarrassing to say the least. Teams struggled to post double digit laps. In comparison, this year, teams have been clocking three race distances in a day! Kudos! And this is also why I believe that Mclaren-Honda will sort their niggles by the time the circus reaches Melbourne.
On the point of lead chasers, I do hope that Williams have the guts to take risks and challenge Mercedes. But even if they do, I wouldn't be surprised if Mercedes would turn down their power citing some reliability excuses. And of course, our runners up from last year Red Bull Racing are reportedly seeking to replace Renault as their engine supplier as soon as possible. But the million dollar questions is – which engine will they purchase? Ferrari or Mercedes? Of course 'neither' is the option. Would this mean that the Milton Keynes based squad will develop their own engine? Or will they lure another power unit supplier to the sport? (Read: F1 Needs More Manufacturers)
I do expect Red Bull Racing, who have done a super job with the CamoBull, to be the lead challengers for Mercedes. But it seems like Red Bull Needs Wings.
In this week's episode of the Inside Line F1 Podcast, we talk about how the German Grand Prix is important to the sport, fans, media and drivers and its possible exclusion is most shocking. On that note, should Indians be leading the business of Formula1? And which team has the best livery on the grid? Apart from that, we calculate why drivers will need to brake a minimum of three metres earlier on the first lap of the first race this season. Tune in!
The Inside Line F1 Podcast is now available on various platforms and I would welcome you to choose your platform to listen to the humour that we add to the otherwise serious and complex sport of Formula1. And while our podcast frequency is weekly, come 'like' the Inside Line F1 Podcast on Facebook and on Google+ for far frequent humorous updates from the world of Formula1.
If you are an Apple user, you can subscribe to the Inside Line F1 Podcast on the iTunes Podcast Store or via our RSS feed (for Android/Windows/Blackberry users).
The Inside Line Formula1 Podcast is produced and hosted by Rishi Kapoor and Kunal Shah. Follow us on Twitter and on our Soundcloud, DailyMotion, Spreaker, MixCloud and YouTube channels.