In our pre-European Grand Prix podcast (Valencia, Boredom and Tyre Strategy), RJ Rishi Kapoor and I had predicted that the Saturday in Valencia would be far more exciting than the Sunday. One of those Formula1 races again where we were made to eat our words!
In my 2012 European Grand Prix Qualifying Report, I had mentioned that one could never write off a Fernando Alonso even if he was starting from 11th. A great drive aided with much luck saw Alonso step on the top step of the podium in Valencia, much to the delight of the Spanish Formula1 fans. The icing on the cake was Raikkonen claiming 2nd and Schumacher, 3rd. The podium indeed seemed like a Ferrari re-union! (Title courtesy: Rohan Kowli)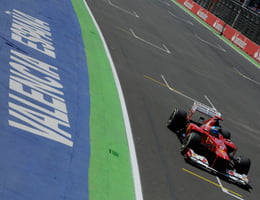 Thoughts from the 2012 European Grand Prix:
3 out of the 4 GPs held in Valencia saw the pole sitter cruise to victory on a track devoid of overtaking opportunities and Vettel seemed to be in control of the race till mechanical gremlins struck and he had to surprisingly retire. Post-race, the team reported an alternator problem for Vettel.
Vettel's retirement handed victory to Alonso, who battled his way through the top right from the start. Alonso is the only double race winner of the 2012 Formula1 season.
The only solace for Red Bull was Webber's 4th place, which was largely aided by the Safety Car period. The Aussie driver started 19th and gained 15 places in the race!
Raikkonen was gifted second place after his team-mate Grosjean retired from the race due to alternator problems and Hamilton struck tyre problems. Overall, the Lotus cars showed some very good race pace (as expected) with Grosjean too challenging for victory in the first part of the race.
Schumacher's podium finish was very well fought and a late race charge aided by a smart tyre strategy allowed him to chase the front runners and overtake them. The German legend finished 9 places ahead of his starting position. He had Webber close on his heels but did well to keep him at bay. Mercedes did struggle with excessive tyre wear and Rosberg ultimately finish 6th.
Maldonado, who had a notable qualifying session, displayed once again that his twin-brother does go racing sometimes! He had an incident two laps away from the finish while overtaking a struggling Hamilton. All Maldonado needed to do was to be patient! He finished the race in 10th earning a point, but his collision was pulled up by the Stewards for discussion post-race. I would expect him to pick up a grid penalty in the 2012 British Grand Prix.
Along with Mercedes, the only other team that had both cars finish in the points was Sahara Force India. Hulkenberg finished 5th, his career best, and Di Resta, the only driver to attempt a one-stopper, finished 8th. The team added 16 valuable championship points to their tally.
The faster lapping Caterham team had Toro Rosso in their sights all through the GP and the two teams took their battle a little too seriously. Kovalainen was punted by Vergne in a very unusual maneuver and Petrov had his front wing removed by Ricciardo when he tried an overly ambitious defensive maneuver. Had Caterham's race been incident free, they could have challenged for points – Petrov did run in 10th position during the race!
This race did have some effect in both the Championships as Alonso managed to score points whereas his immediate rivals Vettel and Hamilton registered DNFs. Similarly, in the Constructors' Championship, Ferrari scored 13 points over Red Bull and 21 points over Mclaren!
In the mid-field teams as well, Sahara Force India scored 14 points more than Sauber and 15 more than Williams.
As for the HRT vs Marussia battle, Pic drove a splendid race to finish on the same lap as the leaders and ahead of the two HRT drivers. Pic finished only 1.8 seconds behind Kovalainen. However, I wish Marussia was able to give Glock's car to another driver waiting for an opportunity to go racing. I am sure Buemi, Alguersuari or even D'Ambrosio would have jumped to the opportunity.
And last but not the least, Mclaren's lone finisher was Button who could only manage 8th. However, the team yet again showed buttery fingers during one of Hamilton's pit-stops which cost him track position to Alonso!
The 2012 British Grand Prix will be the home race for many teams, drivers and personnel and most teams are expected to bring further updates to their car. If there is one GP that any Formula1 fan would wish to witness live, it would have to be Silverstone!
RJ Rishi Kapoor and I will be recording our post-European GP Formula1 podcast tomorrow. Listeners should expect it to be published on my blog on Tuesday.