RJ Rishi Kapoor had an interesting way to celebrating Raikkonen's first win of the 2012 Formula1 season and of course Vettel's valiant drive from the pitlane to the podium! Here's a quick snapshot of what we discussed in our latest weekly Formula1 Podcast:
2012 Abu Dhabi Grand Prix podium interview. We are still unable to get over it!
And of course, unable to get over Raikkonen's radio messages too. Simply hilarious!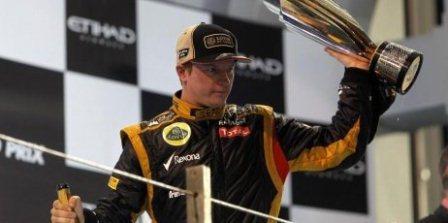 A GP2 car started amongst 23 Formula1 cars in Abu Dhabi, did you know?
Aided with some massive good luck, Vettel drove a fabulous race. However, does he deserve the 2012 Drivers' Championship?
Rishi has some sympathy for Karthikeyan, yes, I am not kidding that he did.
Who had the most consistent race strategy in Abu Dhabi? Any guesses?
On radio or off it, Raikkonen just doesn't like to speak much!
Yet another immature drive from a future Mclaren driver. Sigh!
Alonso – Button – Vettel, could Alonso have done any different? Hear our view!
And we get technical, should cars be allowed setup changes post qualifying?
The 2012 Austin Grand Prix is up next! A new track for everyone and it will indeed be a lottery. Will be interesting to see which driver and team learn it fast and gain early weekend advantage. Hope you enjoyed this podcast while we are still getting over the exciting weekend of the 2012 Abu Dhabi Grand Prix!
Hear 'Mclaren Changes Five Wheels In A Pitstop' and 'Hulkenberg To Sauber In 2013, Right Move?'.