The much awaited and debated 2014 Abu Dhabi Grand Prix is finally upon us. The farcical double points system aside, the Yas Marina Circuit is expected to host a grand finale and a grander fight between the two title protagonists. (Read: Still Friends, #NoProblem)
Will the double points system alter an expected result? In this week's episode of the Inside Line F1 Podcast, we try and answer that very question. Should Rosberg win the 2014 Drivers' World Championship due to double points, will his win be a credible one? And we pray to the Gods of Motorsport (not Bernie!) to ensure that mechanical gremlins don't show their ugly face for either driver. (Read: Formula1 Puts Fans First) AND here's a special: 'Nico Rosberg Debuts On The Inside Line F1 Podcast' (from 2013).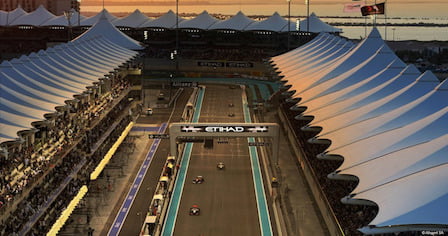 While it may seem so, Abu Dhabi won't be about these two drivers alone. This will be Vettel's last race with Red Bull Racing as he moves to Ferrari for the 2015 Formula1 Season. Apart from that, this could be the last race for many drivers – Button, Magnussen, Vergne, Kobayashi, Sutil, Gutierrez and Chilton? Tune in as we pay tribute to a few. (Read: Drivers Play Musical Chairs)
On the driver front, some good news from the Bianchi family about him being out of coma and being able to breathe unaided. Let's hope his recovery is as stable and consistent as his driving! Forza Jules! And of course, Ferrari, Alonso and Vettel finally let our Formula1's worst kept secret when they announced Alonso's departure from the Scuderia and Vettel's arrival. More on this in our next episode! But, here's an old post where I strongly believed that Alonso had no option but to stay put at Ferrari!
Lastly, Abu Dhabi won't be about the drivers alone. It will also be about Bernie Ecclestone, the CEO of Formula1. Apart from announcing that the Indian Grand Prix could be back on the calendar in 2016, his statements in the last fortnight are as embarrassing as the circuit attendance figures of Korea. He's not only redefined the TG of the sport, he's also proposed different engine unfreeze rules for Ferrari and Renault as they struggle to take the fight to Mercedes. What's Bernie's purpose in all of this, we wonder.
And let me take this time to thank our partners on various social media platforms for allowing me to promote our podcasts on their pages and posts shamelessly (yes, like Bernie!) – 'Die Hard F1 Fan', 'Formula One Forever', 'Addicted To Formula1', 'Formula 1 Fans Worldwide', '#F1Extra' and 'Motoroctane'.
The Inside Line F1 Podcast is now available on various platforms and I would welcome you to choose your platform to listen to the humour that we add to the otherwise serious and complex sport of Formula1. And while our podcast frequency is weekly, come 'like' the Inside Line F1 Podcast on Facebook and on Google+ for far frequent humorous updates from the world of Formula1.
If you are an Apple user, you can subscribe to the Inside Line F1 Podcast on the iTunes Podcast Store or via our RSS feed (for Android/Windows/Blackberry users).
The Inside Line Formula1 Podcast is produced and hosted by Rishi Kapoor and Kunal Shah. Follow us on Twitter and on our Soundcloud, DailyMotion, Spreaker, MixCloud and YouTube channels.