'The news is out' is what I tweeted when the announcement was made official by Sauber and Nico a few days post the 2012 Indian Grand Prix. And this post might be slightly delayed for readers who already know of this move, but I took some time to channelize my thoughts and pen them here for you.
Nico Hulkenberg is a very quick driver and this was known since his debut in 2010 with WilliamsF1. However, it was when I met him in March 2011 as Sahara Force India's test and reserve driver is when I realized that he is one of those rare breed of drivers who is also a great person to work with. Cool, calm, logical and friendly! 'The Hulk' is what he's called but if you ask anyone in the Formula1 Paddock, they will agree that he is exactly the opposite of the 'I am always angry' Hulk we enjoyed in 'The Avengers'.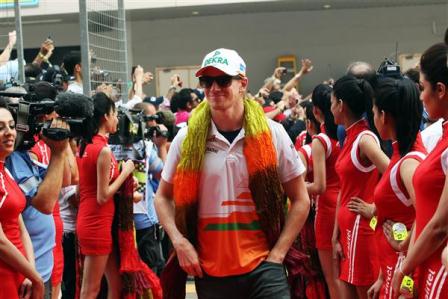 His move did come as a shock to Sahara Force India fans who expected to see him continue with the team for the 2013 Formula1 Season. His team-mate Paul Di Resta was vocal about the move to Sauber not being the right one and here I go sharing my views.
Nico's move to Sauber sparks off a few questions, especially since it is for a year only. Is this move linked to a possible Ferrari drive for 2014? Or will Red Bull Racing consider him as a replacement for Webber in 2014? The seats at Mclaren and Mercedes will remain firm for a few years since they announced Perez and Hamilton. (Perez To Take Hamilton's Seat; Hamilton To Replace Schumacher In Mercedes) And since Raikkonen has extended with Lotus (Massa And Raikkonen Announce Contract Extensions) for a year only, could Hulkenberg move there? It is fun speculating his future from Sauber as you can already see!
However, is the move to Sauber for 2013 the best step for himself? Post BMW pulling out of Sauber in 2009, the team has finished behind Sahara Force India in 2010 and 2011. In 2012, Sauber is ahead of Sahara Force India in the Constructors' Championship table, but haven't been as consistent in scoring points and have relied on their spikes in performance to remain ahead. From the 18 rounds concluded this season, Sauber have suffered from 9 retirements and finished out of the points in 4 races. In comparison, Sahara Force India have suffered from 3 retirements and failed to finish in the points at 4 race meets.
James Key, the guy who designed Sauber's 2012 challenger has joined Toro Rosso earlier this season. With regulations remaining constant, I expect Sauber to be quick in 2013 as well, but will they miss Key in the race between Constructors to out-develop each other's cars?
By leaving Sahara Force India for yet another mid-field team, this will be Nico's third team in three years of racing in Formula1. One would wonder why this move to an equal status team if it isn't linked with a further move to a front running team. The most discussed team being Ferrari. However, the last driver to move from a mid-field team to Ferrari was Sahara Force India's Giancarlo Fisichella in 2009. And if you take a look at 2012 where Ferrari ignored Perez's talent, there is no guarantee that Nico could be on his way to Ferrari in 2014 as well. And Perez is a member of the Ferrari Driver Academy!
Also, it will be interesting to see who will partner him in Sauber next year. With possible seats available in Ferrari, Red Bull Racing and Lotus in 2014, Nico needs to be in a very strong position to be able to showcase his performance with three different Formula1 teams that too in his first year with each of the teams. And there is full chance that he could face a tough fight from Paul Di Resta and other drivers on the grid for the promotion to a big team.
Time will tell whether Nico's made the right move or not. And I would like to wish him all the best. He's one helluva guy who will be missed in the Sahara Force India garages!
Read 'Raikkonen Finally Wins A Grand Prix In 2012' and 'Mclaren Change Five Wheels In A Pitstop'