This is possibly the biggest news after Narain Karthikeyan announced his debut in Formula1 in early months of 2005 and then his comeback in 2011 and of course Karun Chandhok's debut in 2010. Certainly a better decision than them racing in the i1 Super Series! Big news for Indian motorsport and Indian Formula1 fans!
If you aren't already aware of the Race of Champions, you are probably new to motorsport! Here's a quick introduction: it is a single spec racing series where the 'Champions' from all forms of racing meet in the off-season and compete for top honours. There are a few things that work very well for the Race of Champions. First, it has ALL the top drivers from all categories of racing competing; Formula1, Rallying, MotoGP, Indycar, etc. Second, unlike Formula1 and Rallying, these drivers compete in equal machinery. Third and probably the best, Race of Champions is held in a closed stadium, which means that fans and spectators can watch 'every second of the action' unlike Formula1, Rallying or most other forms of racing.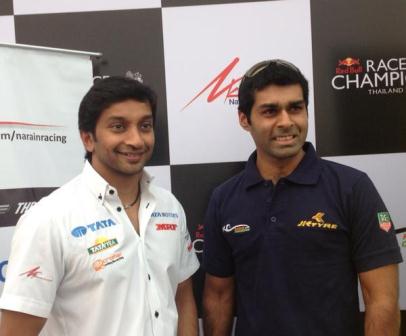 Sebastian Vettel, Michael Schumacher, Jorge Lorenzo, Mick Doohan, Sebastian Ogier, David Coulthard, Jenson Button are some of the most famous names in international motorsport who have competed in the Race of Champions before. The ROC is fought in two formats, individual and nation format. Individual is where the drivers compete against each other whereas in the nation format, drivers from the same nation team-up to compete against other teams.
Narain and Karun will be teaming up together as Team India to compete in the Race of Champions Asia event. They will compete against other nation teams from China and Thailand and a 4th team that is yet to be disclosed. The winner of the ROC Asia title will get a chance to compete in the ROC Nations Cup and in the Race of Champions itself.
The good news here is that Narain and Karun will get a solid chance to showcase their skills against the best in the world. And this chance will come in equal machinery, something that they haven't yet enjoyed in Formula1 and may not get a chance to as well. And fans will eagerly relish Narain go head to head with Schumacher in an equal car!
For ROC, it works very well too as it will attract new fans from the newer Formula1 territories like China and now India. Can India be ROC's next host venue? I would love to see the action! (Read: Formula1 Needs Better Marketing As It Enters Newer Territories)
And if you're wondering what championships have Narain and Karun won to be racing in the 'Race of Champions', well go see their achievements in the Asian Championships! The duo is probably the best crop of racers in Asia. The only question in my head, will this year's ROC be shown LIVE in India?
Related story: 'Should Narain Karthikeyan And Karun Chandhok Drive In The i1 Super Series?'
Hear 'Iceman Wins In the Desert', 'Mclaren Changes Five Wheels In A Pitstop'